Midtown Alliance is bringing art to the forefront of the community with a series of storefront murals.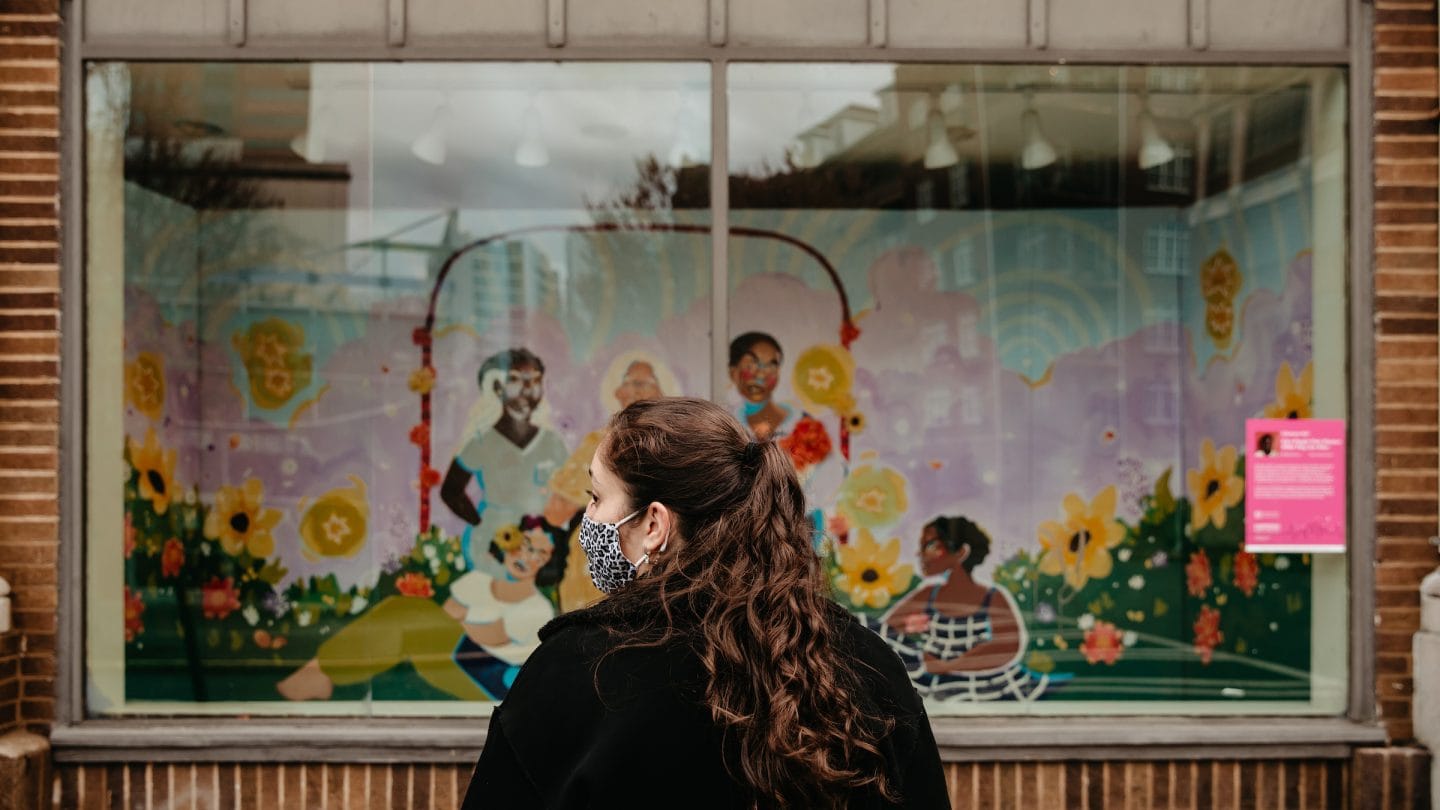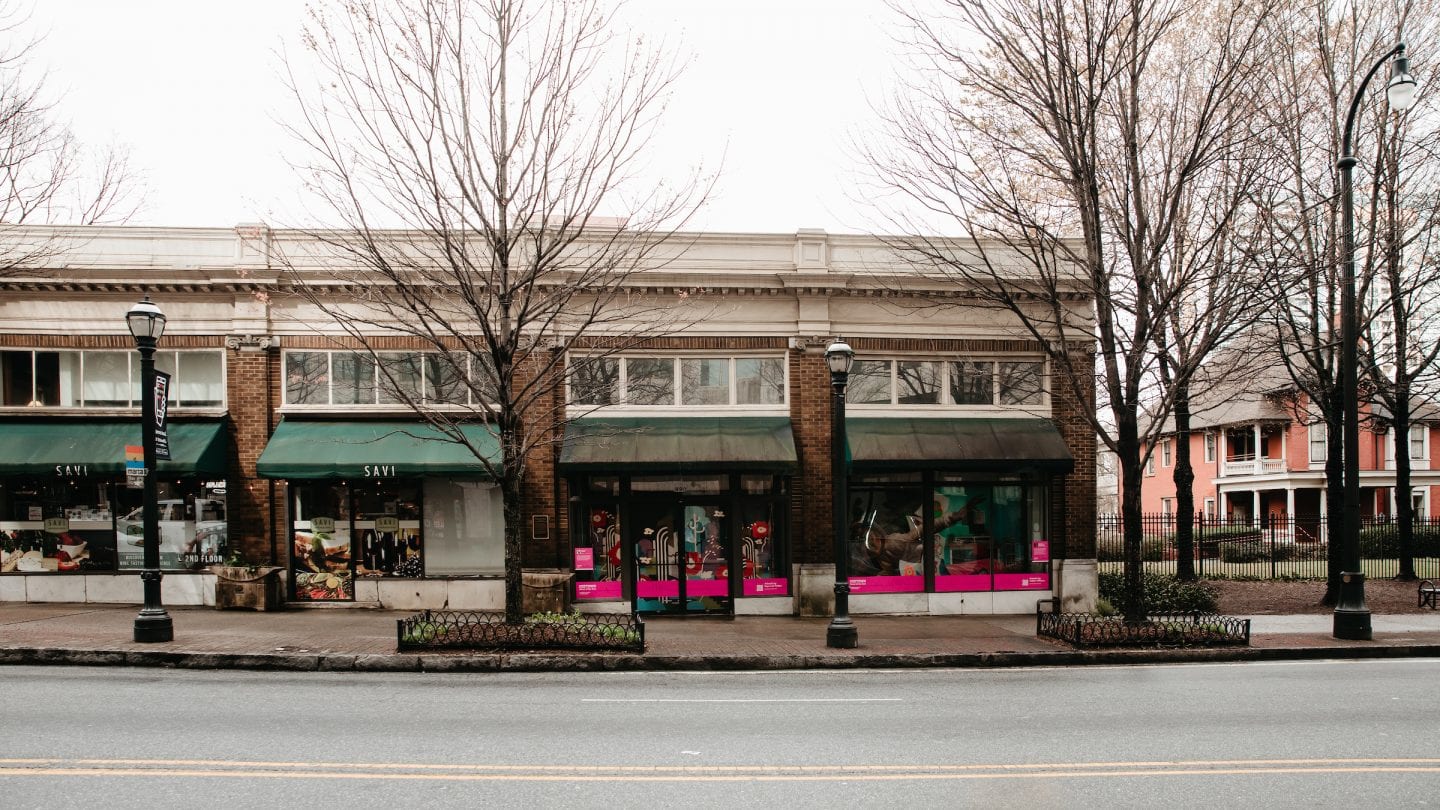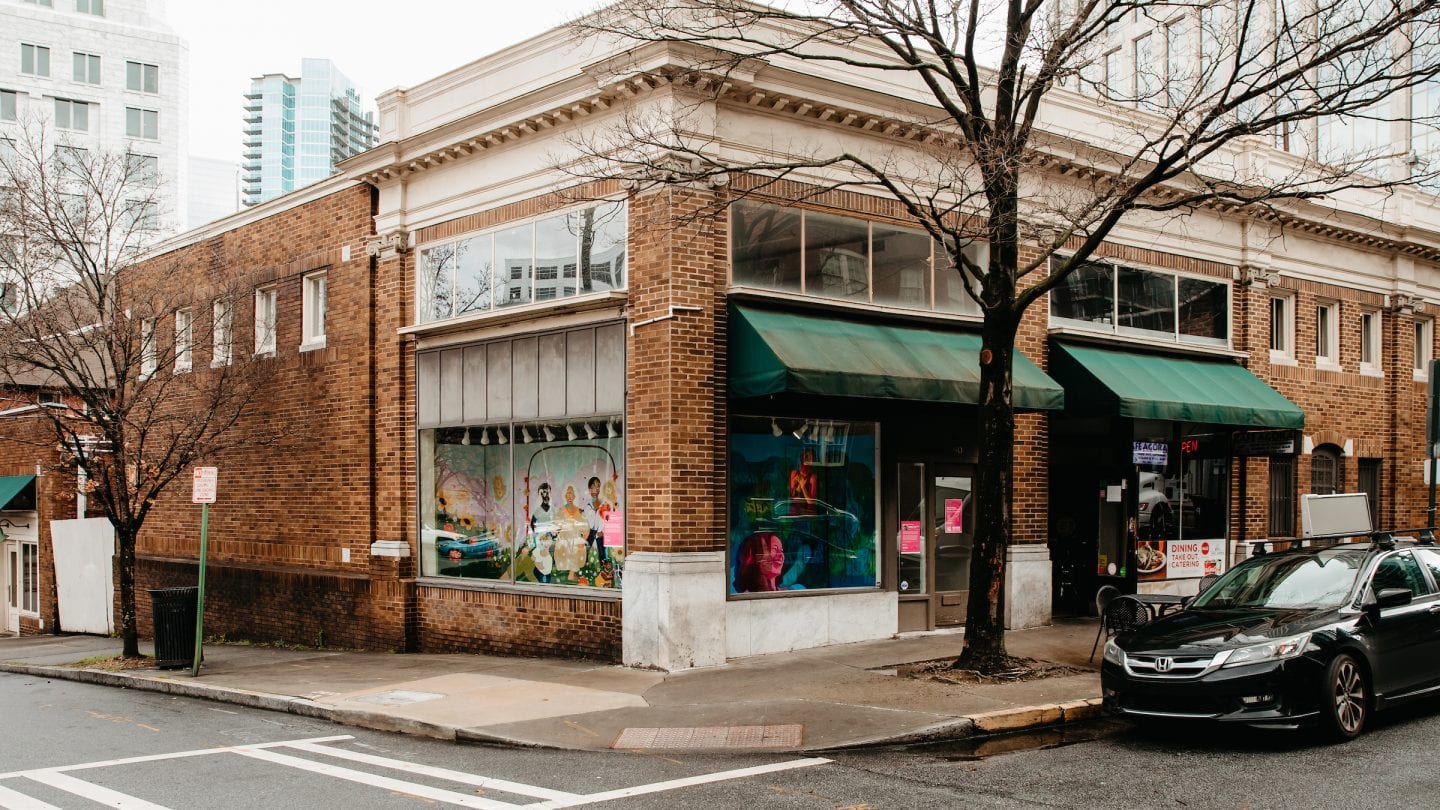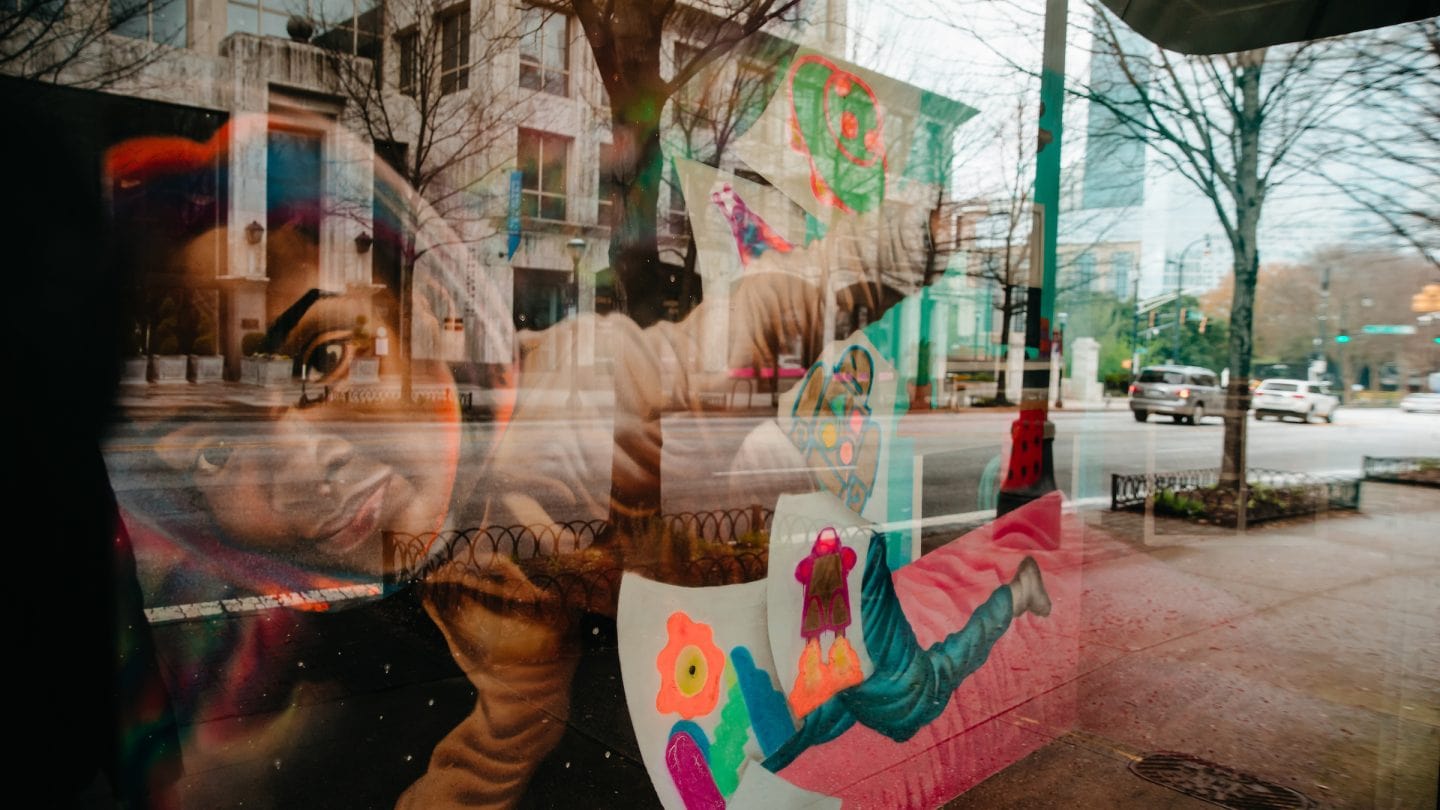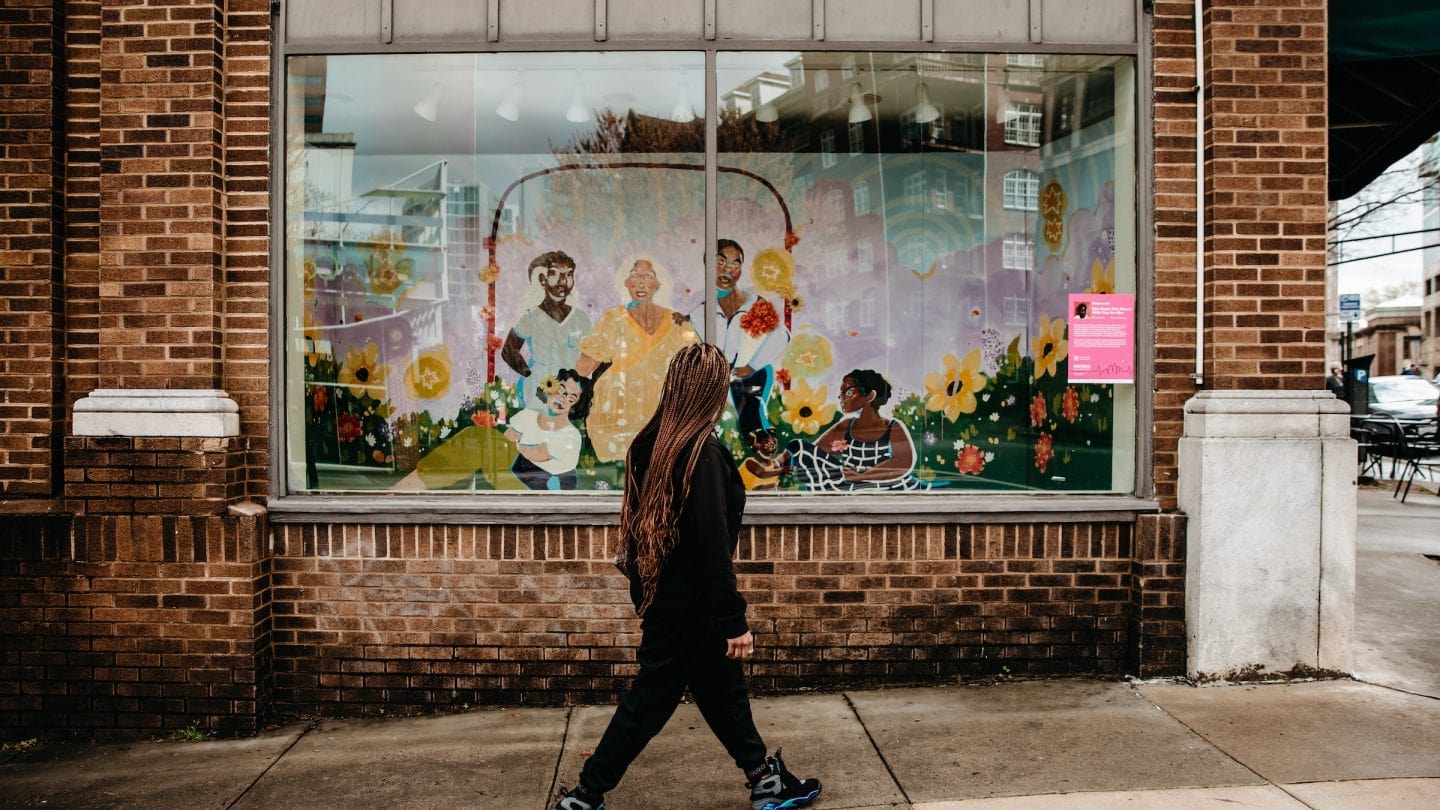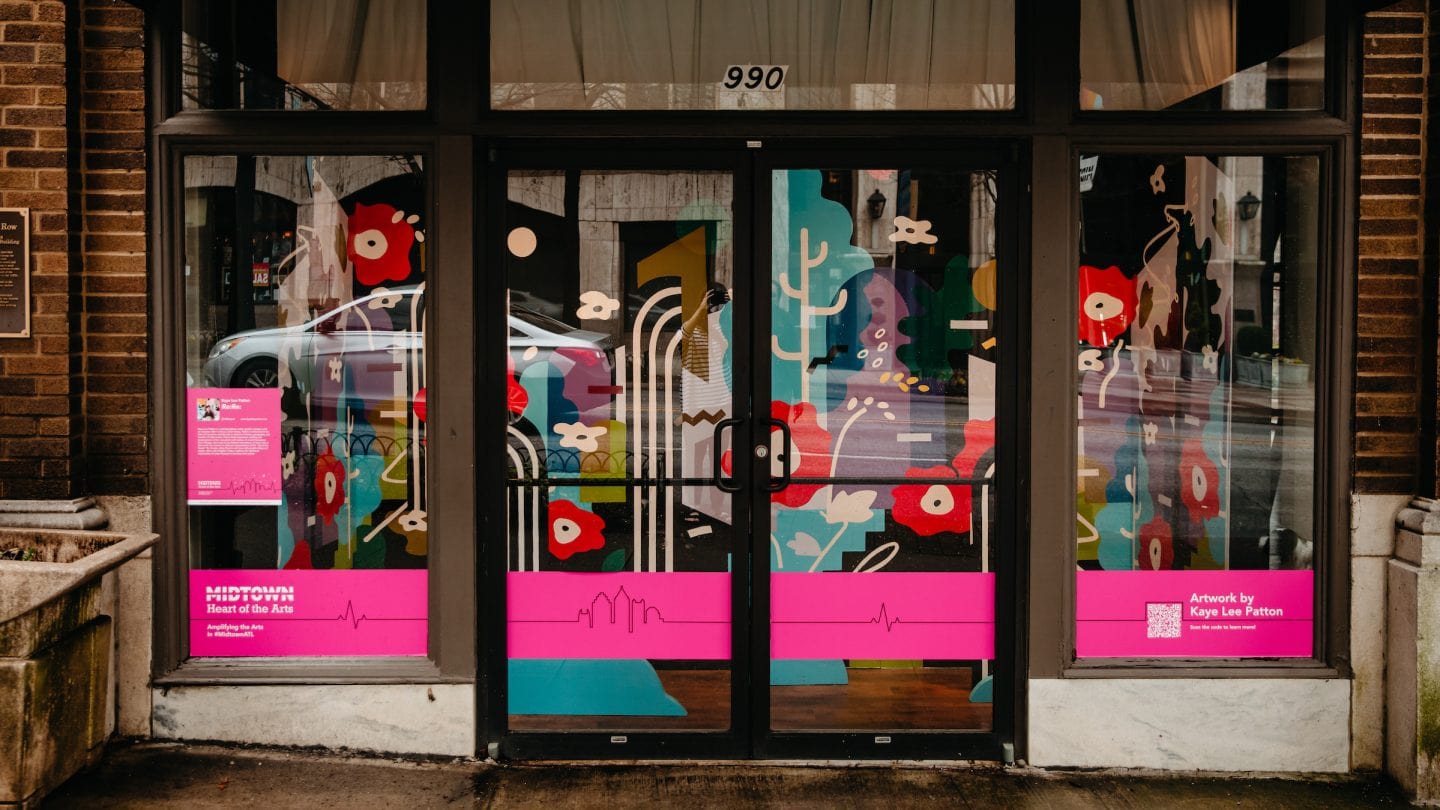 Midtown stands out in the region as Atlanta's hub of visual and performing arts, anchored by world class museums, attractions, and cultural venues—including Atlanta History Center Midtown located at the corner of 10th and Peachtree Street.

Heart of the Arts builds upon Midtown Alliance's mission to amplify the creative experience in Midtown, making it an essential part of daily urban life that is accessible to all; and compliments Atlanta History Center's mission to connect people, history, and culture.
For the initial phase of the program, Midtown Alliance engaged curator Neda Abghari to deliver the first round of temporary storefront exhibitions. Abghari is the Founder and Executive Director of The Creatives Project, an award-winning artist and residency program which has supported over 70 local talents through residency programs and exhibitions since 2011 .
Kristan Woolford harnesses projection technology to remix digital images that document and collapse moments from the past and present. Projection suggests a casting of alternate realities and a call to see the current and future social climate through a nuanced lens focused on the country's past. In this digital montage, Woolford explores hope as a catalyst for change and a vehicle for remaining resilient in the face of adversity. In particular, the artist composes layers of visuals and symbols, such as practices of yoga and head wrapping, which communicate how the awareness of mind, body and soul is essential in transcending one's circumstances.
Instagram: @analog_detox
kristanwoolford.com
Kaye Lee Patton is a multidisciplinary artist, graphic designer and an educator. Born in Seoul, South Korea, Patton is interested in the idea of transience and identity in relation to history, geography, and transfer of information. Patton finds inspiration, healing and perseverance in her encounters with nature. A recent transplant from Chicago, she is struck by Atlanta's abundance of trees and, in this work, has created an abstract interpretation of the "city in the forest." By incorporating flowers and trees with graphic shapes of arches, stairs and windows, Patton explores the symbiotic relationship of urban lifecycle in harmony with nature.
Instagram: @kleepat
kayeleepatton.com
Fabian "Occasional Superstar" Williams is an Atlanta-based visual and performance artist best known for his murals depicting black cultural icons and civil rights leaders in modern and futuristic contexts. Williams's vibrant, luminescent work explores themes of liberation, innovation and joy in Black American life, in spite of systemic racism and omnipresent oppressive forces. In this work, Williams hopes to inspire children to imagine a future without boundaries, to see the best version of themselves and the world they live in, and to bring that vision to fruition. "Thoughts turn into things," says Williams. "When children are free to imagine themselves in the future tense, they create their own reality."
Instagram: @occasionalsuperstar
Twitter: @fabianism
Facebook: @theoccasionalsuperstar
occasionalsuperstar.com 
Shanequa Gay fabricates environments of ritual and memorial, depicting amalgamated images of new gods and mythical figures whose lives have been impacted by systematic inequalities. Her work evaluates place, tradition, storytelling and subject matter to develop imaginative dialogues and alternative strategies for self-imaging. Through the gaze of the African-Ascendant female progenitor, she develops counter and reimagined narratives that live within the duality of physical and spiritual worlds, and in doing so, explores the historical and contemporary social concerns of hybrid cultures. In this work, Gay creates a space for Secoriea Turner's spirit to live on as a saint. She is honored and dawned in gold to reflect her royalty, purity and divinity. Secoriea is housed in a space of covering, protection and infinite flow of devout totem heads.
Instagram: @shanequagay_
Twitter: @shanequagay
Melissa Huang is a painter living and working in Atlanta while attending Georgia State University for her MFA in Drawing and Painting. Her oil paintings and videos question perfectionist culture and the ways in which we achieve perfection through digitally constructed bodies and identities. This mural, however, celebrates a silver lining of the pandemic: digital communication with friends, family, and loved ones has become more accessible than ever before. Huang has painted portraits of herself and her older sister in a fragmented, glitchy style to represent virtual connection. Huang says that establishing weekly communication with her sister has brought them closer than ever. This flourishing digital relationship has kept her positive and motivated during stressful times. "We may be separated by distance, but I know that I can always rely on my sister and she can rely on me too."
Instagram: @melissahuangart
melissahuang.com
Chiomma Hall (she/her) is a freelance illustrator based in Atlanta, GA. After graduating with a B.A. in Art History from Auburn University, she moved to Atlanta to continue her education and fulfill her creative dreams. Through a series of trial and error, she draws from the intersections of her identity to partake in dialogue of community, love and friendship as a black queer woman.  Her expressive figures vary in color and composition to display queer individuals who exist without shame. It is through her work that she hopes to spark healing conversations for a community she holds so dearly. When not working on projects, she enjoys tea breaks, long walks in historic neighborhoods and home-cooking with her loved ones.
Etsy.com/shop/chiommani 
Chiommani.com
chiommani@gmail.com 
Instagram:@Chiommani 
Twitter: @Chiommani 
Amanda Phingbodhipakkiya is an award-winning neuroscientist-turned-artist, TED mainstage speaker, professor and STEM advocate. Born in Atlanta to Thai and Indonesian immigrants, she studied neuroscience at Columbia and worked at an Alzheimer's research lab. Phingbodhipakkiya's work brings science and society closer together by making the invisible, visible. She challenges viewers to rethink the world around them and believes art has a responsibility to question preexisting beliefs, create new possibilities and foster a sense of connection and belonging. In this piece Phingbodhipakkiya reminds viewers to savor each moment in this season of uncertainty. In a time when being close to the ones we love is difficult or unsafe, this mural imbues viewers with warmth and comfort. The sky, ever present in the background, is a great canvas to imagine dreams, allay fears, and find courage.
Instagram: @alonglastname
Twitter: @alonglastname
Temporary installations are the springboard for the next phase of Heart of the Arts—in which Atlanta History Center will also be participating—which will focus on residencies to give artists a firm foundation to build creative space in Midtown. Workspaces will be provided from 6–18 months and include a component of community engagement in the form of special programming and events featuring their work. Follow Midtown Alliance on Facebook, Instagram, and Twitter for program updates.
Event

Presented by Midtown Alliance

Sunday, Mar 14, 2021 @ 2:30 pm – 3:30 pm
Virtual Event

Community Engagement

Stories of the everyday individuals and experiences that make up the Latinx community of Atlanta.

Community Engagement

Atlanta History Center invites you to explore the compelling story of Atlanta's Oakland City and Bush Mountain communities.

Buildings & Grounds

Located at the corner of 10th street and Peachtree Street, Atlanta History Center Midtown contains the Margaret Mitchell House