The names of city streets are an important part of what urban and cultural geographers call the "commemorative landscape"—sites devoted to remembering and memorializing the past. These commemorative landscapes include cemeteries, monuments, statues, historic houses, and parks and street names that reference important people, places, ideas, and events connected to a city's history.
In Atlanta, Lindbergh Drive illustrates how street names can connect to the past. It's named after Charles Lindbergh, the first to fly solo across the Atlantic and a pioneer in American aviation. The street links to a significant individual and event in Atlanta's history, highlighting the transportation form that boosted the city's regional and national prominence.
Charles Augustus Lindbergh was born February 4, 1902, in Detroit and spent his early years in Little Falls, Minnesota. His father served as a U.S. congressman from 1907 to 1917 and opposed America's entry into World War I. Lindbergh graduated from high school in 1918 and later studied engineering at the University of Wisconsin. He left the university in his sophomore year and, in April 1922, joined a flight school in Lincoln, Nebraska. That summer and fall, Lindbergh worked as an assistant to a Nebraska stunt pilot and barnstormer. Barnstorming was, in some ways, an aerial circus, where pilots performed acrobatic maneuvers and stunts to draw a crowd and then made money by giving plane rides. Though Lindbergh did not pilot the aircraft during these events, he performed acts such as wing-walking and parachuting from planes.
By this time, Charles Lindbergh clearly had caught the flying bug and was determined to become a pilot. In May 1923, he made his first solo flight – not in Nebraska or Minnesota, but – in Georgia at Souther Field in Americus. Souther Field had been a training facility for U.S. pilots during World War I, and Lindbergh traveled there to purchase a surplus Curtiss JN-4 "Jenny" biplane. About a week later, once the plane was assembled, Lindbergh decided to test it. On his first solo attempt, he got the plane in the air but was forced down by high winds and concern over a potential crash. A local pilot watching Lindbergh's attempts volunteered to take him back up and help him practice take-offs and landings. After practicing with the pilot, Lindbergh went up in the air again on a solo flight, this time soaring to 4,500 feet and landing successfully. Over the next few weeks, Lindbergh continued to practice take-offs and landings and hone his skills at Souther Field before leaving Georgia.
Lindbergh became a United States Army Air Service cadet in 1924. He graduated the following year and in 1926, made his first flight as an airmail pilot, servicing a route between Chicago and St. Louis. While serving as an airmail pilot, Lindbergh decided to take up hotelier Raymond Orteig's transatlantic flight challenge. If a pilot could make a non-stop flight across the Atlantic from New York to Paris, Orteig would award him $25,000. Lindbergh began preparing for the journey in 1926, and a year later, on May 20, 1927, he took off from Roosevelt Field in New York in the "Spirit of St. Louis," a specially constructed monoplane that he helped design. After flying 33.5 hours and traveling 2,610 miles, Lindbergh landed safely at Le Bourget Field near Paris.
Lindbergh was caught off guard by the estimated 150,000 people who came to the airfield to greet and cheer him when he landed in the dark. The crowd was everywhere – on top of cars and buildings and massed on the ground behind a fence guarded by police and soldiers with fixed bayonets. These precautions, however, failed to contain the crowd when Lindbergh's plane taxied into view. As the American Ambassador to France, Myron Herrick, who was there that evening, described it: "Soldiers and police were swept away, the stout fence was demolished, and the crowd surged toward the airport." The first in the crowd to reach Lindbergh were Le Bourget workmen, who cried, "Cette fois, ca va!" ("This time it is done!")
Overnight, Lindbergh, now known as the "Lone Eagle," became an international hero and was celebrated for his achievement with an array of honors and awards, including a U.S. Congressional Medal of Honor, the French Chevalier Legion of Honor, the British Royal Air Cross, and the Order of Leopold from Belgium. The awards and tributes continued when he returned to the United States in June 1927. President Calvin Coolidge presented Lindbergh with the nation's first Distinguished Flying Cross, the Smithsonian Institution awarded him the Langley "Medal of Pioneers," the U.S. Post Office announced that it would issue an airmail stamp designed for special use featuring an image of the Spirit of St. Louis, and New York City showered him with a ticker-tape parade so thick that few people could see Lindbergh or the skyline of the city through the white snowstorm of paper.
In August 1922, Lindbergh departed in the Spirit of St. Louis for a two-month tour sponsored by the Guggenheim Fund for the Promotion of Aeronautics. It took him to 48 states and 82 American cities. During this tour, Charles Lindbergh flew into Atlanta and, in the process, took the city to new heights.
On October 11, 1927, at 2 p.m., Lindbergh landed at Candler Field in Hapeville, now Hartsfield-Jackson International Airport. The day was cloudy with drizzle and rain, but it was "Lindbergh Day" in Atlanta, and the city was prepared for a grand celebration of America's aviation hero. A large crowd greeted him at the airfield, where Atlanta Mayor Isaac Ragsdale and Georgia Governor Lamartine Hardman offered Lindbergh an official welcome. Also there for this occasion was William Hartsfield, a city alderman, an ardent fan and supporter of aviation, and chair of the city's aviation committee.
From Candler Field, Lindbergh and his entourage drove to the intersection of Whitehall and Forsyth streets in downtown Atlanta for a celebratory parade. Thousands of spectators lined the parade route, and an additional 20,000 fans awaited him at the Georgia Institute of Technology's Grant Field. At Georgia Tech, Lindbergh gave a speech urging city officials to embrace the commercial potential of aviation and to support passenger, airmail, and freight air service. Lindbergh's speech at Grant Field was the largest public gathering in Atlanta's history until the "Gone with the Wind" film premiere in 1939. The day's festivities ended with a dinner in Lindbergh's honor at the Ansley Hotel. At 9 a.m. the next morning, the Lone Eagle went back to Candler Field, donned his flying gear, and departed for Spartanburg, South Carolina, the next stop on his tour.
However, Lindbergh's influence in Atlanta did not end with his departure. A few months after his visit to Atlanta, a stretch of Mayson Avenue running east from Peachtree Road to Piedmont Road was officially renamed "Lindbergh Drive" to commemorate the Lindbergh Day celebration and to pay homage to the aviator and his ground-breaking transatlantic flight. The speech Lindbergh gave at Georgia Tech also had a dramatic impact on Alderman Hartsfield and his fellow city council colleagues, who began to push the city for improvements to Candler Field, including an expensive "electric illumination" system for the airfield that was a requisite for nighttime airmail service. By the end of 1927, the illumination system was in place and operating. The following year, improvements at Candler Field and Hartsfield's continuing efforts to secure an airmail connection resulted in Atlanta being selected as a stop on the New York and Chicago airmail routes to Miami and later as a designated drop-off point for a national east-west airmail route.
The strong connection between Atlanta and the emerging aviation industry launched by Lindbergh's visit continued in the 1930s despite the Great Depression. In 1930, Delta Air Corporation, later known as Delta Air Lines, and Eastern Air Transport, which became Eastern Air Lines, initiated service at Candler Field. The Atlanta Municipal Airport at Candler Field opened the first air passenger terminal in the nation in 1931. Seven years later, the airport added America's first air traffic control center to its operations. Hartsfield's election as mayor in 1936 cemented Atlanta's growing importance as a regional center for aviation and airline travel and ensured that the city would continue along its path to becoming a transportation hub of national and international importance.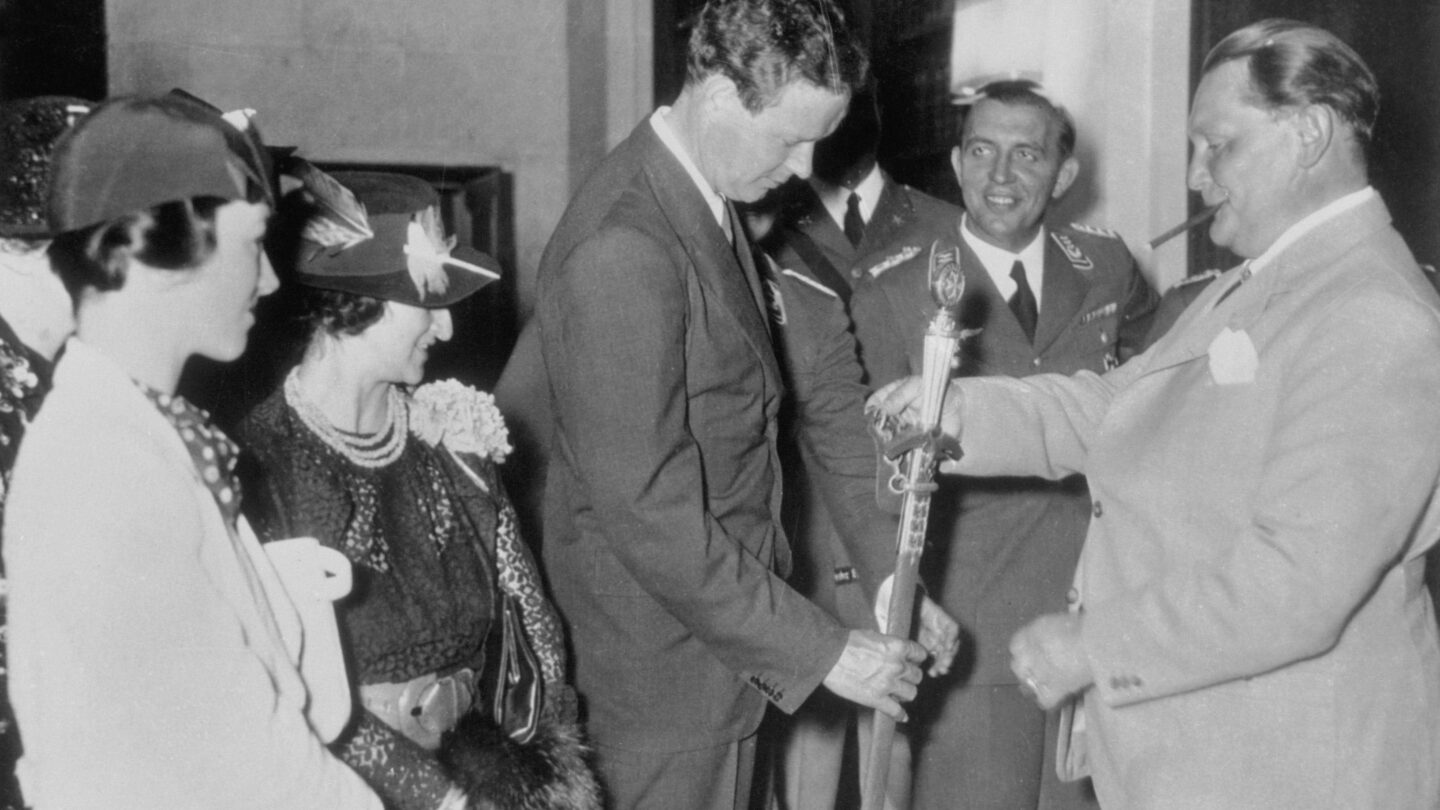 The history behind Lindbergh Drive illustrates how street names can provide insight into a city's past and evolution. However, the recent renaming of streets tied to the Confederacy and Confederate leaders, as well as new street names recognizing African American and minority contributions, show street names can change. Such renamings emphasize minority groups' significance in regional or national narratives and challenge the tradition of naming places solely after white male figures.
In Atlanta, Lindbergh Drive has retained its name for nearly 100 years. However, many U.S. locations originally named for Charles Lindbergh have been renamed or have distanced themselves from the aviator. This shift is largely because of Lindbergh's 1938 acceptance of the Service Cross of the German Eagle, presented by Hermann Goering on Adolf Hitler's behalf, his stance against U.S. involvement in World War II, and his affiliation with the isolationist America First movement.
In the 1930s, Lindbergh's public standing in America suffered due to remarks he made that were interpreted as anti-Semitic and supportive of racial purity. For instance, he voiced the belief that "racial strength is vital." Furthermore, in a 1941 Des Moines, Iowa speech, Lindbergh said, "Instead of agitating for war, Jews in this country should be opposing it in every way, for they will be the first to feel its consequences. Their greatest danger in this country lies in their large ownership and influence in our motion pictures, our press, our radio, and our government."
Charles Lindbergh denied the allegations but faced growing public criticism. Many organizations severed ties with him. His name was removed from the water tower in his hometown, Little Falls, Minnesota, and streets named for him nationwide were renamed, a reaction to his statements and his opposition to U.S. involvement in World War II. These name changes persist. For instance, two years ago, Milwaukee renamed a park, previously honoring Lindbergh, to Lucille Berrien Park, and Uniondale, New York, renamed a portion of Charles Lindbergh Boulevard to William M. Wheeler Way in tribute to a Tuskegee Airman. Schools in Peoria, Illinois; Minnetonka, Minnesota; San Diego, California; and elsewhere that bore Lindbergh's name have also recently been renamed.
"Time," as the saying goes, "waits for no man," and memorials to past heroes, events, ideas, and movements change with time to reflect current attitudes, priorities, and changing views of local, regional, and national history. As stated in "A Primer on the Geography of Memory," "The commemorative landscape, like any type of landscape, is not simply a collection of things but a way of seeing the world, ordering reality, and projecting values about the past."