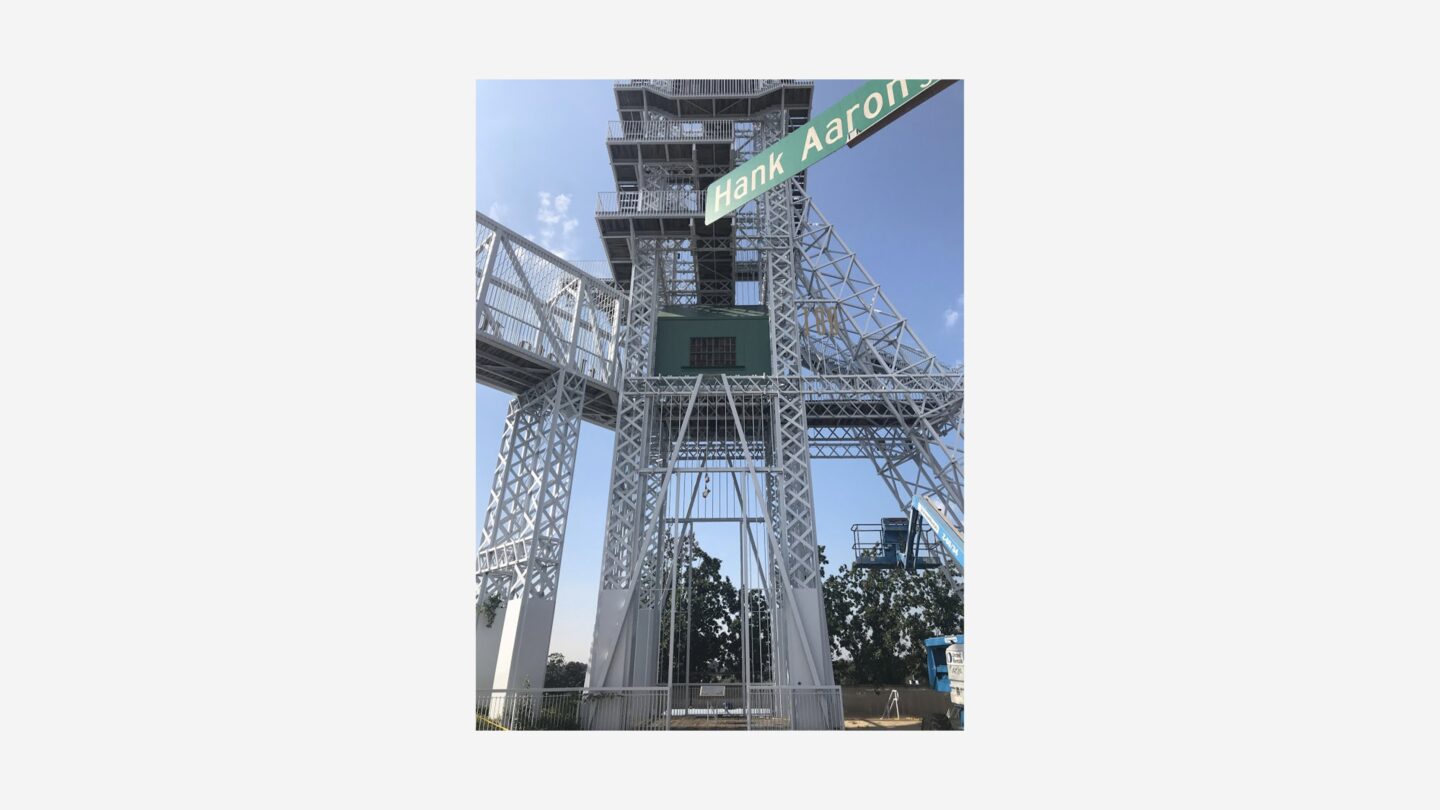 Built: 1994-1996 | Relocated: 1997
As you approach this area, Atlanta's Olympic Cauldron is impossible to miss. The massive structure includes a tower with winding staircases that ascend to the brightly colored cauldron basin and a bridge that crosses Hank Aaron Drive.
Olympic Cauldrons are designed to hold the ceremonial Olympic flame throughout the duration of the Games. They are lit at the Opening Ceremony by the final torch bearer of the relay that brings the flame from Greece to the host city and extinguished at the Closing Ceremony. Atlanta's cauldron, as with many others, was used for both the Olympic and Paralympic Games. It was the first to be commissioned from an artist rather than built by an architect or engineer.
Artist Siah Armajani was selected to create the cauldron. The structure was originally located just south of this spot, crossing Georgia Avenue and linking to Centennial Olympic Stadium. Armajani planned for torchbearers to run to the top of the tower during the final leg of the relay to light the basin. Time constraints of broadcast television and the inaccessibility of the stairs made this impossible. Muhammad Ali famously lit the cauldron on July 19, 1996, via a pulley system. His vision disrupted, Armajani distanced himself from the piece.
During the design process, Armajani expressed that the bridge was an important element in the artwork. It was intended to symbolically connect the surrounding community to the Games, as Armajani was aware of tensions between residents and Games organizers regarding Olympic construction in their neighborhood. In the end, Atlanta's Olympic Cauldron received mixed reviews from the public. The structure was moved from its original location after the Games when the stadium changed ownership.
Fun Finds
Look for a wall engraved with names near the base of the cauldron's tower. These are all the medal winners of the 1996 Olympic Games. Can you find an athlete you know?