Atlanta History Center has a rich history and has come a long way since its establishment. We have grown from a small archives-focused historical society founded in 1926 to an institution encompassing 33 acres of gardens, four historic houses, a museum housing permanent and temporary exhibitions, and a range of adult, school, and family programming. As an institution, we believe that history is an effective medium for bridging divides and stimulating hard conversations. For that reason, we are committed to providing a space where visitors can engage with different perspectives and learn about Atlanta's history, including its Black history. This Black History Month, as we celebrate well-known figures and aspects of Black history, we also want to honor African American contributions to the establishment and growth of AHC.
Professional Staff
Before 1975, a true museum did not exist at Atlanta History Center. Founded as a library and archives, we were known for our research materials and not for exhibitions. In addition, the organization depended heavily on the important work of a primarily volunteer staff. As we moved toward recruiting a trained staff, Black professionals played a significant role in shaping our institution's history and establishing exacting standards for mission-related achievements in the archives, library, and museum fields.
In 1975, AHC completed construction of its first headquarters designed and built specifically to serve as the organization's administrative offices. Named McElreath Hall in honor of one of the founding members of Atlanta History Center, Walter McElreath, the building included an expansive research room and preservation storage for the archives and library collections. It also held the James M. Cox Gallery for museum exhibitions and new storage facilities, allowing for growth of the artifact collection. Along with planning for the building's space needs, AHC planned for the growth of a professional staff.
One of the first professional hires for the new archives and library reading room was H. Eugene Craig. At the time, Craig was a librarian at the Interdenominational Theological Seminary in Atlanta University Center. Beginning in 1975 and continuing until his retirement in June 1984, Craig was instrumental in bibliographic development of the library's book and periodicals collection. He was also involved in several professional and associated organizations, including Beta Phi Mu, the international library fraternity—serving as president of the local chapter—as well as a member of the board of the University of Georgia Press.
Senior Archivist Mamie Locke joined AHC in May 1979. A native of Jackson, Mississippi, she graduated summa cum laude with a bachelor's degree in history and political science from Tougaloo College. Locke was awarded a Ford Foundation Fellowship for her studies at Atlanta University, where she received a master's degree in political science. Before joining AHC, she worked as the official records archivist at the Mississippi Department of Archives and History. 
During her tenure at AHC, Locke presented a lecture, "Sex and Race: Obstacles to the Development of Black Women in South Africa," and participated in a panel discussion at the Society of American Archivists annual meeting on "Minorities in the Profession: An Agenda for Action." In October 1981, she resigned after accepting a position as an assistant professor of political science at Hampton Institute in Virginia. She has since become a successful politician in Virginia, serving on the Hampton city council and as mayor. She has been the Virginia District 2 state senator since 2004.
Janet Guillory was the second official photographic archivist at AHC building upon and sustaining cataloging procedures for Atlanta History Center's important photo collections. She was hired in July 1981 after first interning here as a Governor's Intern in the Humanities. A graduate of Rochester University in New York, Guillory completed her master's degree in art history at Emory University while working at AHC's research archives. She resigned in December 1982 to pursue work in the fine arts in accordance with her art degree.
Our Facilities
The construction and renovation of AHC facilities have played a significant role in the preservation and presentation of Atlanta's history. What may come as a surprise, however, is the influence that African American contractors have had on the process.
The original section of the Atlanta History Center museum and office building was built in 1992 through a joint venture of Metric Constructors and H.J. Russell & Company, with H.J. Russell & Company being an African American-owned company. H.J. Russell & Company also built our parking deck in 1993.
The architectural design of the building that houses our exhibition Cyclorama: The Big Picture was handled by the firms MSTSD and R.L. Brown & Associates, with C.D. Moody Construction serving as the general contractor. R.L. Brown & Associates and C.D. Moody Construction are both Black-owned companies. Other African American-owned businesses whose employees worked on the Cyclorama project include Maxwell Grading and Piping, Kadenzo Enterprise, Leon Benton Construction, Rogers Cantrell, and Kenneth Thomas, Inc.
C.D. Moody Construction has also been the general contractor for several other projects at AHC, including museum renovations in 2015, a remodeling of McElreath Hall in 2020, and a variety of hardscape projects in Goizueta Gardens.
It is worth noting that many African American and minority-owned subcontractors who have worked on construction projects at AHC have been small businesses where the owners worked alongside their employees. These businesses have made significant contributions to AHC over the years despite not having a public-facing presence.
Archival Collections
The Long, Rucker, Aiken Collection, acquired during Senior Archivist Mamie Locke's tenure, is one of Atlanta History Center's most significant African American collections. It is comprised of documents from prominent African American families in Atlanta, covering their political, civic, educational, professional, family, and social lives. The collection also includes material related to African American organizations, such as the Georgia Colored Industrial and Orphan's Home and documents about Black housing and housing inequity. The collection also contains photographs chronicling more than six decades of Black life in Atlanta, including photographs of the 371st Infantry Regiment, a segregated African American regiment that served in World War I under French Army command.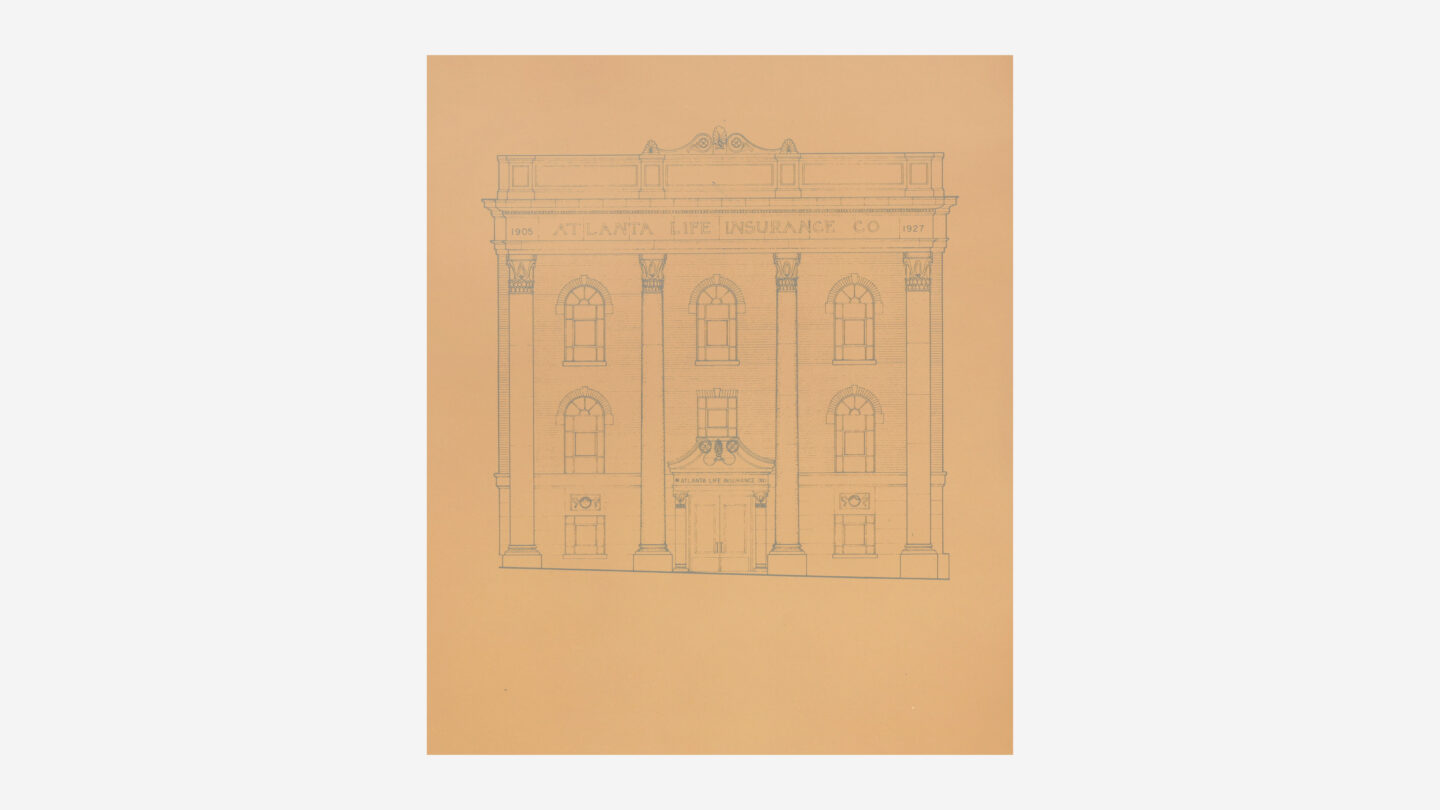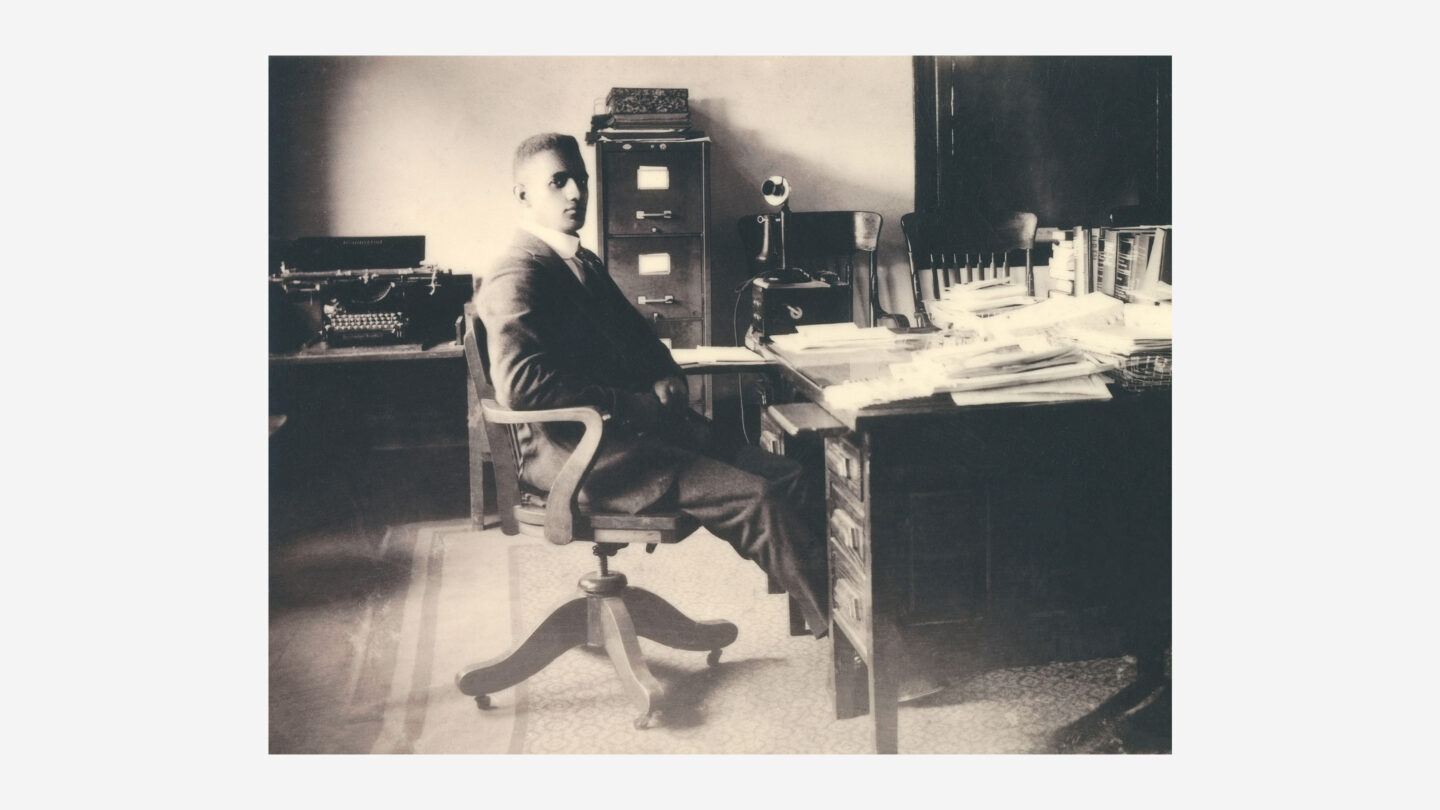 Diverse Exhibitions
Black history is an integral part of the Atlanta story, and it is featured in many of our permanent exhibitions and those that change periodically. When we opened our galleries in the new Atlanta History Museum building on October 23, 1993, one of our first exhibitions was The Herndons: Style and Substance of the Black Upper Class in Atlanta, 1880-1930, which ran from October 23, 1993, to March 3, 1996. This exhibition was a collaboration with the Herndon Home Foundation and explored the style and substance of the Black upper class in Atlanta over a 50-year period from shortly before Black entrepreneur Alonzo Herndon moved to Atlanta in 1883 until after his death in 1927.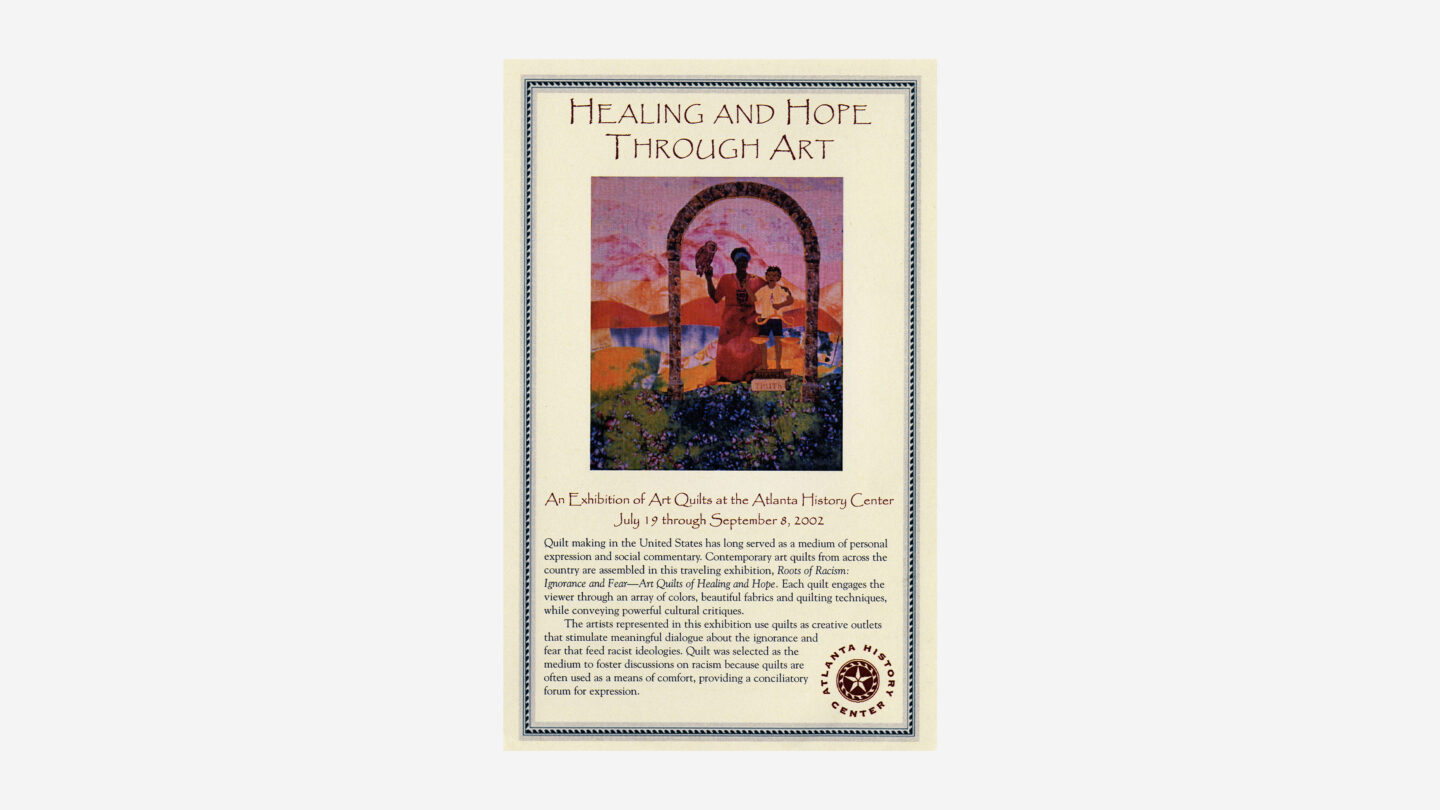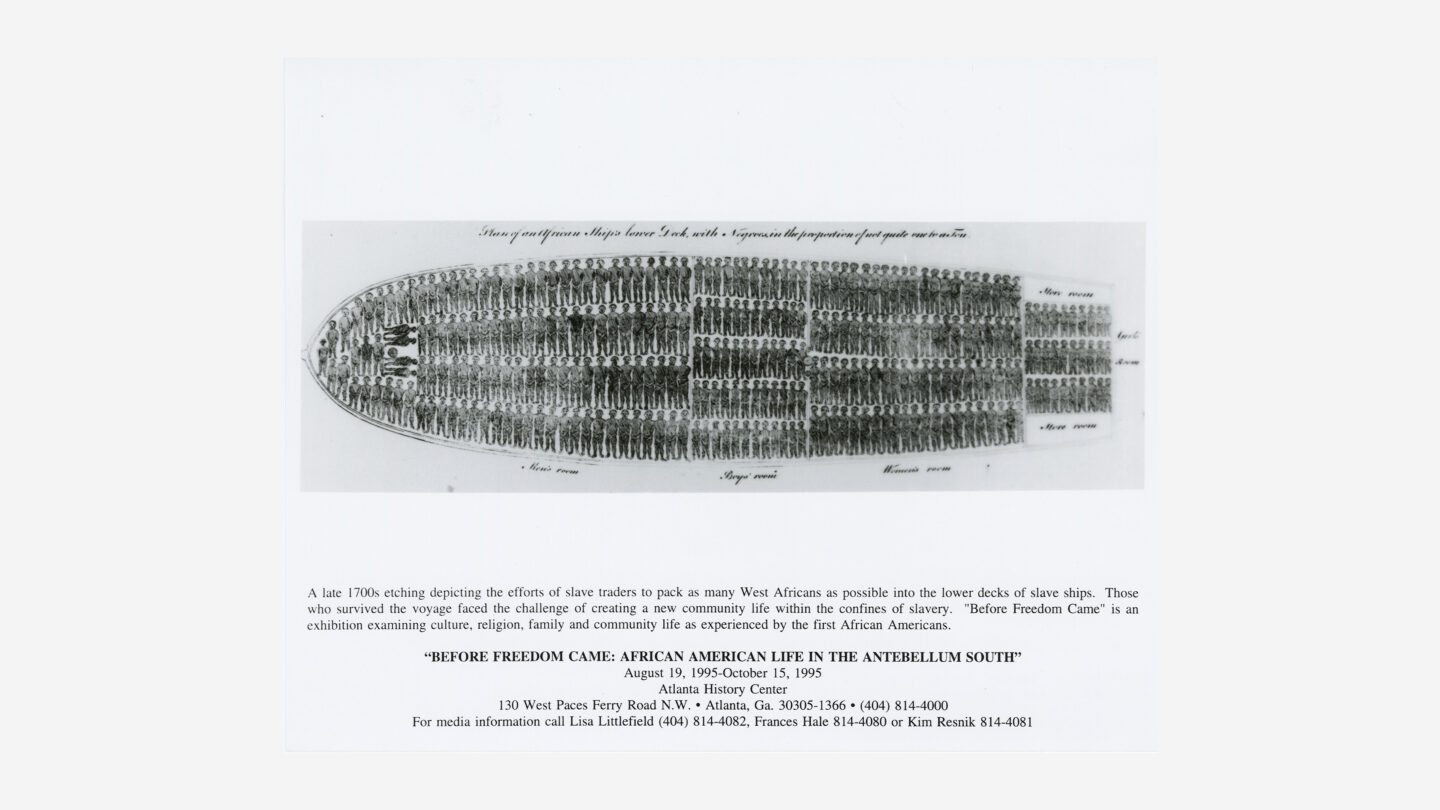 Over the years, we have produced or hosted more than 30 African American-focused in-house or traveling exhibitions or other presentations. Importantly, the AHC offers a local venue for exhibitions on national tours, allowing Atlanta residents and visitors the opportunity to see those exhibitions, including Roots of Racism's expressive textiles, the photographic heritage of Reflections in Black, Rising Above Jim Crow's paintings, the challenges and agency of Black freedom in Black Citizenship in the Age of Jim Crow, and the music, costumes, and rich Black culture of The Apollo Theatre. Those exhibitions have come from such organizations as the Smithsonian Institution, National Museum of African American History and Culture, NAACP/Jewish Museum of New York City, University of Delaware, Schlesinger Library of Harvard University, Morehouse College, Levine Museum of the New South, and New-York Historical Society.
Our most recent display, "Explore Black Atlanta," can currently be seen in the Nicholson Gallery. The display runs through Juneteenth and offers visitors the chance to explore and discover the rich cultural and historical heritage of Black Atlanta. In early April, it will be accompanied in Nicholson Gallery by a display of items from the Long, Rucker, Aiken Collection. Materials in the exhibition will include Representative Jefferson Franklin Long's Congressional autograph book of other Black Congressmen and Senators. Also included is information on Henry A. Rucker, appointed in 1897 to the powerful position of head of Georgia revenue collection. He served until 1911 and was considered one of the three most powerful Black politicians in Georgia, Walter "Chief" Aiken was a college football coach at both Atlanta University and Clark College, worked as a college administrator, and was a real estate contractor and developer—as the latter, he built Waluhaje Apartments and was involved in creating Washington Park, Atlanta's first planned Black suburb.