In early June, I set out with Staci Catron, director of Cherokee Garden Library at Atlanta History Center, and Cari Goetcheus, professor in the University of Georgia's College of Environment and Design, to document three vernacular cultural landscapes for The Garden Club of Georgia's Georgia Historic Landscapes Initiative.
Any landscape that evolved through use by the people whose activities or occupancy shaped that landscape can be defined as a "vernacular cultural landscape." Through social or cultural attitudes of an individual, family, or community, the landscape reflects the physical, biological, and cultural character of those everyday lives. Function plays a significant role in vernacular landscapes. They can be a single property or a collection of properties. Rural villages, industrial complexes, and agricultural landscapes are all considered vernacular landscapes.
Although vernacular landscapes and gardens have been recognized as historic resources since the late-1980s, because designed landscapes are in many ways easier to research and understand, they were logically the focus of many landscape documentation programs for several decades. Yet, rural communities, industrial complexes, Native American sites, and a variety of agricultural, forestry, mining and other extractive land uses assist in telling the rich story of how our country developed.
The opportunity to conduct fieldwork during the coronavirus pandemic provided each of us with a way to get outside safely, divert our attention from the news, and escape the social isolation we had been experiencing from sheltering in place since March.
We packed our masks and hand sanitizer along with our tape measures, clipboards, and cameras, hit the road, and got to work.
During our expedition, we traveled toward Monroe to document the William Harris Homestead—an early nineteenth-century plantation that has been owned and operated by the same family for over 180 years. Using Google Earth, we conducted a remote survey of the McDonald property near Covington—a postbellum farm that similarly has remained in the hands of the same family throughout its history. I anticipated that we would face some challenges documenting both the Harris Homestead, which encompasses sixteen different parcels totaling nearly 800 acres, and the McDonald Farm since we could not physically experience the landscape.
However, it was a half-acre lot that offered the most challenging (and rewarding) documentation. In Athens, we visited the private residence of Harold Rittenberry, Jr., a self-taught African American artist now in his eighties, who has not only adorned his yard with his mythical and nature-inspired metal sculptures, but also filled the inside of his home with his prolific collection of drawings and paintings.
I don't think any of us anticipated the challenge of capturing the essence of Harold Rittenberry's sculpture yard on paper and in photographs even though his house sits on less than half an acre.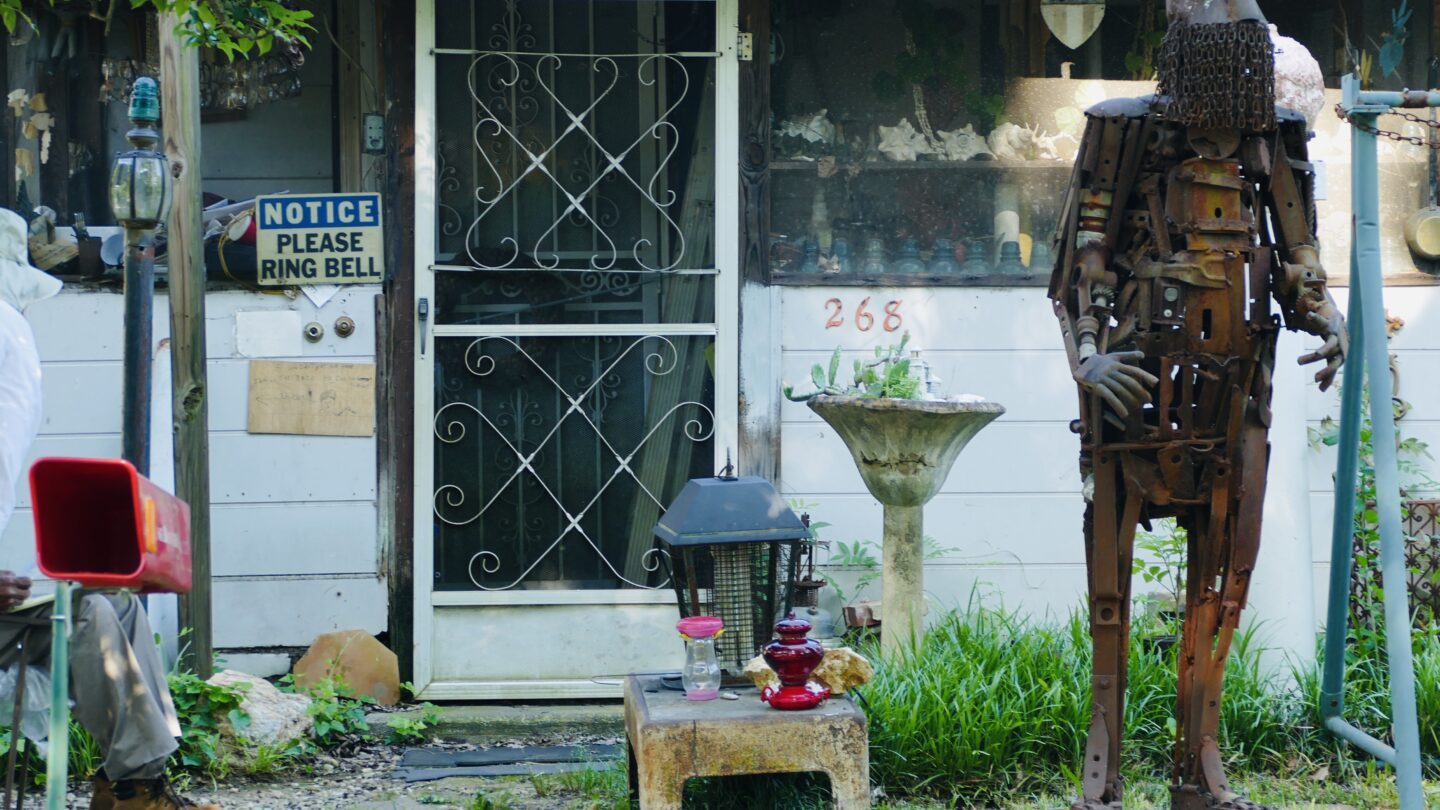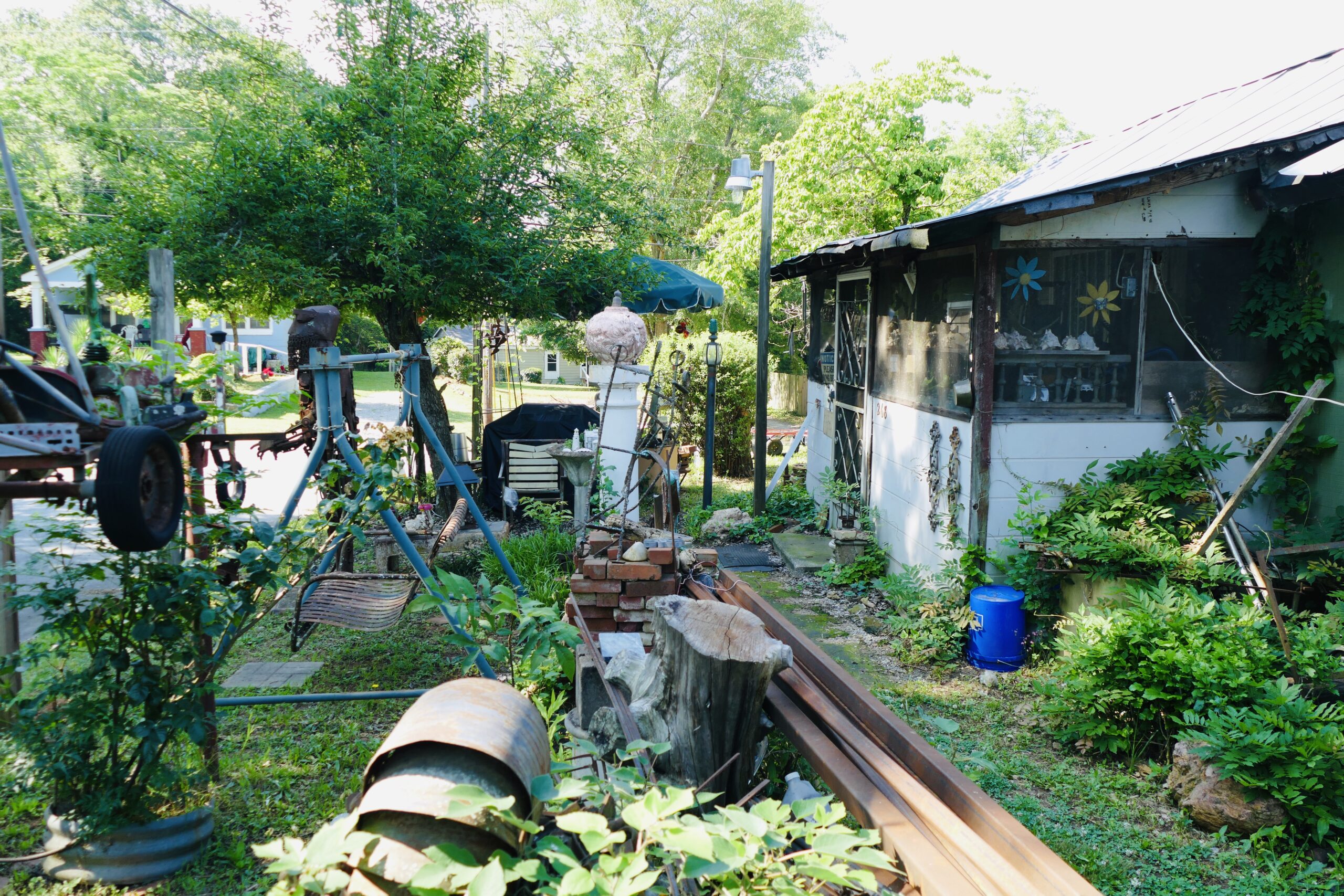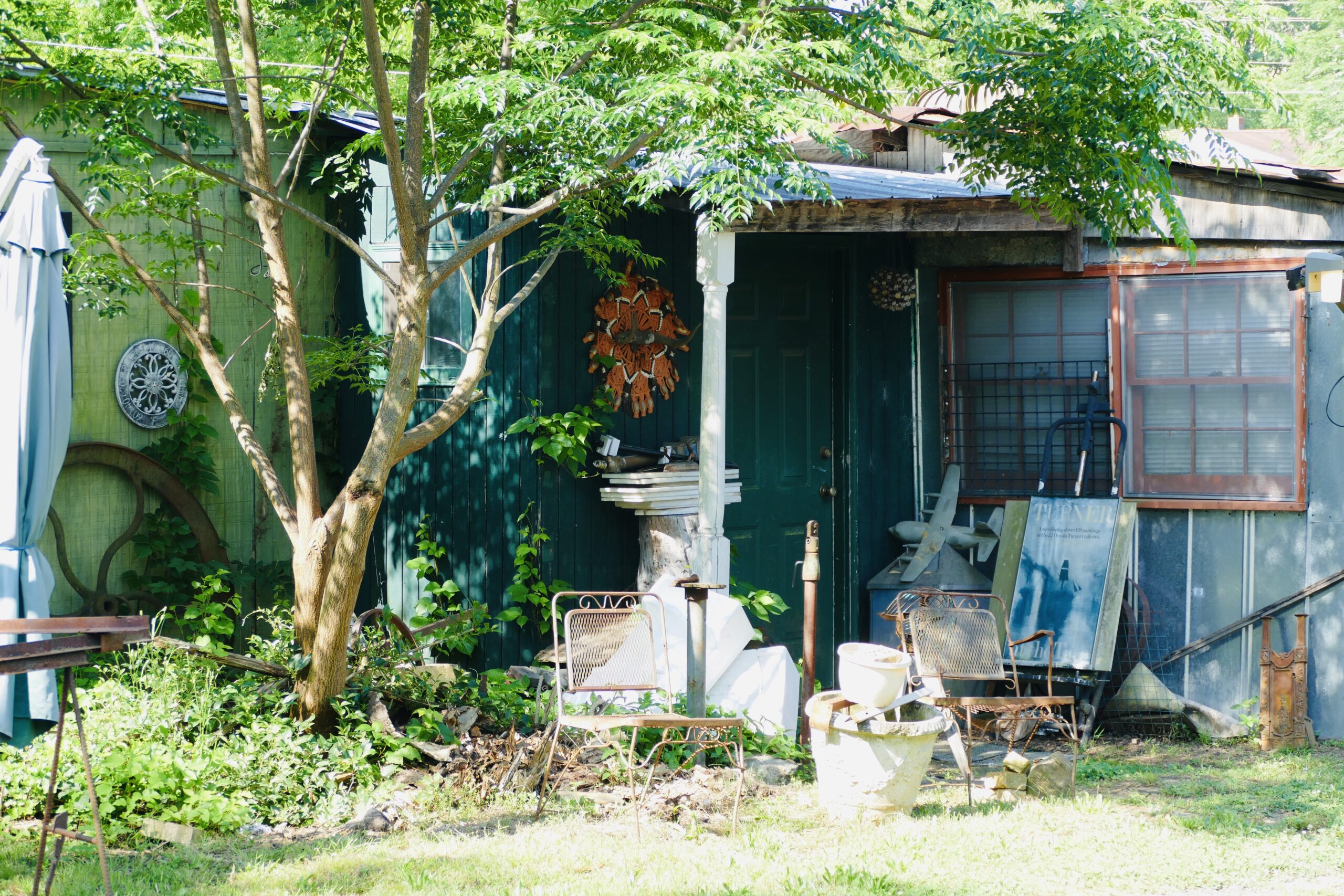 Harold Rittenberry's property sits in a quiet neighborhood not far west of the University of Georgia's main campus. Even though I had previously lived in Athens for nearly ten years, I had somehow missed this local treasure. A knight with a beard of rusted chains greets visitors at the front door. A handwritten note below the doorbell explains: "If you can't get me here I am in the back," and provides a phone number.
A short distance to the right of the door is a robot—also welded out of a variety of found metal pieces—with a concrete frog anchoring its base; both add to the whimsy and charm of the landscape. And, to the left corner of the house, a flock of vultures circling over a tower draws one's attention upwards to the sky. Birds are a particularly important motif in Rittenberry's artwork as he often describes them as "messengers traveling through the liminal space between Earth and the spiritual world."
Aside from these and a few other large sculptures, he has practically filled his yard to the brim with all sorts of items—metal chairs, stacked concrete blocks, columns, the trunk of a dead Osage orange tree, metal poles, bricks set in the ground, a concrete birdbath filled with river rocks, metal lanterns, bird feeders, ladders, wagons, a turbine vent, a large model airplane, a crocheted wall hanging, antique iron decorations, metal grates, a faded poster for a J. M. W. Turner exhibit, corrugated pipe planters, a silver kettle set onto a broken tree limb, wooden pallets, light fixtures, stockade fences, jalousie windows, and gates.
The more time you spend on Rittenberry's property, the more your eyes begin to focus on the details.
The longer you contemplate those details and how they relate to each other, the more you begin to realize that all these varied items are not haphazardly strewn about, but are instead thoughtfully placed into groupings.
In the end, we captured hundreds of photographs and produced a measured drawing that records over 70 small-scale features surrounding the home, studio, storage shed, and workshop space. While AutoCAD is a useful program for producing precise plan view drawings, this example revealed to us the difficulties of conveying a nonlinear design where numerous sculptures and small-scale features are all placed at different angles.
Nonetheless, our documentation efforts, which also included an oral history interview with Rittenberry, are important measures toward preserving this historically significant site. While the site appears to retain a high degree of integrity, the most difficult challenge in preserving it may not be in maintaining its status quo. Rather, it may be in finding a way to sustain the element of change that has characterized this site over the past 30 years as Harold Rittenberry has sold his sculptures over time, moved unsold ones to different locations in his yard, and added new ones to display for passersby.
Cherokee Garden Library at Atlanta History Center is the repository for the surveys and materials collected through the Georgia Historic Landscape Initiative—including those detailed in this article.
The Georgia Historic Landscape Initiative is piloting a documentation program of vernacular landscapes in Pike and Spalding Counties. Vernacular landscapes and gardens are beginning to be recognized as historic resources. Farmsteads, and their associated landscape features such as barns, outbuildings, kitchen gardens, fields, pastures, orchards, etc., tell a wonderful story about how the rural areas of our country developed.
For more information regarding the GHLI, please contact Garden Library Director, Staci Catron, at 404.814.4046 or scatron@atlantahistorycenter.com.
---
Stephanie N. Bryan received a Master in Landscape Architecture degree from the University of Georgia's College of Environment + Design in 2011 and subsequently worked for several years as a landscape historian with The Jaeger Company. She is currently a Ph.D. candidate in History at Emory University, where she also works as a Review Editor for the digital journal Southern Spaces. Her dissertation research broadly explores the intersections of ecologically disturbed agrarian landscapes, indigenous species, diets, and politics in the Deep South from slavery through Emancipation, Reconstruction, and Jim Crow.