One might be surprised to learn that the Cherokee Garden Library collects postcards. Whether used for a quick and easy way to communicate, or to keep as a souvenir, this unique form of visual material provides some fascinating details of historic homes and gardens, while documenting a wide range of landscape styles; all within a medium that itself has changed through time.
Postcards have a long history of evolving styles and formats from the first United States government issued postcard of 1873, to the Golden Age of postcards of the early 1900s, to the color photograph postcards of today. Both sides of the postcard have evolved through time with improvements in paper, ink, and printing processes.
Messages were initially added to the front of the card, but moved to the back of divided postcards in 1907. White borders around postcard images first appeared around 1915. Inks and coloring techniques have varied through the years from black and white, to hand-colorized or tinted cards, giving way to brightly colored cards. Paper card stock quality improved through the years to high rag content linen-like postcards of the 1930s. Real photo style postcards of the early 1900s progressed to glossy-coated photochrome cards developed in the late 1930s providing color photograph postcards.
Cherokee Garden Library's Postcard Collection
Among the treasures in the Garden Library's growing collection are images of Southeastern city parks, street scenes, historic buildings, cemeteries, residences, private gardens, and landscapes as well as rural yards. Many of these cards were not sent through the mail, but some include messages and postmarks which add to their interesting history. The majority of the collection covers Georgia cities such as Atlanta, Augusta, Savannah, and Thomasville, but other Southeastern states and cities are also included.
A variety of domestic architectural styles, garden trends, and plant selections are highlighted from formal foundation plantings to tropical landscaping to naturalistic settings. Plants featured include cannas, banana trees, elephant ears, and palms; traditional southern favorites such as wisteria, azaleas, jasmine, and magnolias; and European-inspired formal landscapes with intricate planting beds filled with colorful annuals and perennials. Garden features such as fountains, pathways, and pots are also illustrated.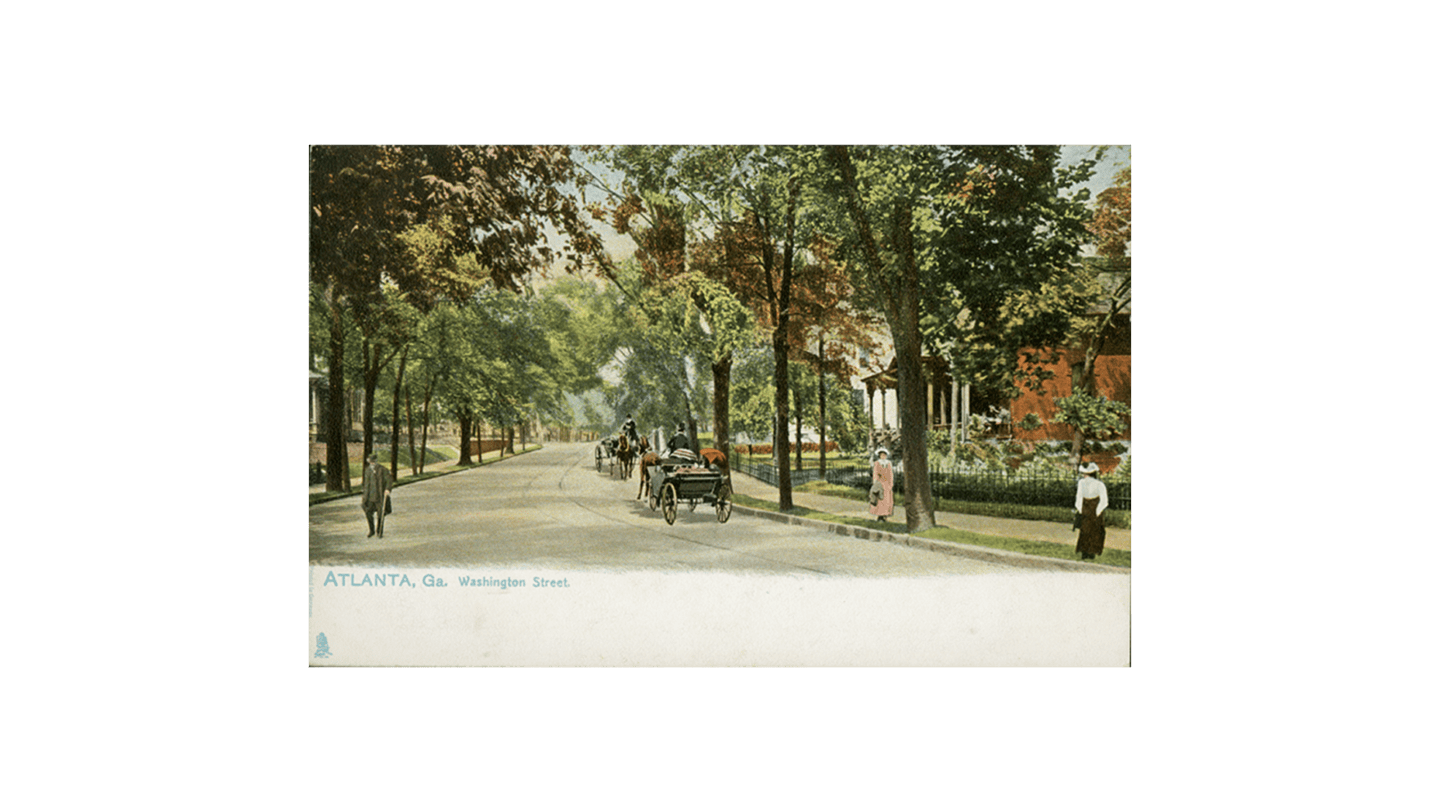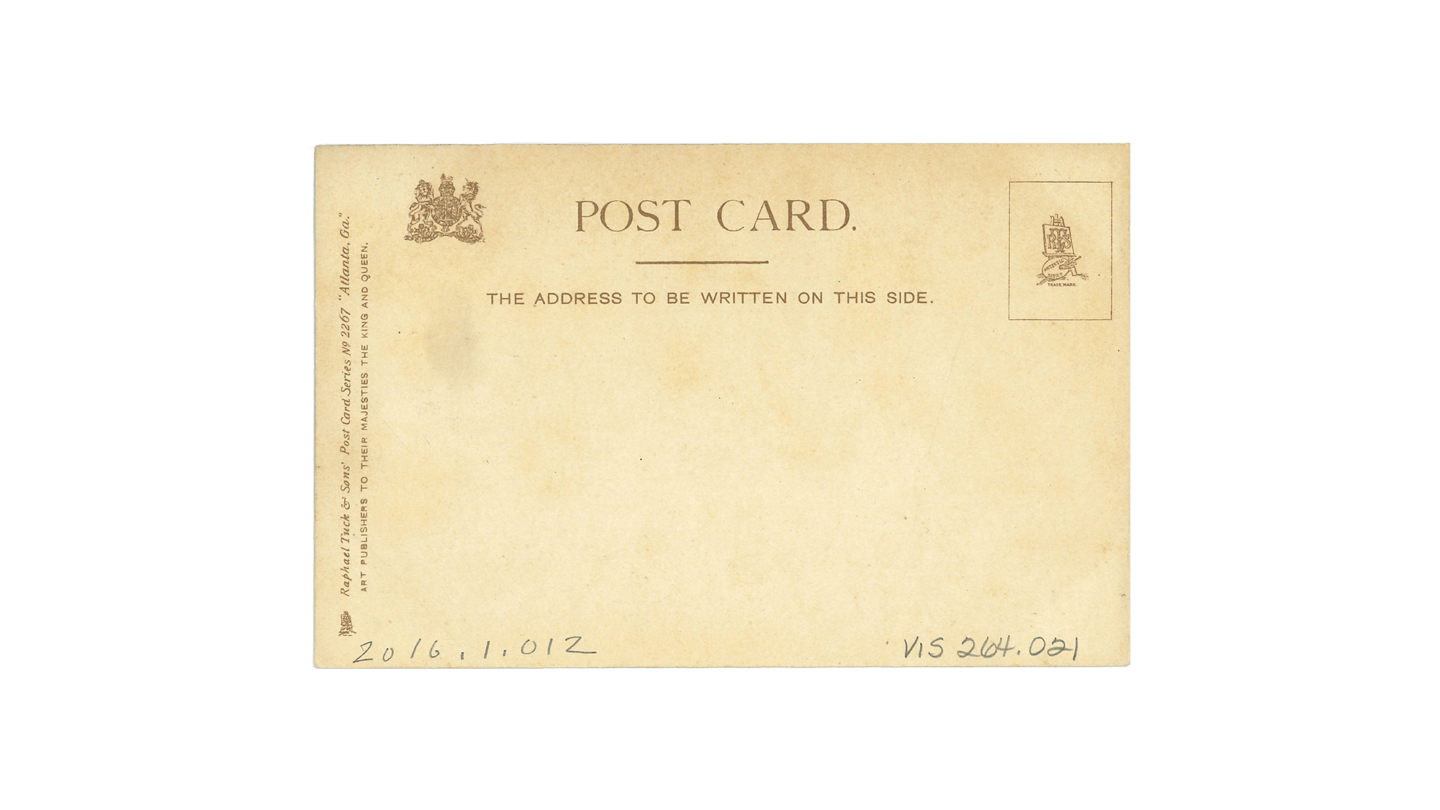 Private Mailing Cards (1898–1901) and Undivided Back Period (1901–1907)
The oldest postcard in the collection is of the Azalea Tea House in Augusta, Georgia, from 1898. Black and white with an undivided back, this postcard is labeled Private Mailing Card, from the first year of authorized privately produced postcards in the United States. In 1901, as sending cards gained popularity, the words "Post Card" replaced Private Mailing Card on the back of the postcard. Street scenes such as the postcard of Washington Street in Atlanta from circa 1905 depict shade trees, shrubs, and front yard gardens set back by fences and wide sidewalks. Another early example is the circa 1907 postcard of Martin Fountain on Lower Green Street in Augusta which illustrates city parks that included fountains and plantings common in the early 20th century.
Divided Back or Golden Age Period (1907-1915)
Millions of postcards were exchanged during the Golden Age of postcards and the Garden Library holds many charming examples. Parks and cemeteries show wide paths for strolling and pastimes such as reading on park benches or canoeing on a lake are illustrated. The private garden postcard of Green Island Ranch, Columbus, Georgia, from the 1910s, is beautifully illustrated with lush plantings and invites a garden stroll for our imaginations. One postcard of the LaGrange residence of Col. J. H. Fanin from circa 1909 includes a note that reflects the popularity of sending postcards, "Pretty card read, thanks for same. I most prefer buildings view. Which do you prefer? [I] am receiving several cards daily."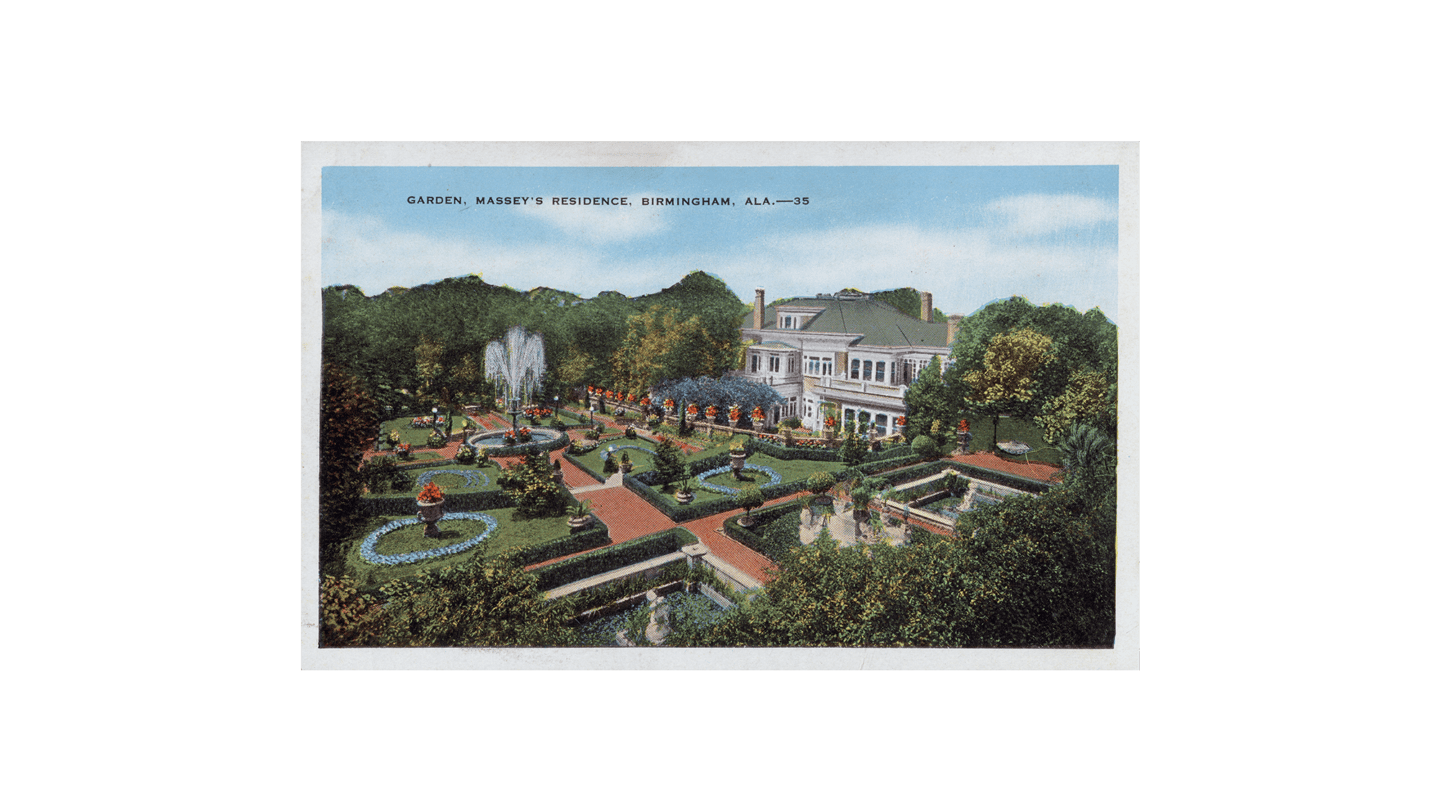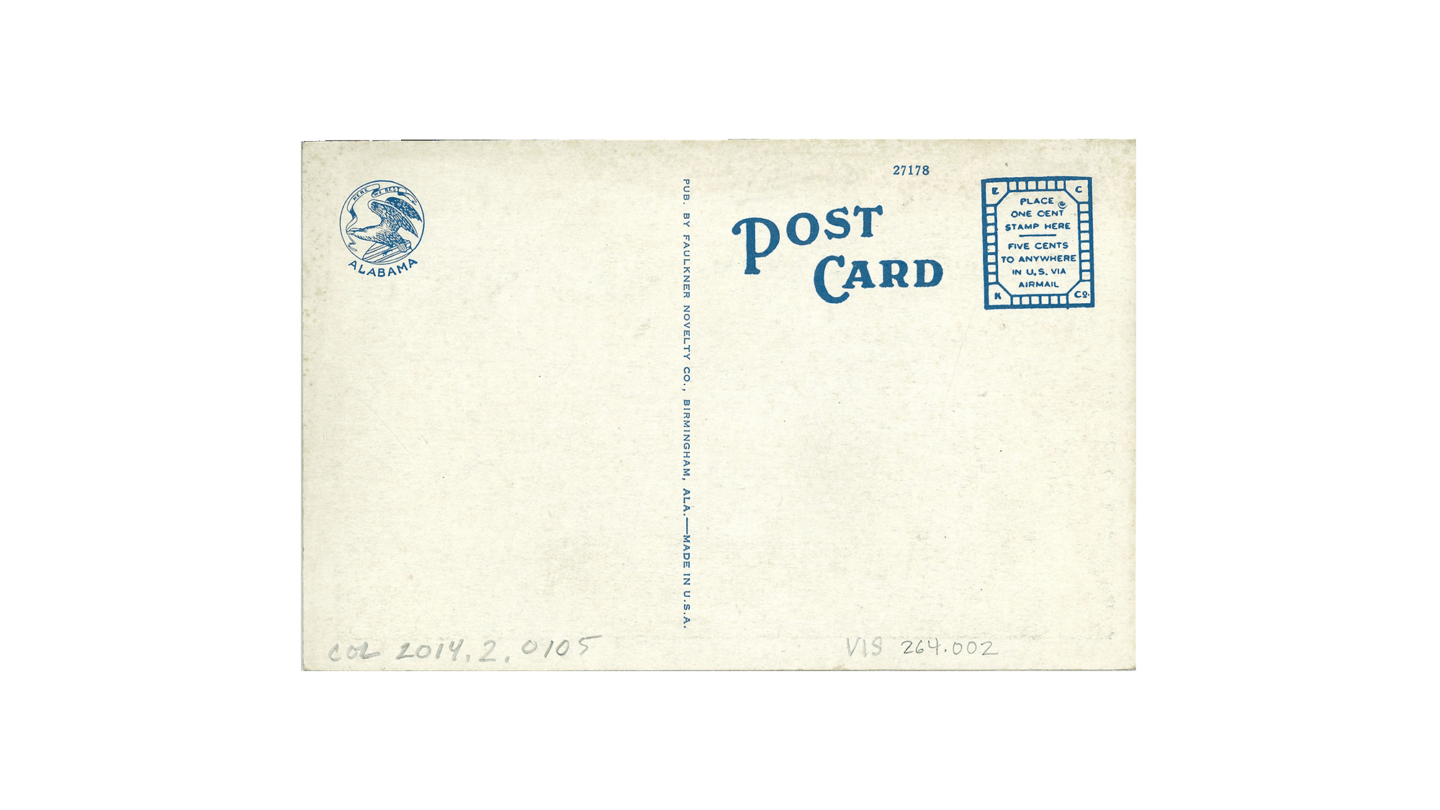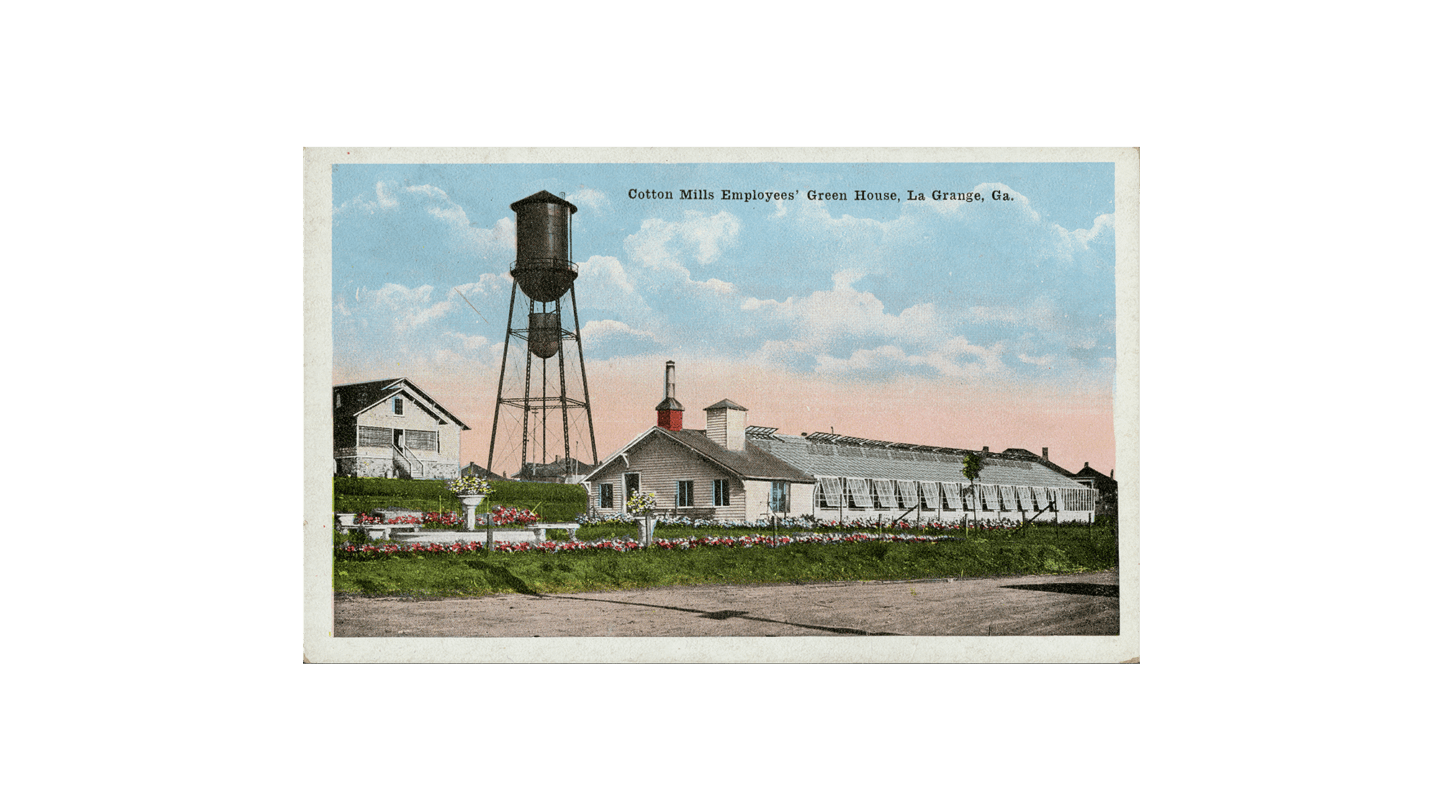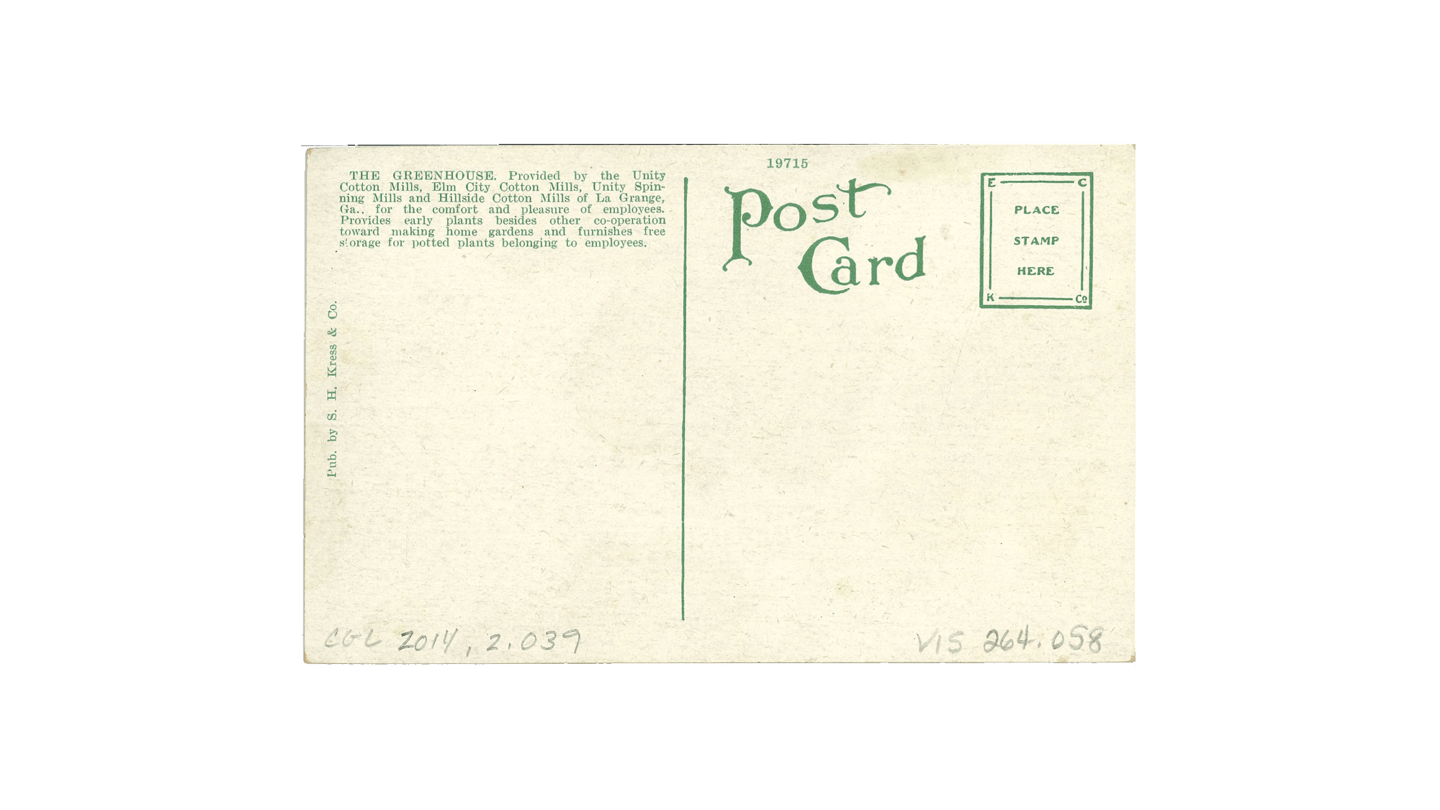 White Border Period (1915-1930)
After World War I began, North American printers increased their production of postcards, creating a more competitive marketplace with a wide range in quality. A white border around the postcard's image was introduced to save money and production time. Coloring varies in this period from black and white scenes, to hand colorized, tinted, and color inks. This period documents many styles of gardens and landscapes as well as varied plant material. A 1920s postcard of the Richard W. Massey residence and garden in Birmingham provides a detailed glimpse of an Italian-influenced formal garden complete with fountain, urns, statuary, and terraces. Another curious postcard is of a greenhouse provided for the employees of several cotton mills in LaGrange where textile mills were flourishing under the direction of Fuller E. Callaway.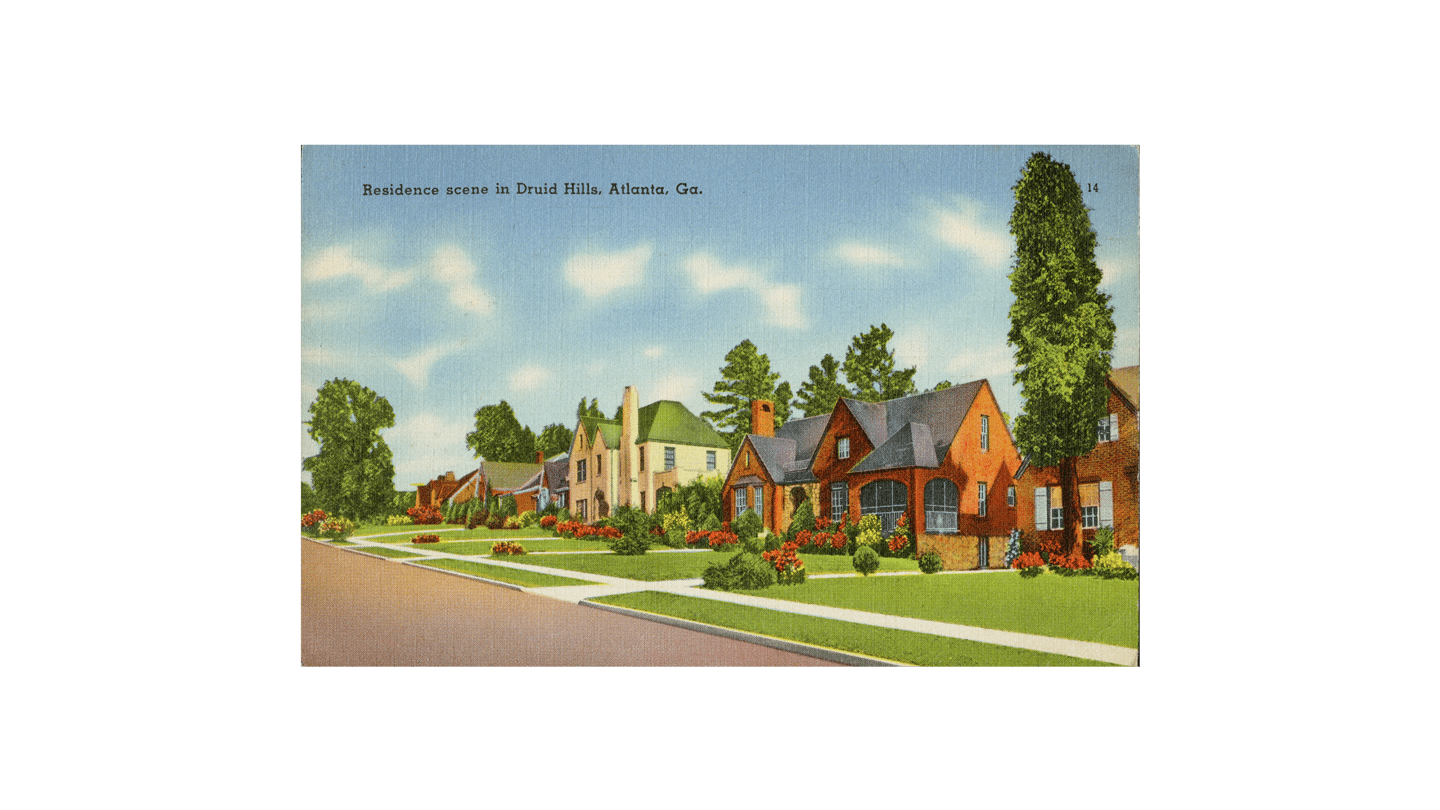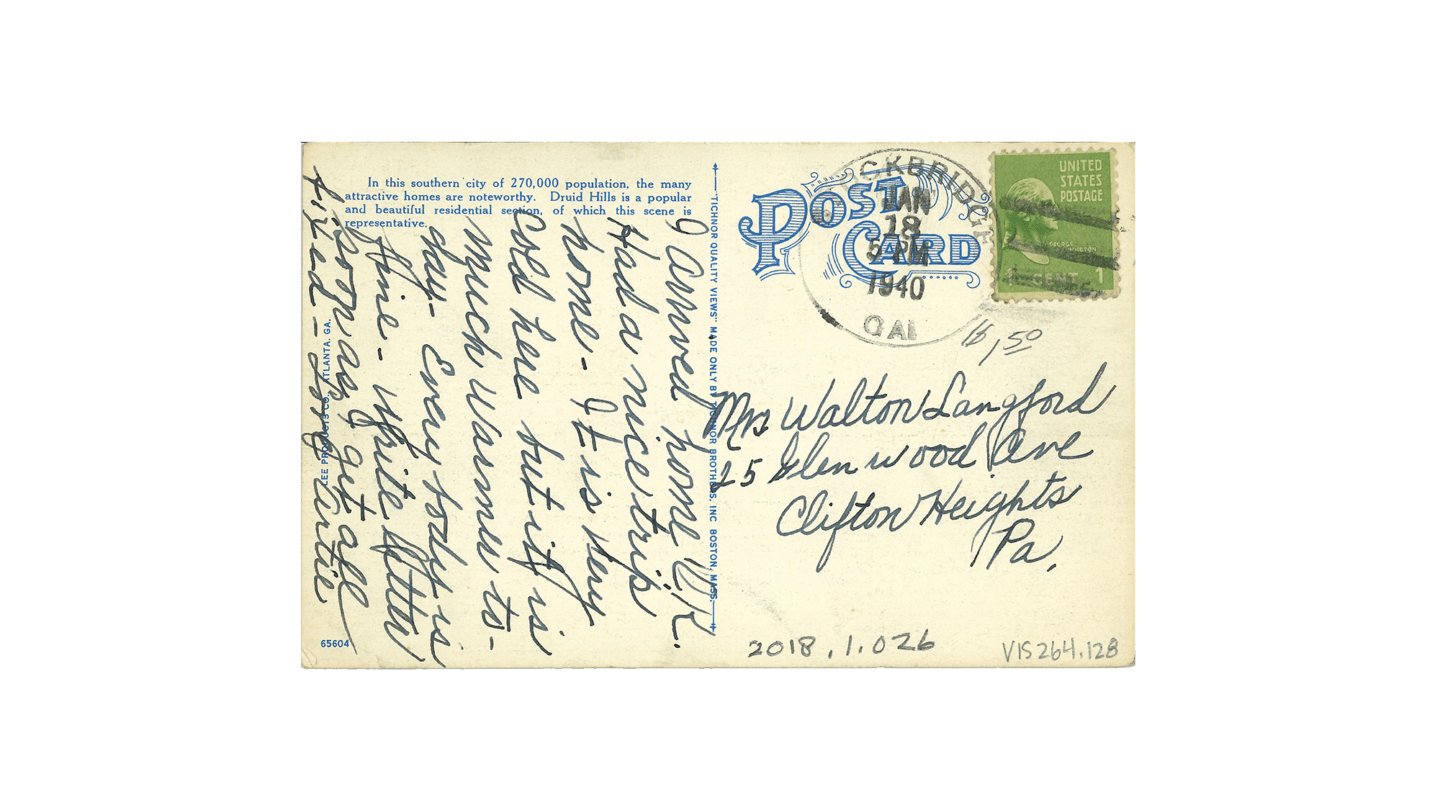 Linen Period (1930-1945)
With advances in technology, publishers started using a linen-like textured paper stock with high rag content in postcards both bordered and unbordered. With bright and vivid colored inks, many of these cards depict idyllic scenes popular during the difficult times of the 1930s and 1940s. Residences and mansions, as well as plantations and estates, are often illustrated in this time period. Neatly pruned foundation shrubs with colorful border plantings are commonly found on these cards. Vibrant colors, linen-like texture, and a pristine setting make the 1940s postcard of a Druid Hills residential street a beautiful example of the Linen Period.
Greetings from Cherokee Garden Library
Postcards have always been a fun way to capture a memory, share a story, or remember a special place. Cherokee Garden Library has made further use of these interesting keepsakes by studying them to provide details of landscapes, gardens, and plants of the past. Sometimes we even gain insight into how people utilized and valued their natural environment.
We invite you to enjoy this special collection with us, Cherokee Garden Library postcard collection (VIS 264), Cherokee Garden Library, Kenan Research Center at Atlanta History Center.