On October 30, 2023 Olguita's Garden will celebrate its 5th anniversary! This special garden was created in honor of Olga C. de Goizueta. As a previous Chair and Trustee of The Goizueta Foundation, she left an indelible legacy of philanthropic leadership in Atlanta with many organizations, including as a previous Trustee at Atlanta History Center. Perhaps less widely known was her enjoyment of gardens.
Mrs. Goizueta's family honored her with the naming of the 33-acre collection of gardens surrounding Atlanta History Center in January 2014. The Buckhead campus, with its historic landscapes and living collections became known as Goizueta Gardens.
When Mrs. Goizueta passed away in November 2015, her family commissioned a new signature garden to be created in her honor as a place of quiet reflection and year-round beauty, with inspiration drawn from her penchant for English and French gardens. A sunny location along the garden façade of the museum building was selected, and what was once a mere lawn was transformed.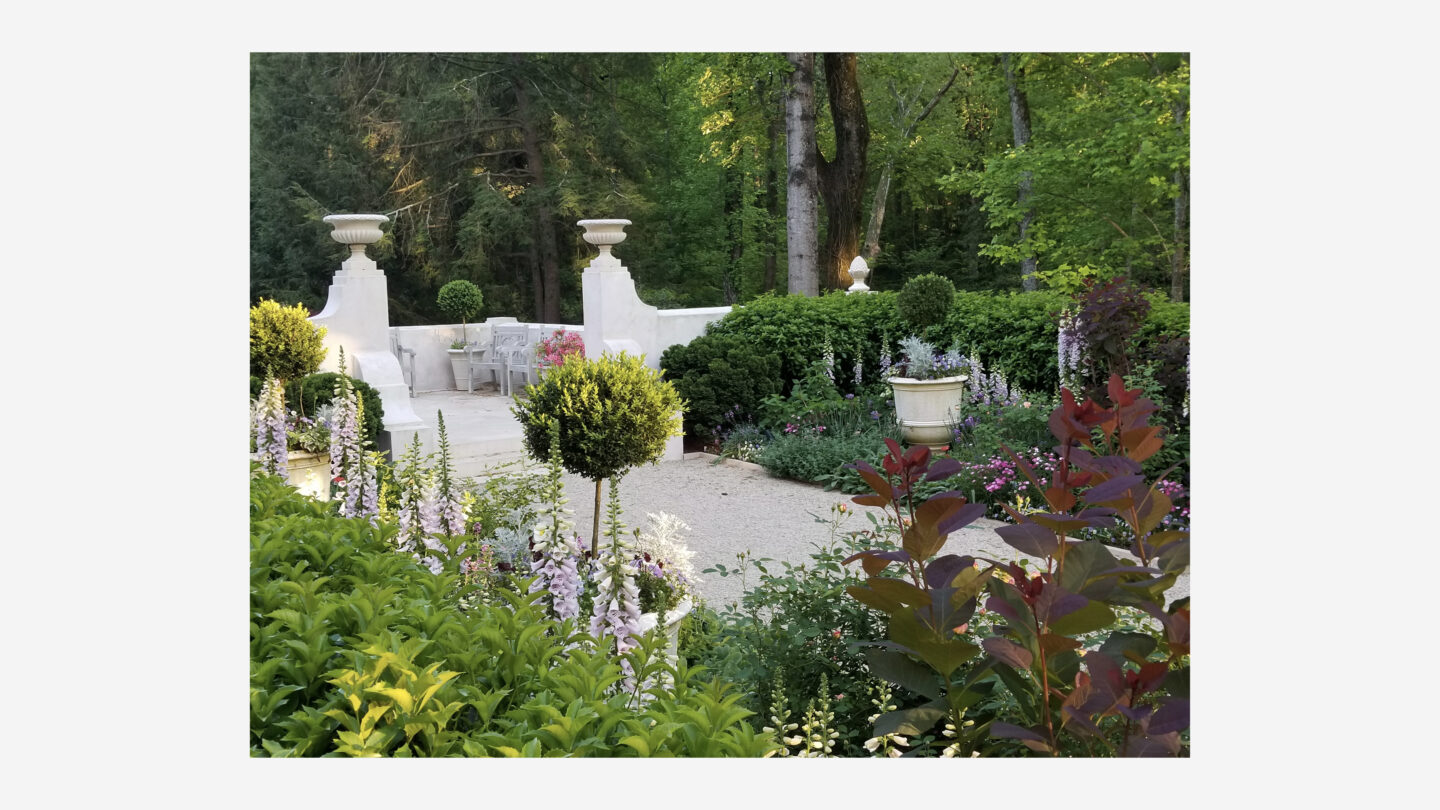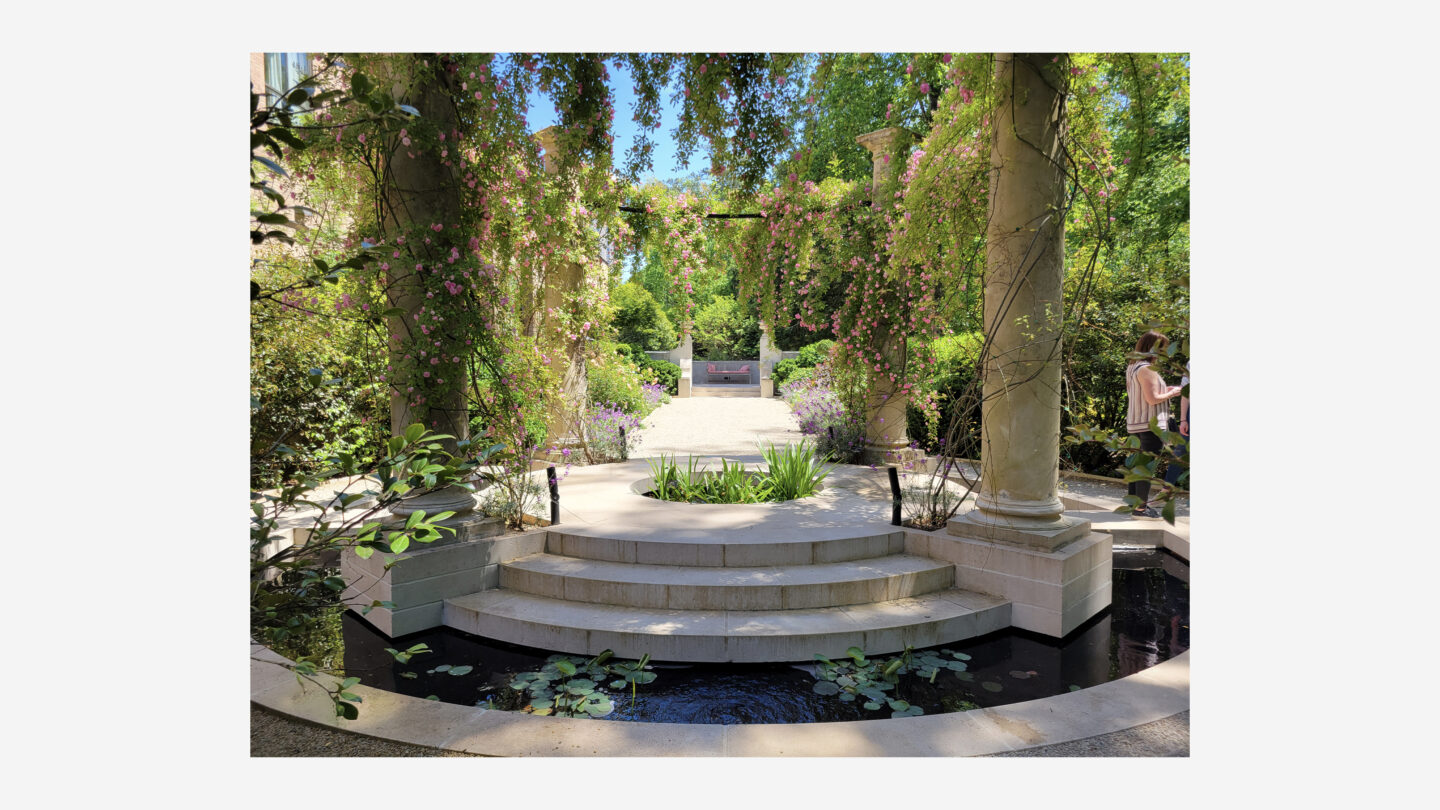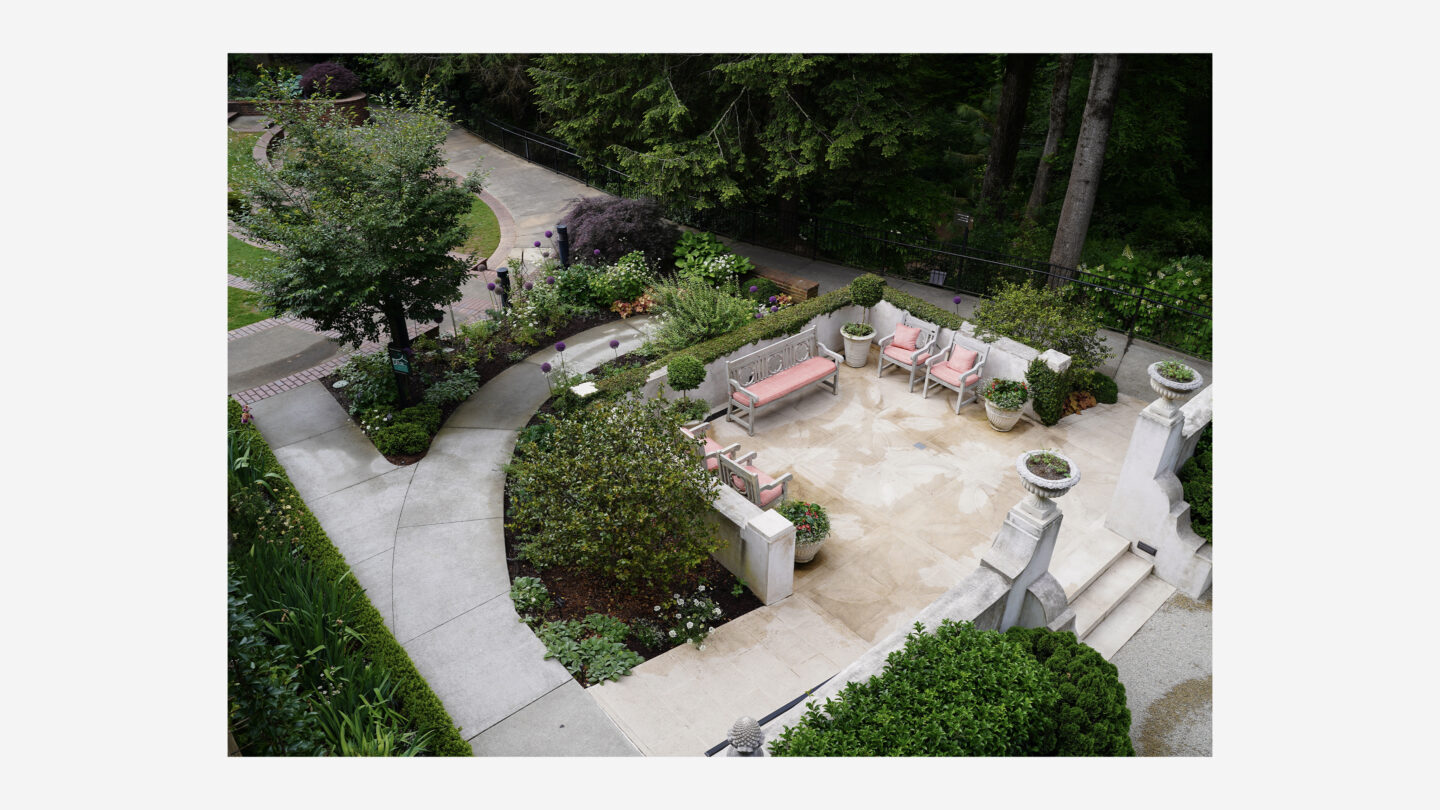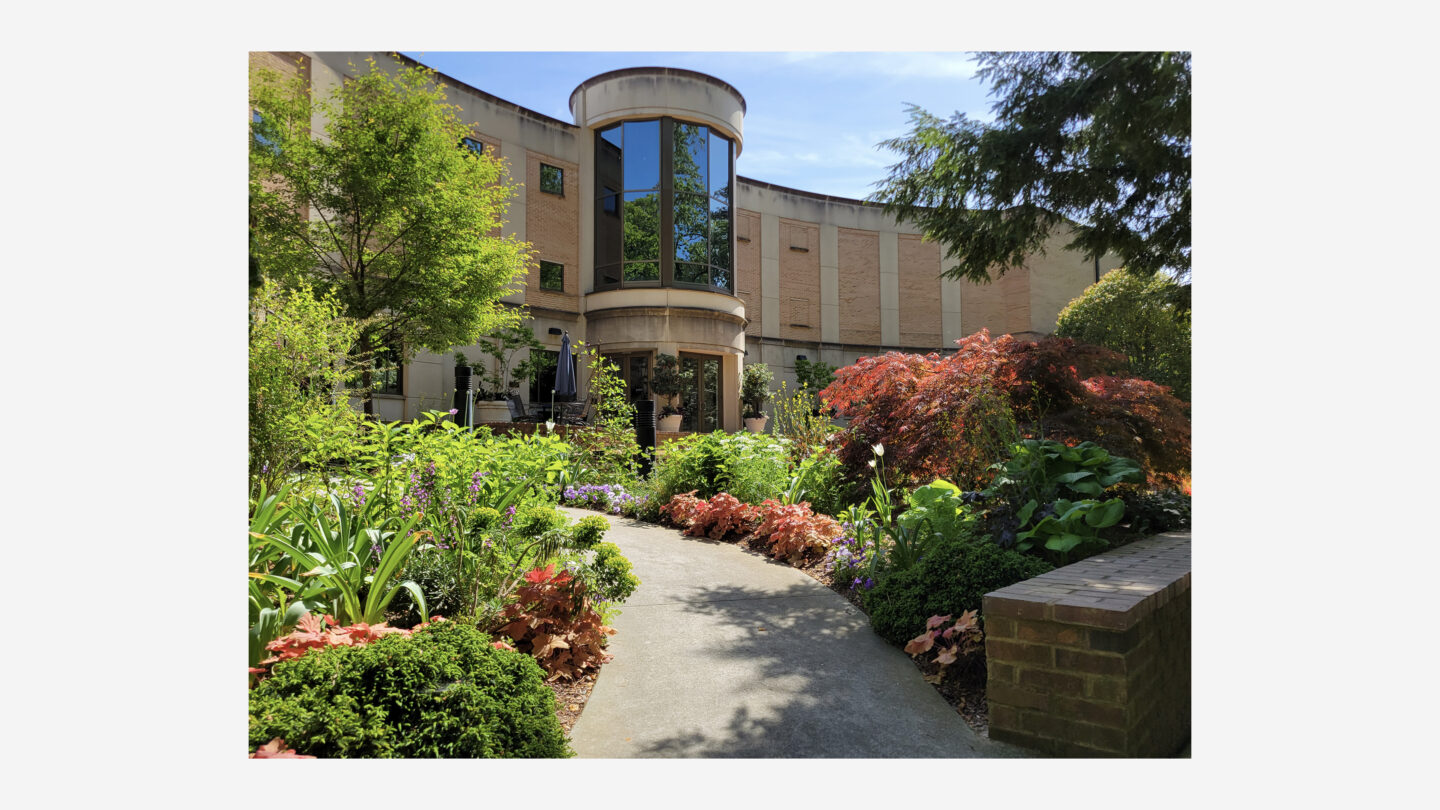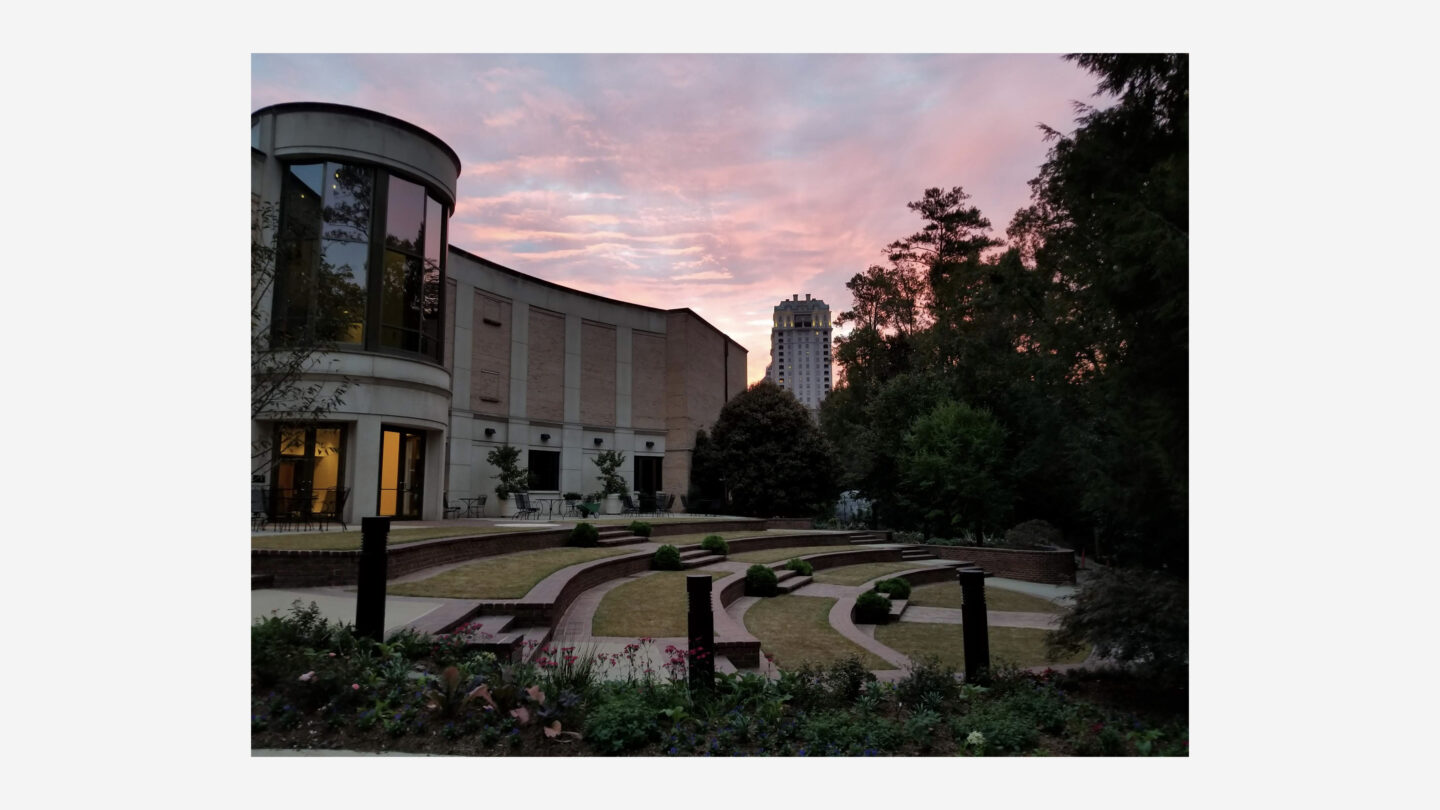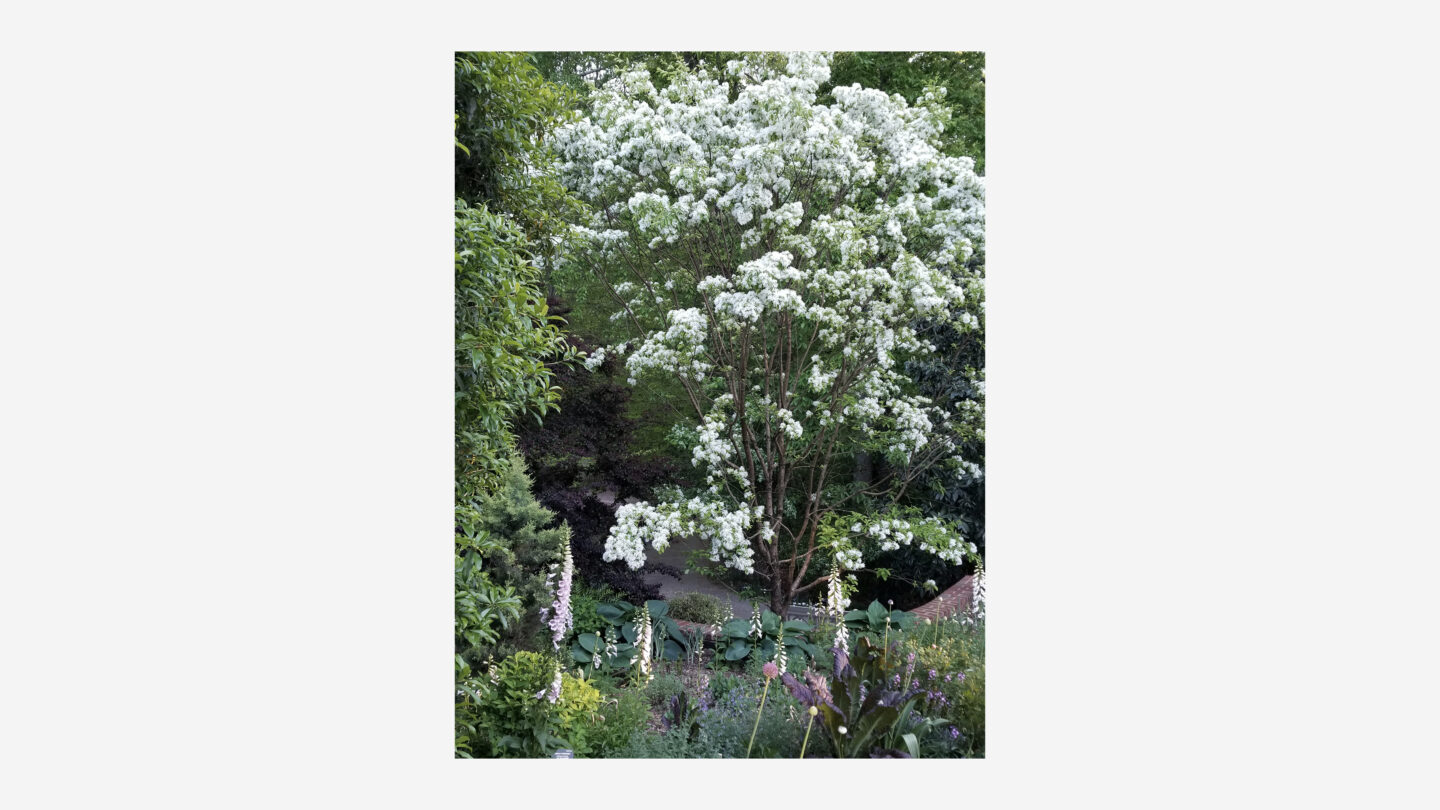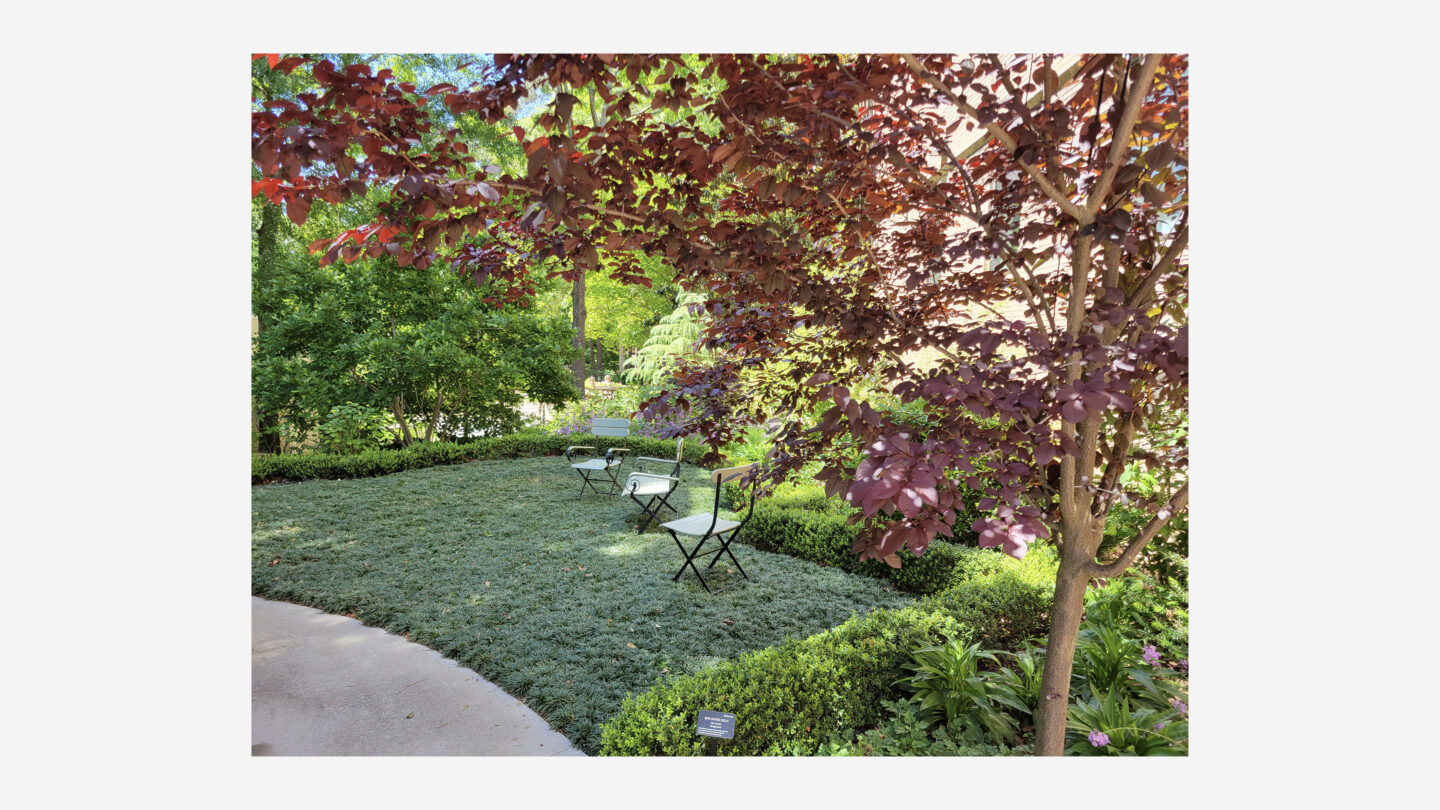 Alex Smith and Mark Mosely produced the landscape design and architectural details, including the siting of four limestone columns designed by Neel Reid that are part of the History Center's collections. Planting design was done by Sarah Roberts, who works alongside Tiffanny Jones and Goizueta Gardens staff to continually edit and curate the space.
One facet of English garden style that helped drive the overall design is the concept of 'rooms' in a landscape—which derives from French and Italian gardens and their Roman influence. Structural components are provided by walls, columns, and clipped hedges, transcending the garden into an extension of architecture.
In Olguita's Garden, there are multiple rooms in the long, narrow garden. Upon exiting the museum building and turning to the right, there is an entrance to a walled-in patio, with a long view down the formal double border, framed by tea olive hedges and accented with clipped topiary in large pots. The pots are the color of limestone, and provide a contrast of color and shape to the lush border plantings. The focal point at the end of the borders is a fountain with a surrounding circle of columns designed by Neel Reid, enclosed by camellias. Just beyond this point, at the western end of the garden, is a small enclosed spot with seating for two.
The Mabel Dorn Reeder Amphitheater is just outside the museum's garden entrance and embedded within Olguita's Garden. This has become a favored location for special events and performances, and a place to rest and enjoy the garden with tables and umbrellas for shade. It serves as another room, with deep plantings wrapping around the terraced landscape.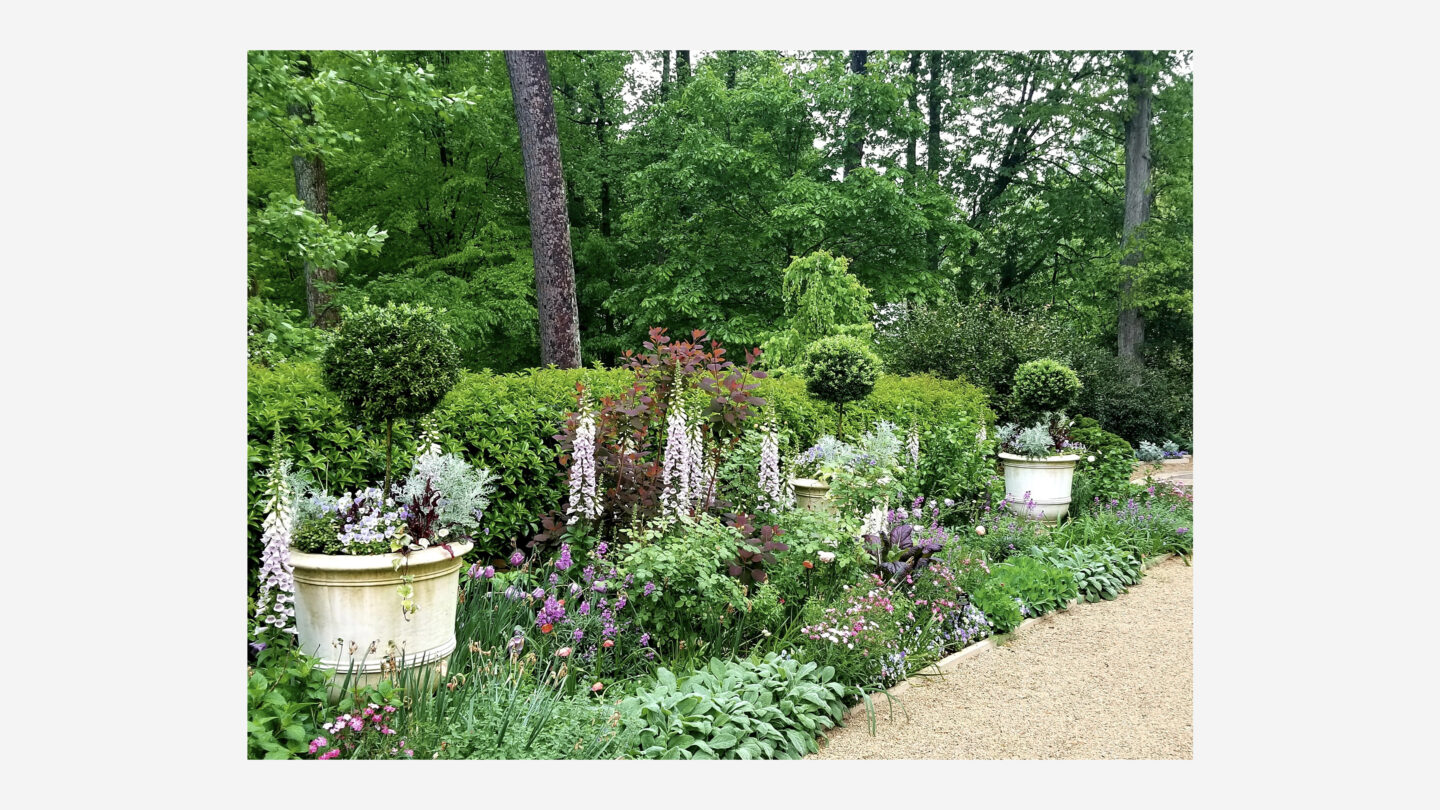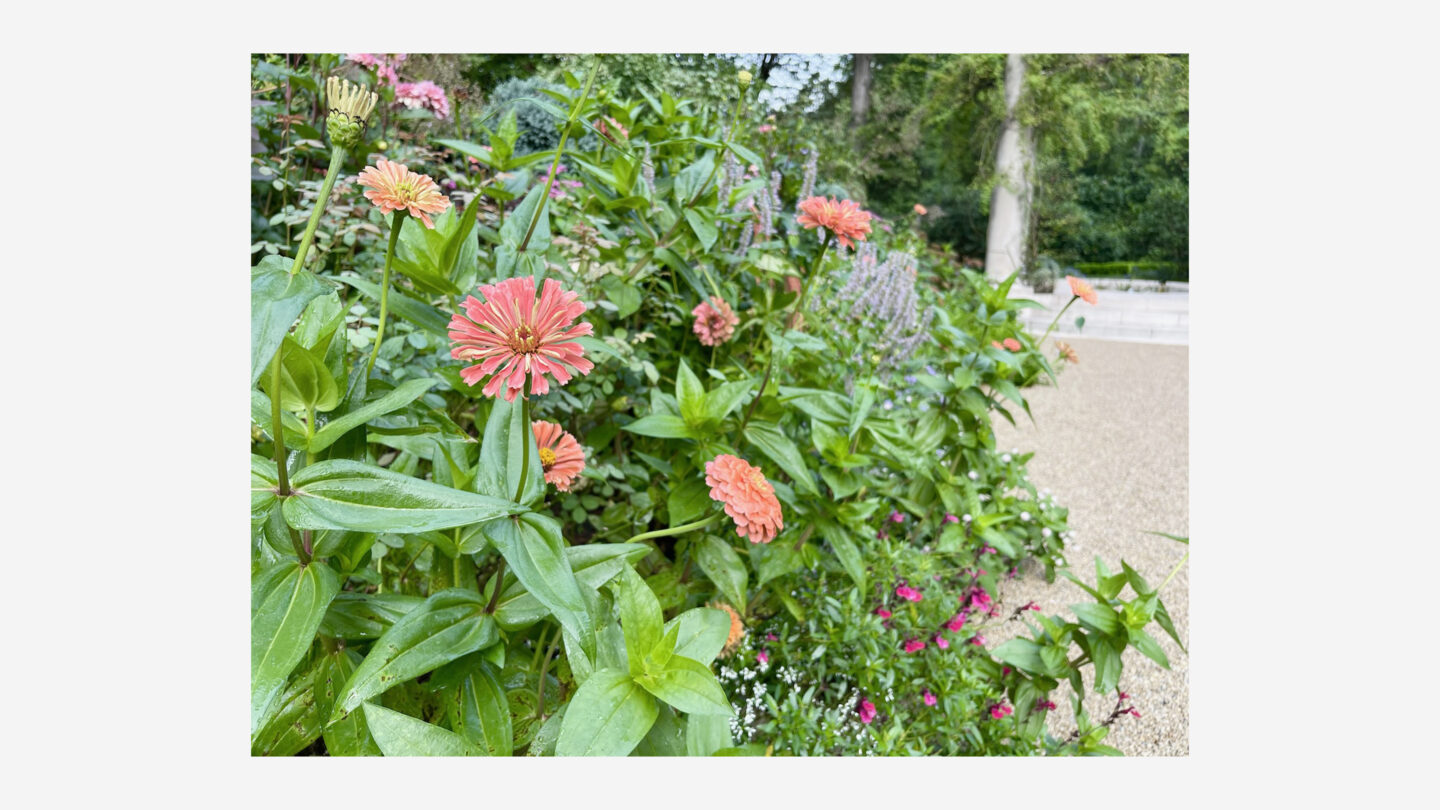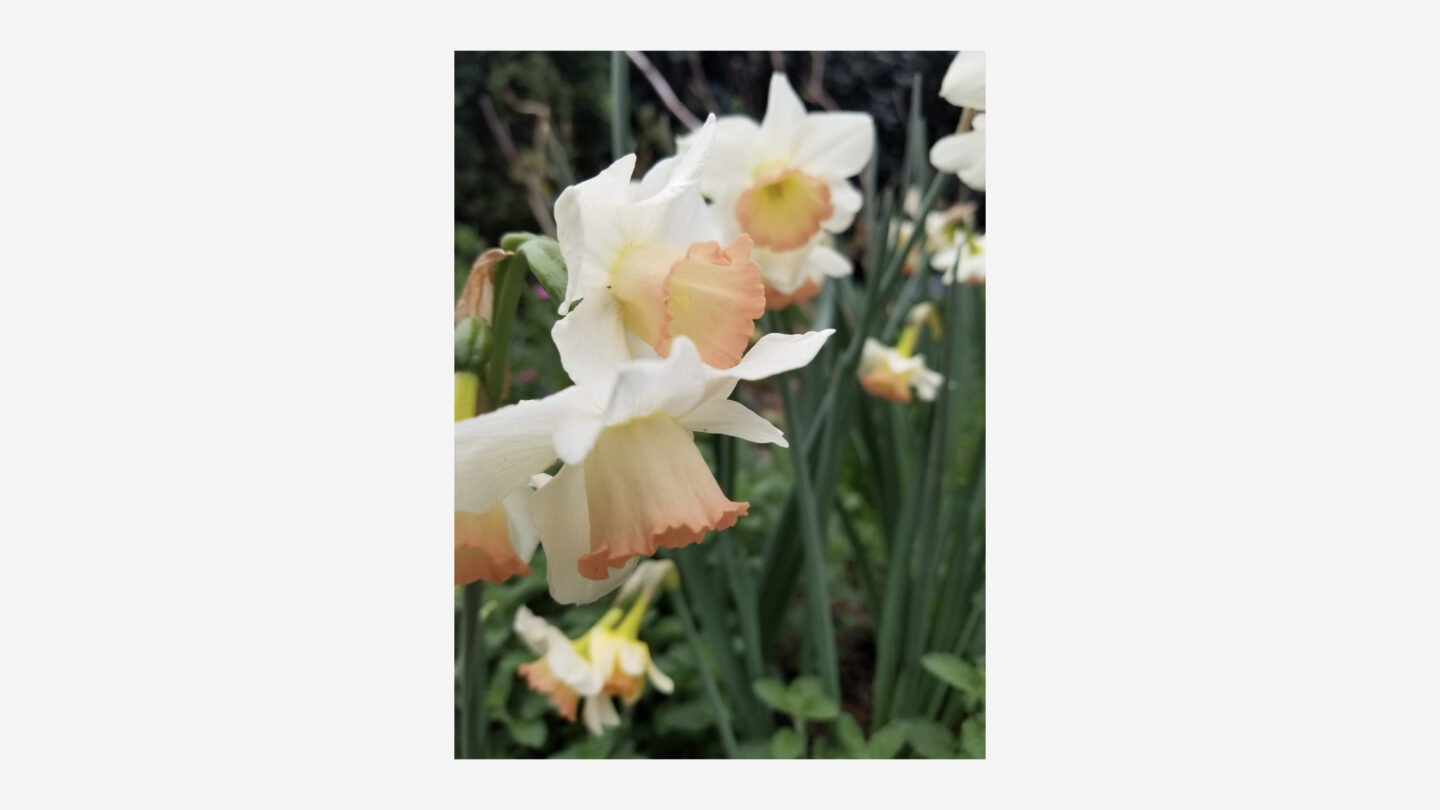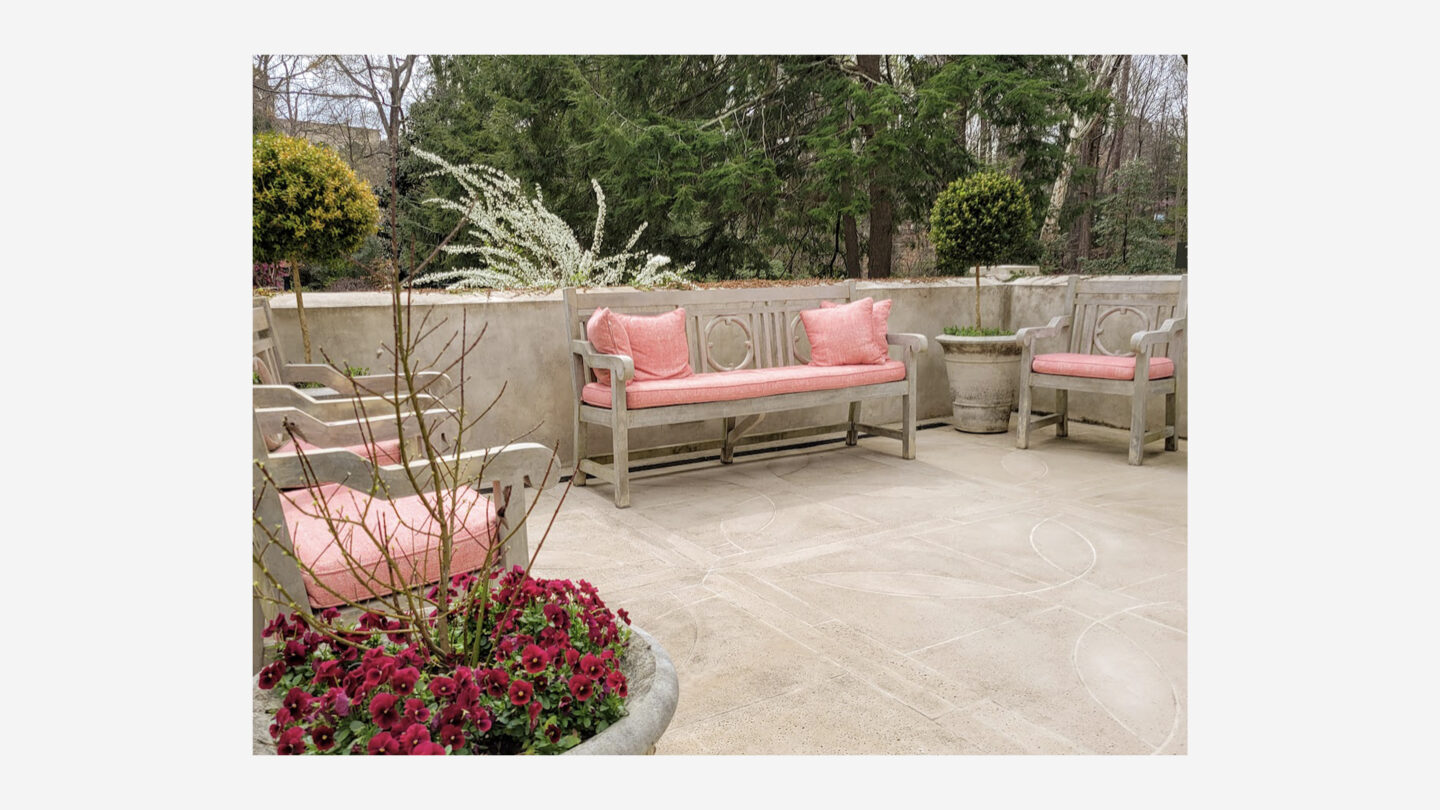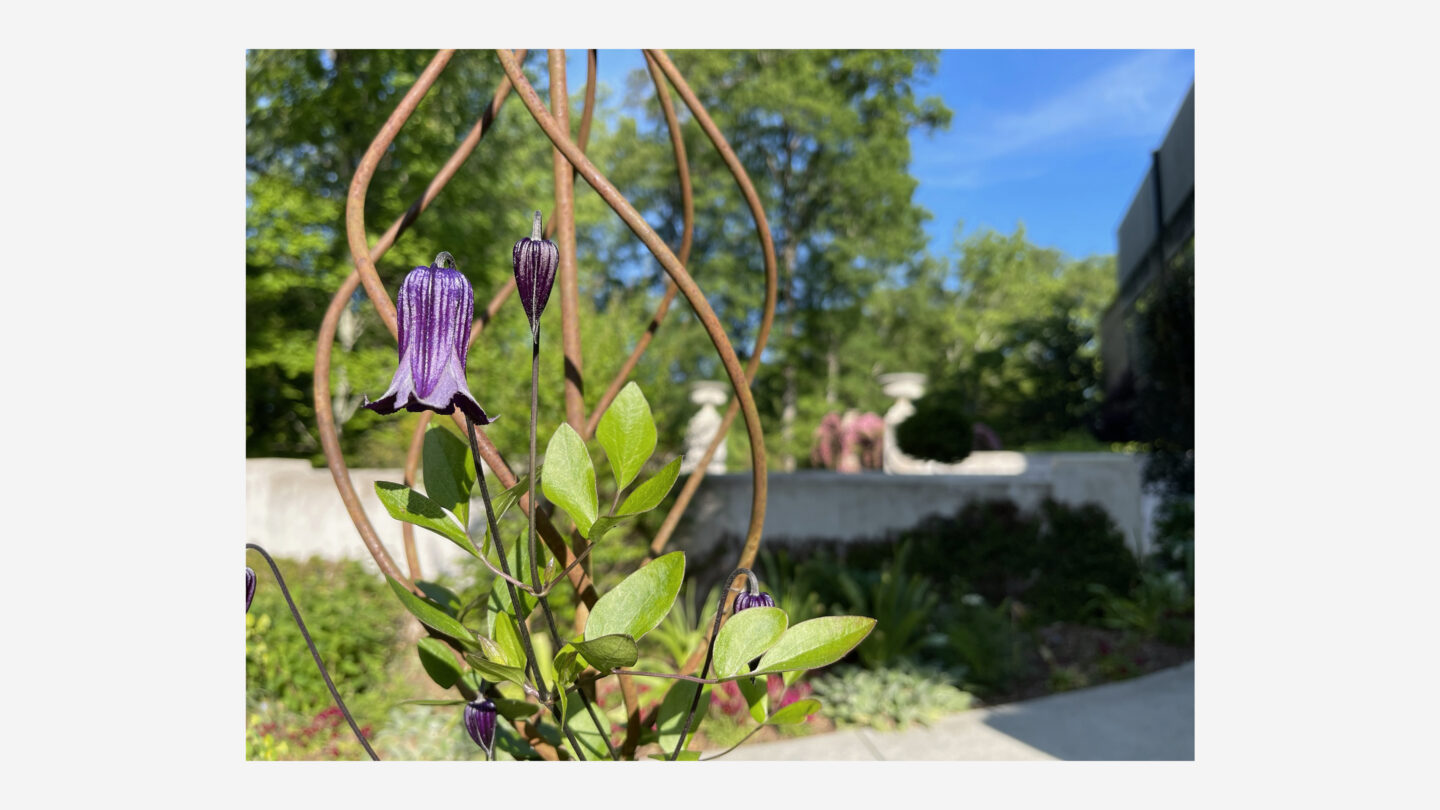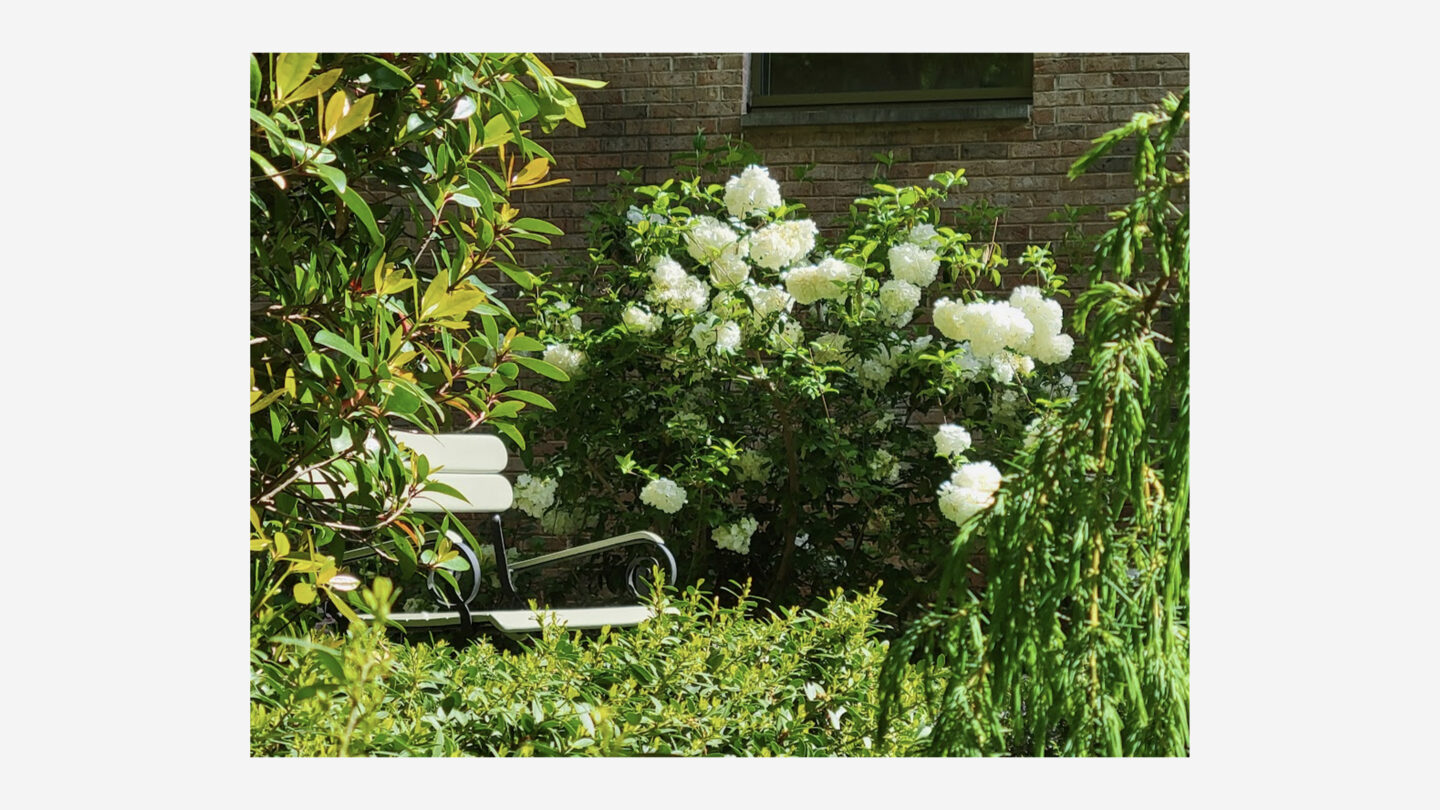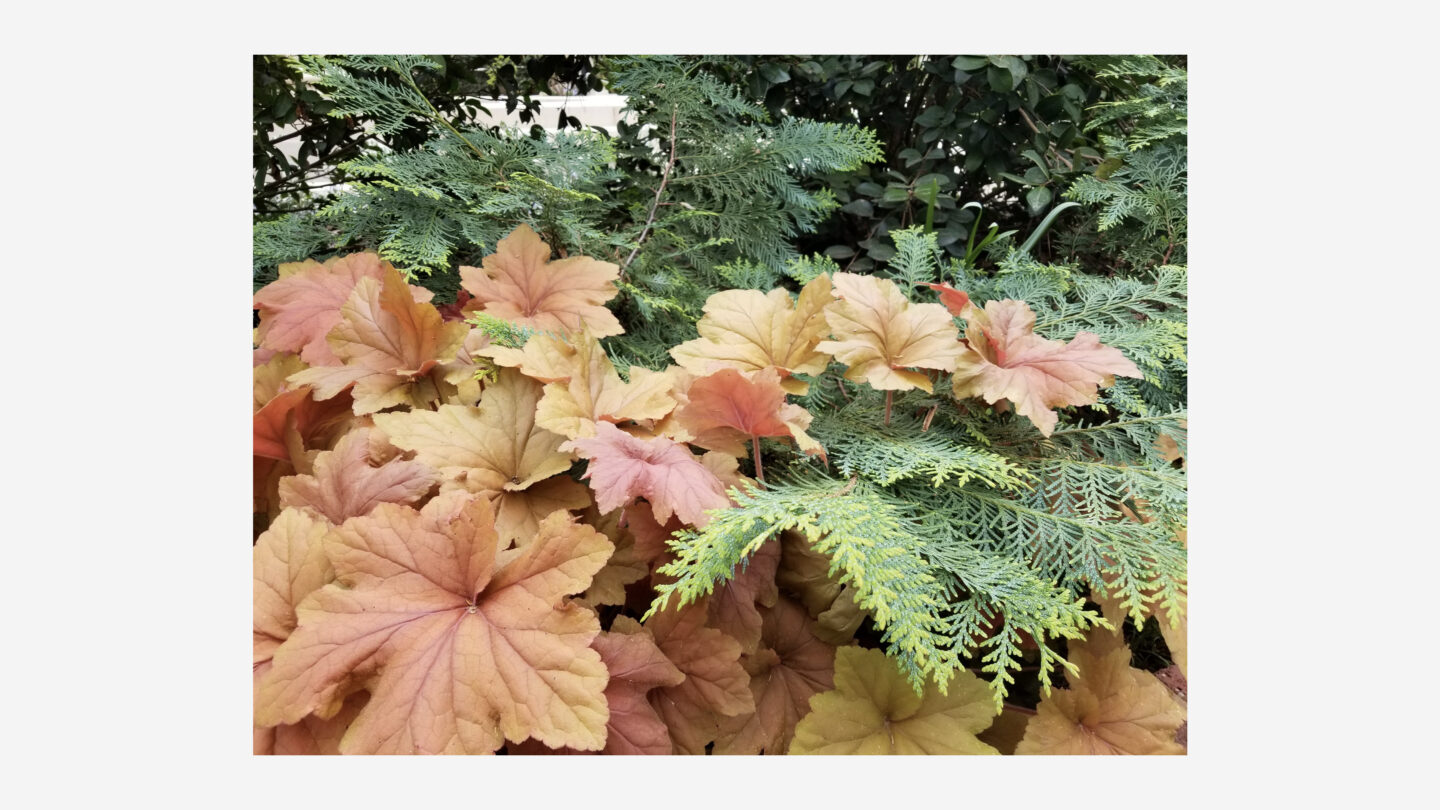 A rich tapestry of flowering and foliage plants selected for color, fragrance and texture, arranged to provide the billowing border style seen in English gardens. To supplement the flowering season of perennials and shrubs, there are carefully selected annual plantings every spring and fall that bridge any gaps in floral sequence.
Inspiration for the color scheme was drawn from Mrs. Goizueta's favorite cut flowers, in gentle antique shades—coral, peach, butter, rose and soft pink, burgundy, light blue, lavender, and white. They are set off against the dark green foliage of the tea olive hedge, Osmanthus x fortunei, and the many shades of green other permanent collections provide.
Creating an English garden look in Atlanta requires using a wide palette of plants with specific attributes beyond flowering to deliver a very long season of interest. Shrubs, perennials and even tropical plants were selected specifically for their colorful and attractive foliage in contrasting burgundy, peach, variegated white and green, or silver. Combinations were made to have complementary and contrasting leaf textures and colors—matte against glossy, coarse against fine, sharp against soft. All of this adds to the flowering plants, creating a luxuriant and deeply layered garden.
Special plants were hand-selected from a nationwide search including trips to Texas, Louisiana, Alabama, South Carolina, Tennessee and New Jersey. Some were particularly rare, hard to find, or were mature specimens grown for 15-30 years before becoming part of this garden.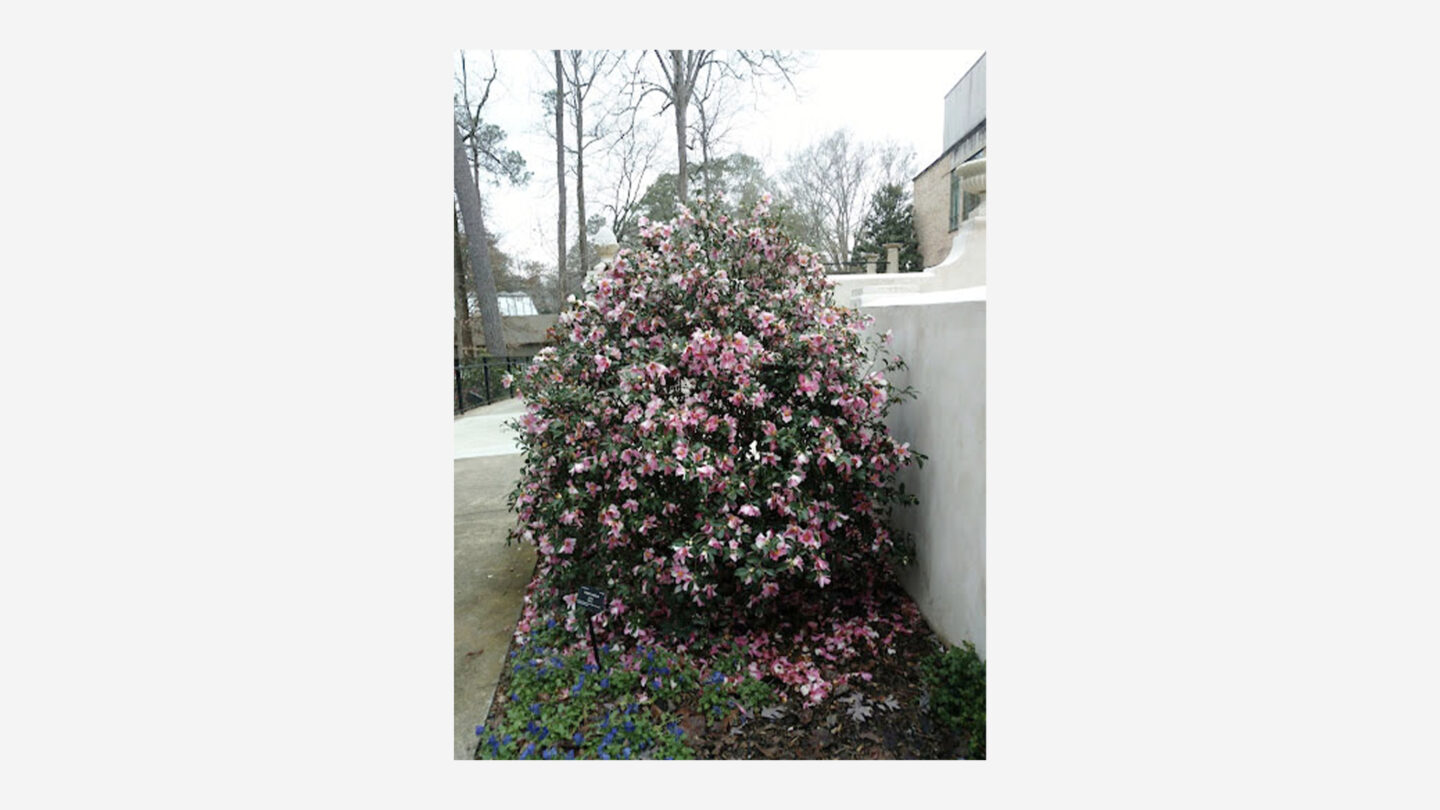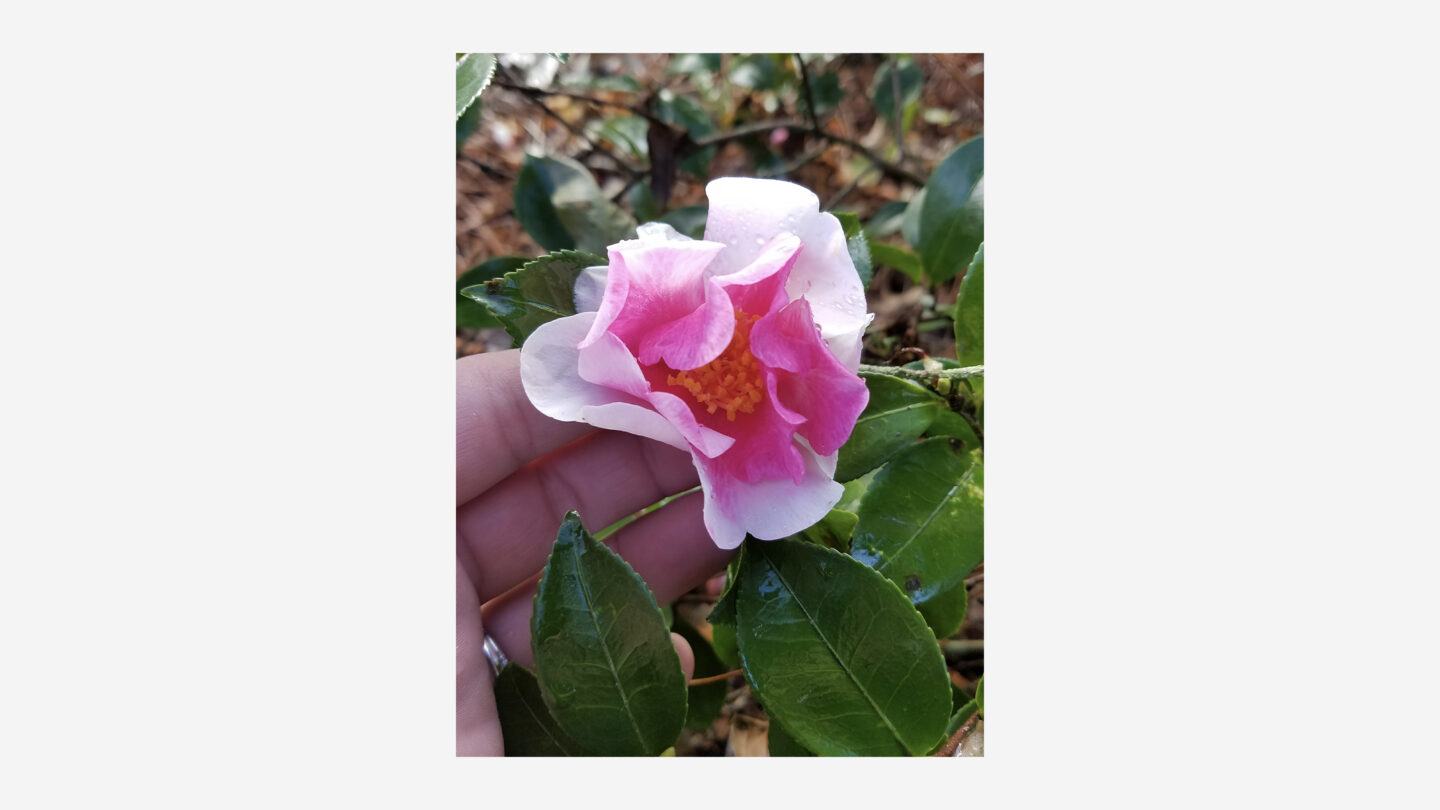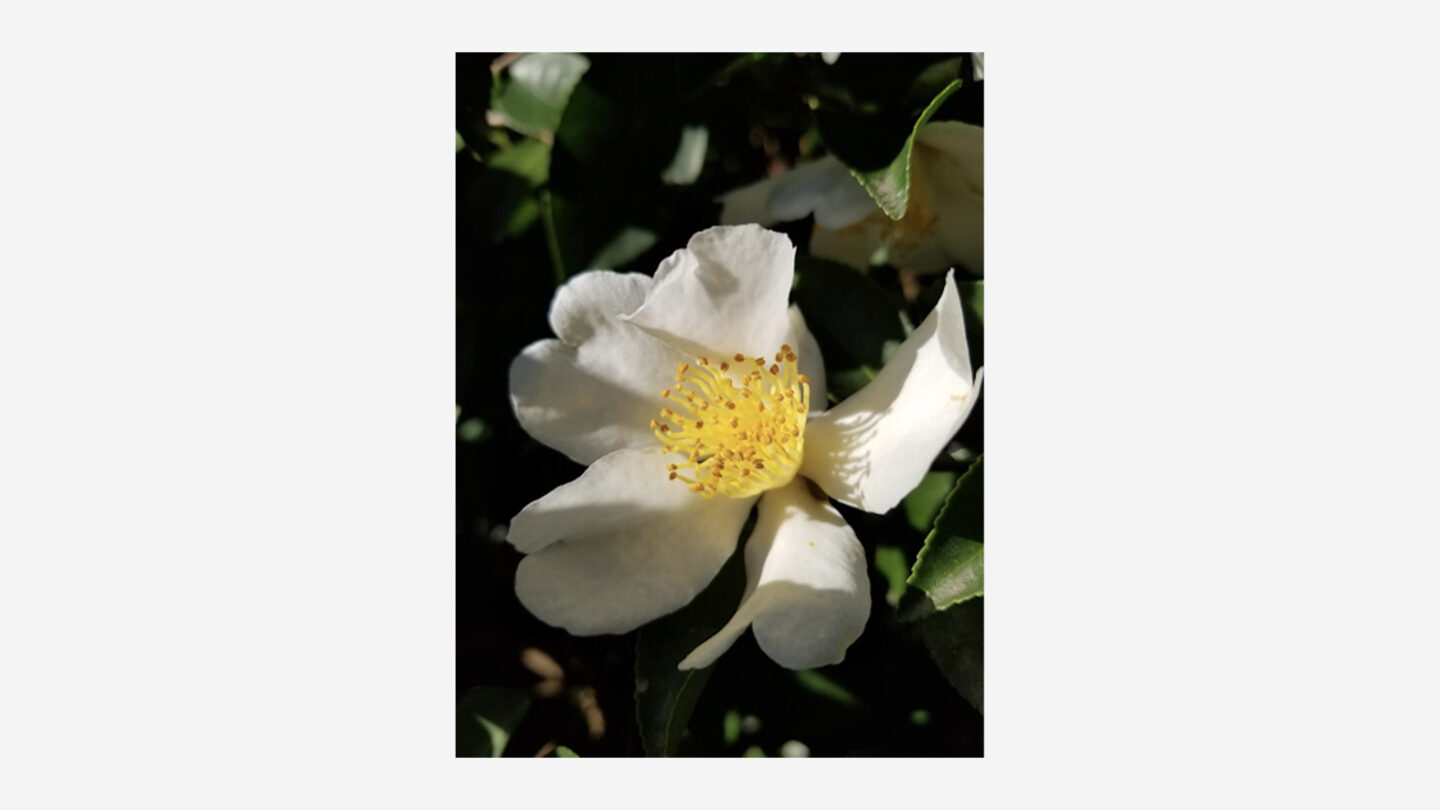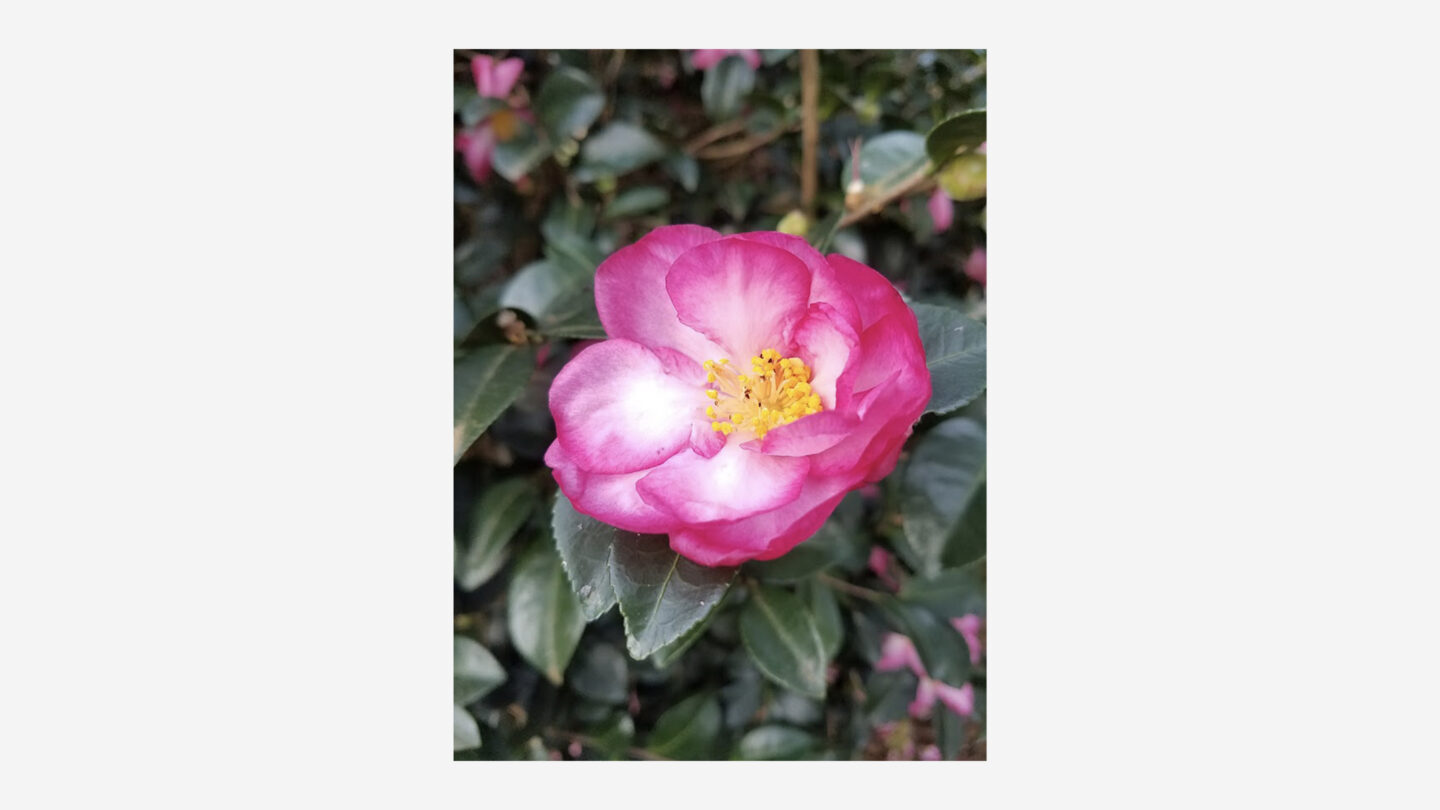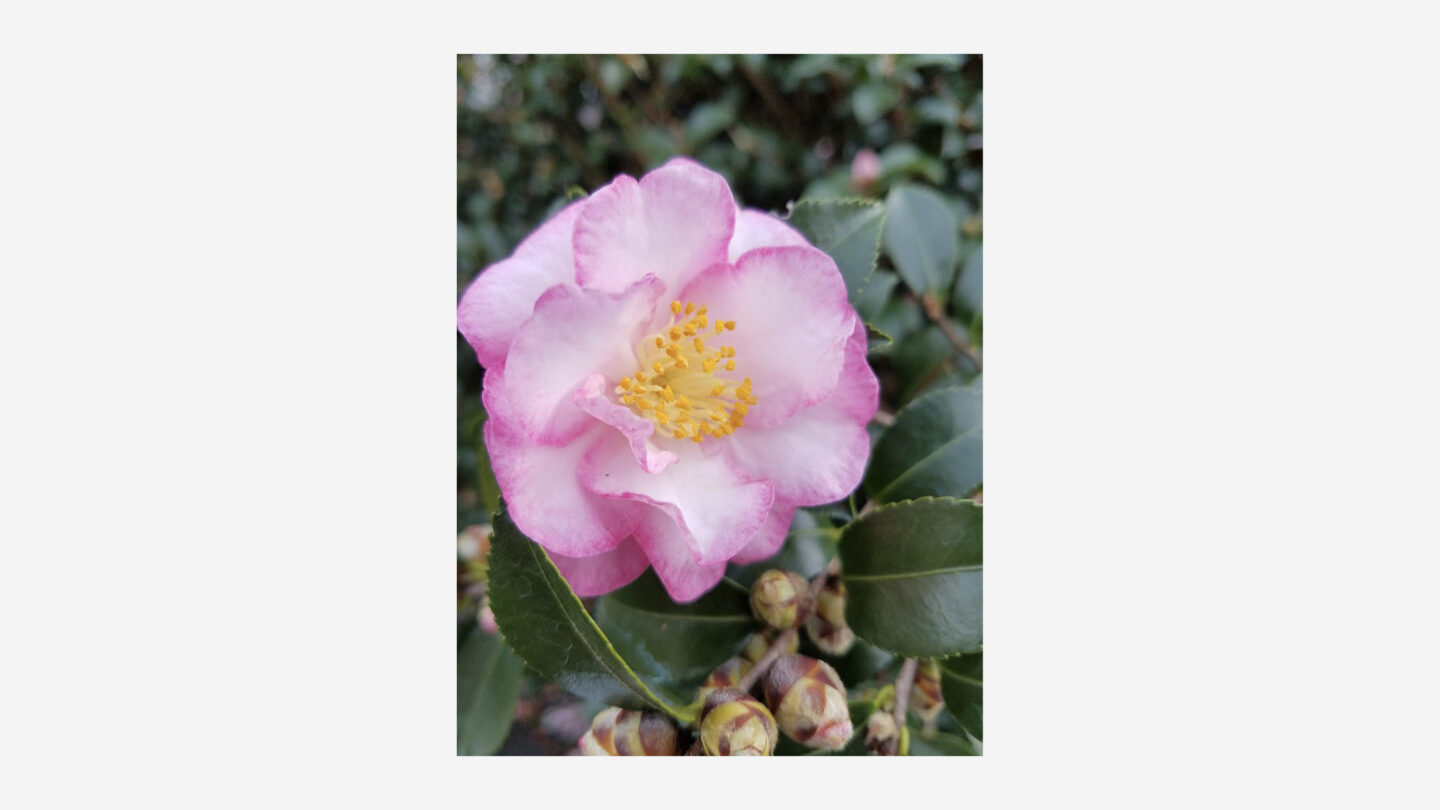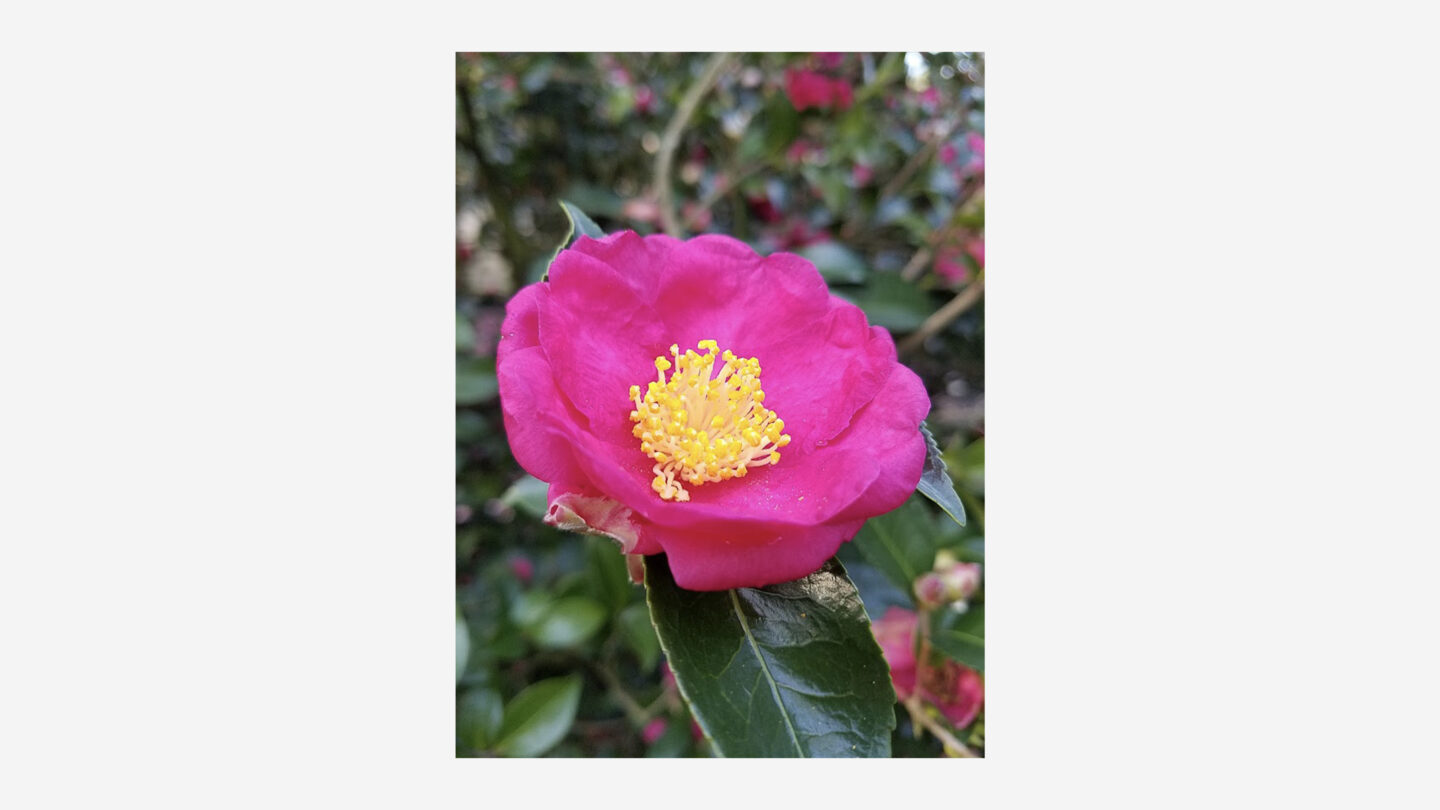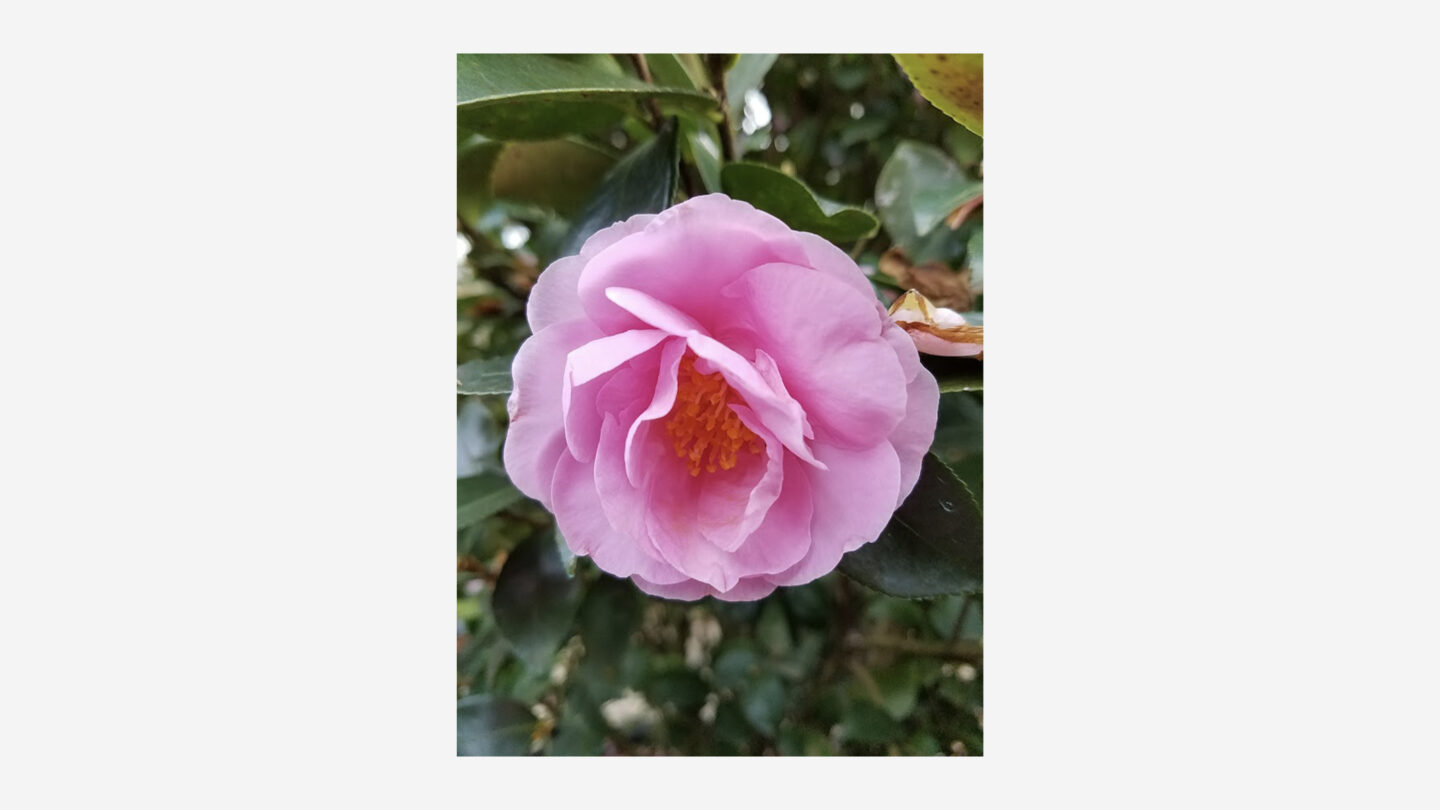 The sasanqua camellias encircling the fountain were the largest available in the nation, in 100-gallon pots. They were seed-grown and completely unique, coming from Green Nurseries in Mobile, Alabama. One camellia in particular surpassed the beauty of the others. Bobby Green, famed camellia breeder and owner of Green Nurseries, generously allowed us the naming opportunity for this special plant. Camellia 'Olguita' was registered with the American Camellia Society in 2018. Olguita | American Camellia Society. The fall-blooming sasanqua camellias bring a mass display of flowers that begins in October and in gentle winters will last through January.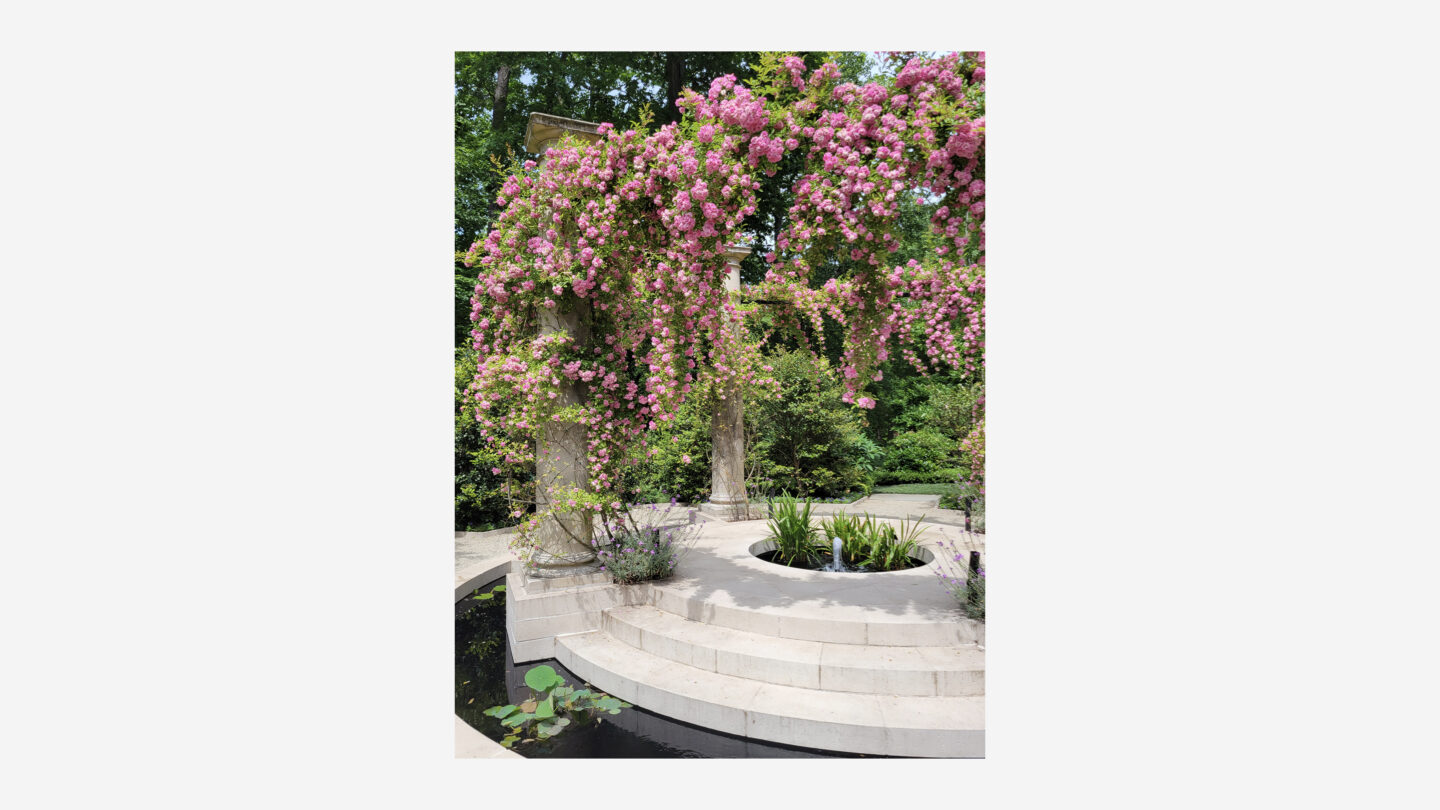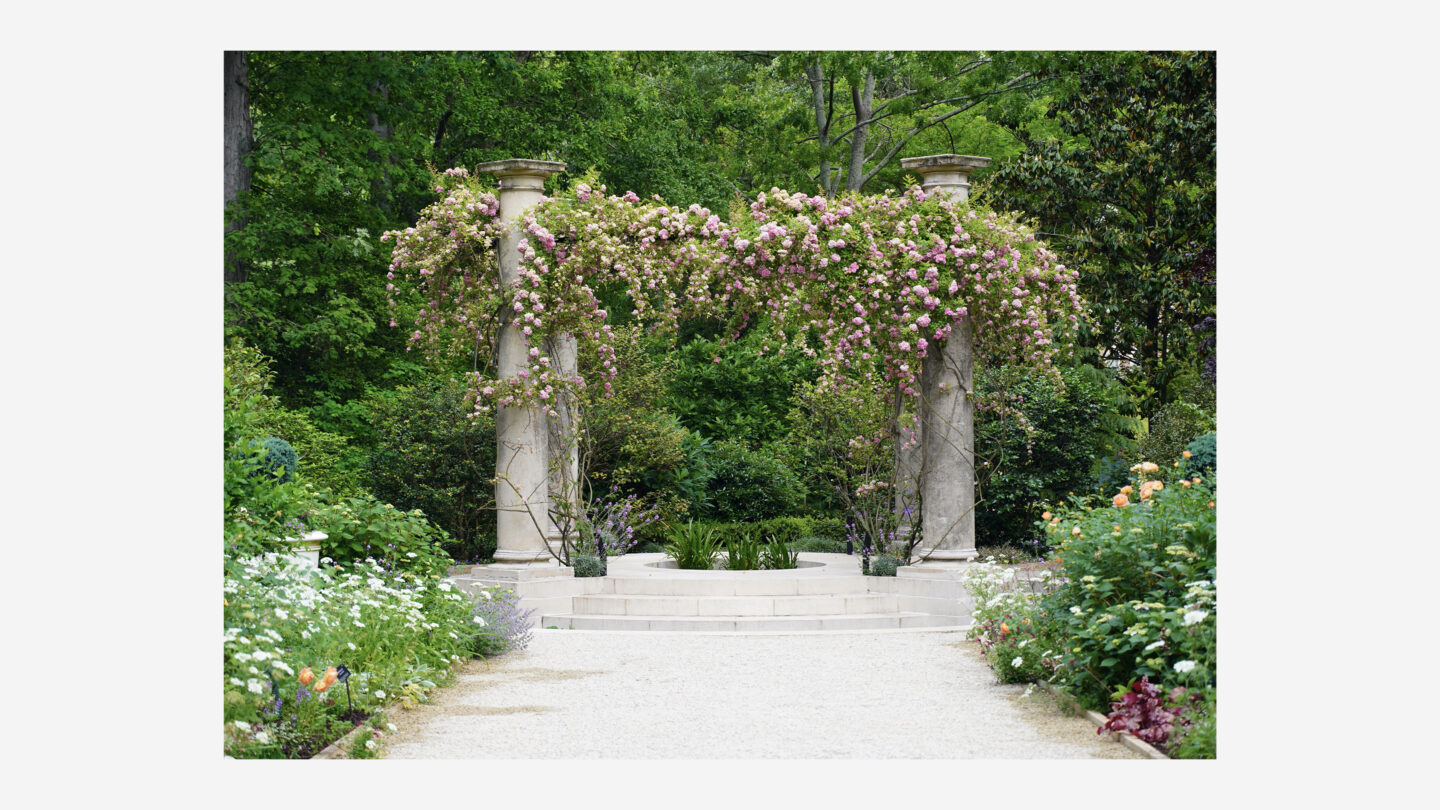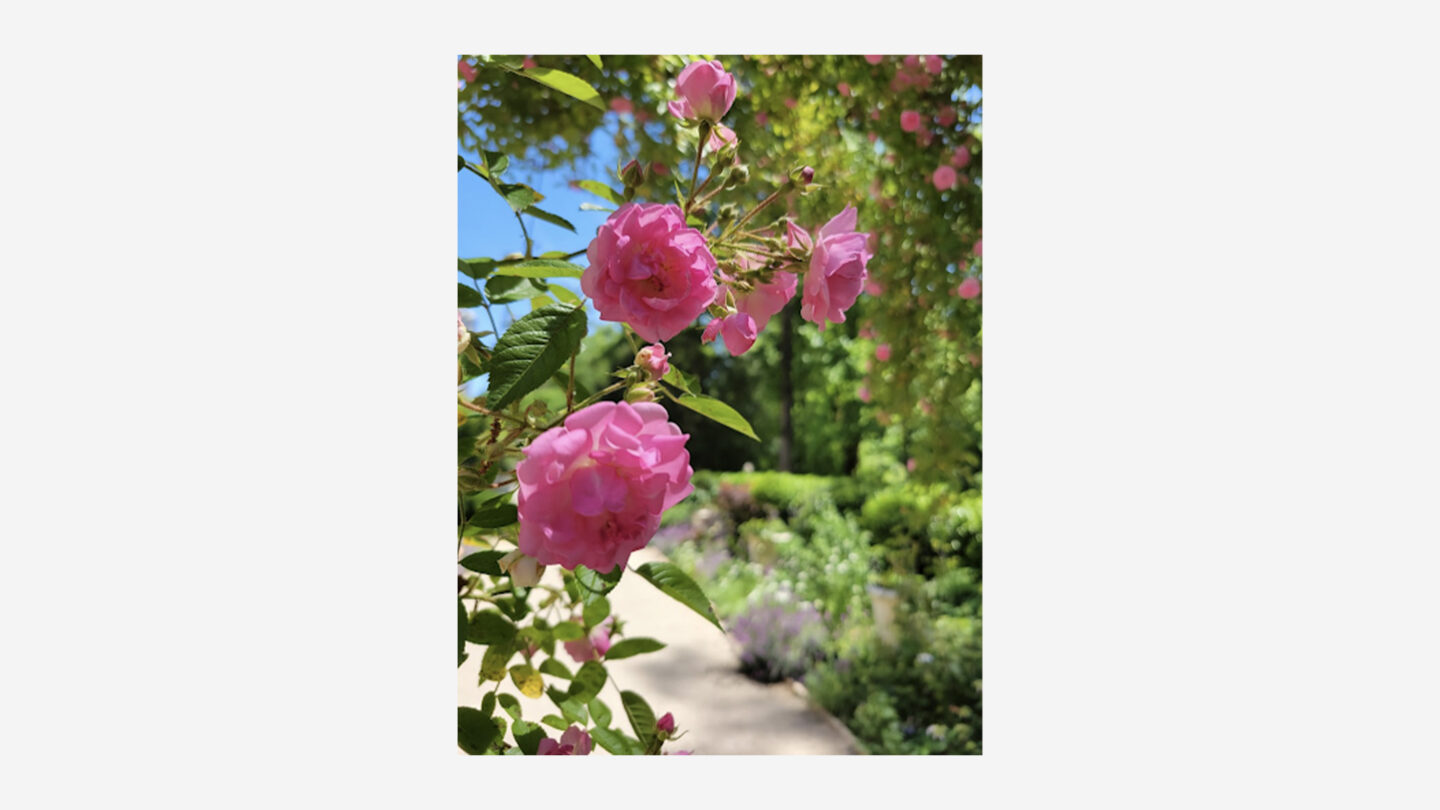 Another striking display in the garden comes in late April when the Peggy Martin roses that adorn the columns come into full bloom. This rose has an incredible story. Rosa 'Peggy Martin' was one of only two plants surviving 20 feet of salt water over the garden of Mrs. Peggy Martin, Plaquemines Parish, Louisiana, after the destruction of Hurricane Katrina in late August, 2005. This beautiful climbing rose has bright pink clusters of blooms on semi-thornless canes in a glorious spring show, with bonus flowers sporadically blooming throughout the summer. It sprouted as a wild rose and is now widely regarded as the best climbing rose available. In 2018, these plants were purchased as 15 gallons; the largest in the nation at the time, bought from Suzanne Longely Farm in Texas.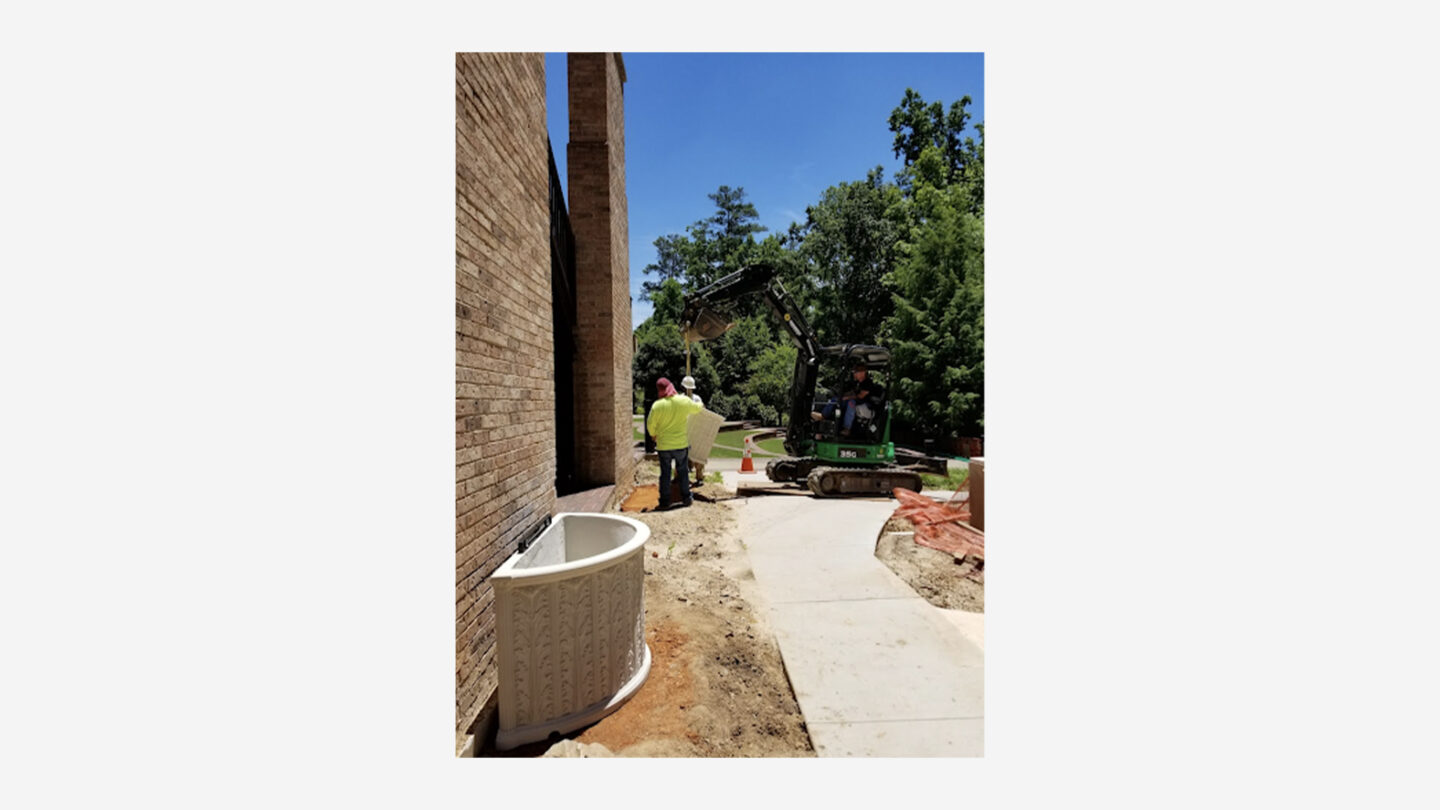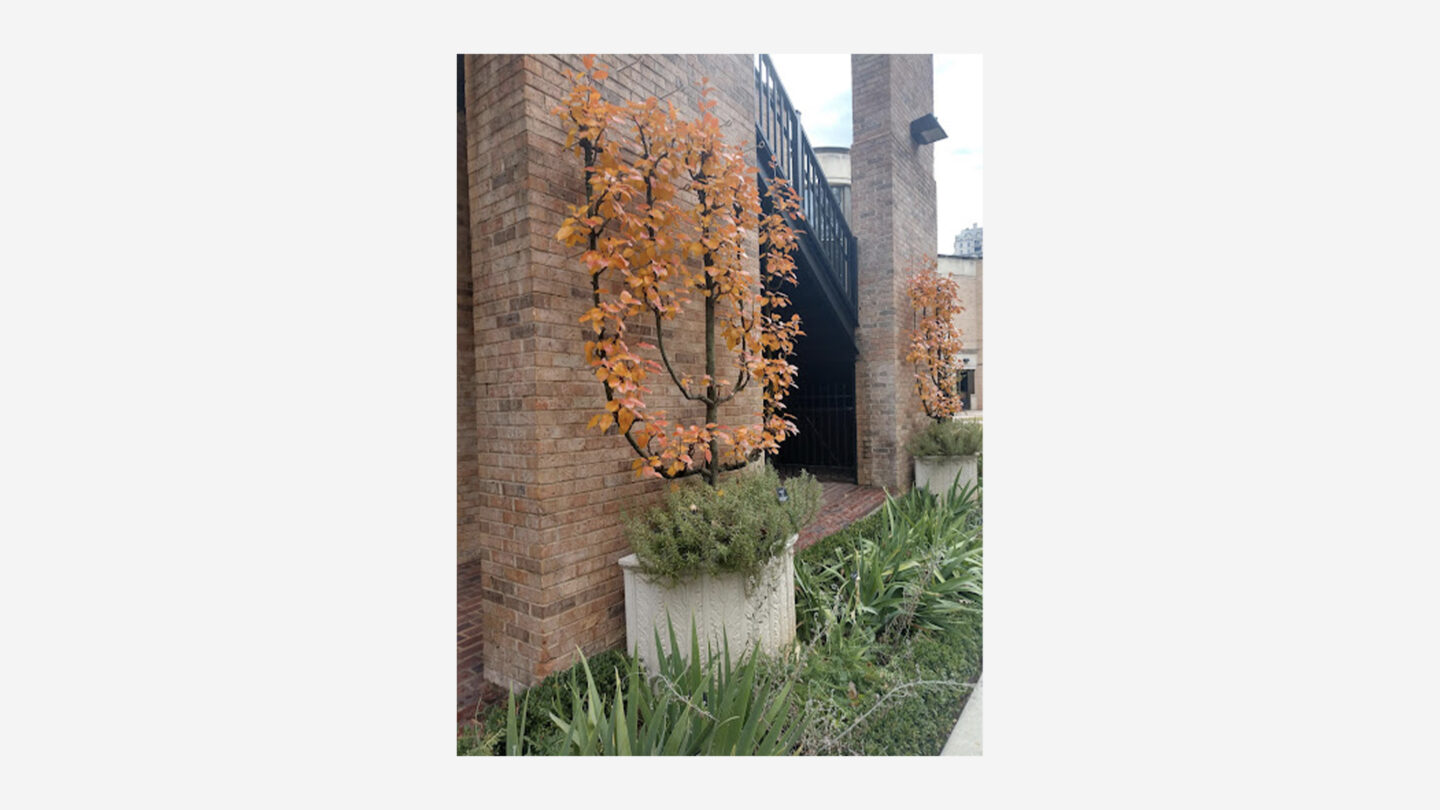 The Gardens staff are frequently asked about the Kieffer pears, Pyrus communis 'Kieffer,' trained in the candelabra style by Peter Thevenot's River Road Farms Espalier in Decatur, Tennessee. They can be found along the brick columns just outside the double border, flanked by a tall bearded iris collection. These gorgeous trees are a nod to the French, who perfected the ancient agricultural practice of training woody plant growth against a wall to capture the sun's warmth and encourage production of fruit. The pears are potted in half-moon planters adorned with an acanthus-leaf motif, each weighing over 1,000 pounds and lifted into place with an excavator before the garden's stucco walls were erected. Once a year, Gardens team members build scaffolding and prune these special trees, which are now over 20' tall.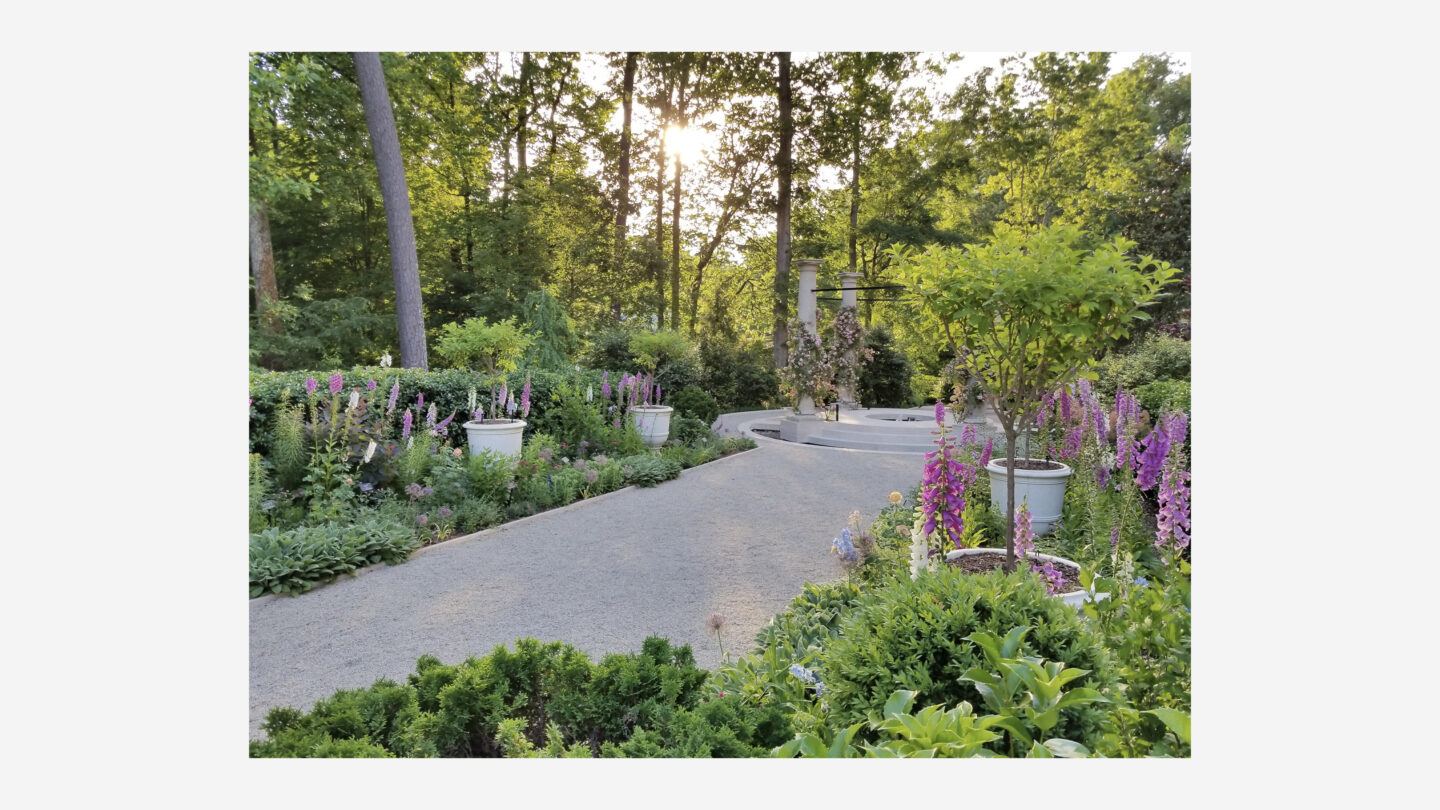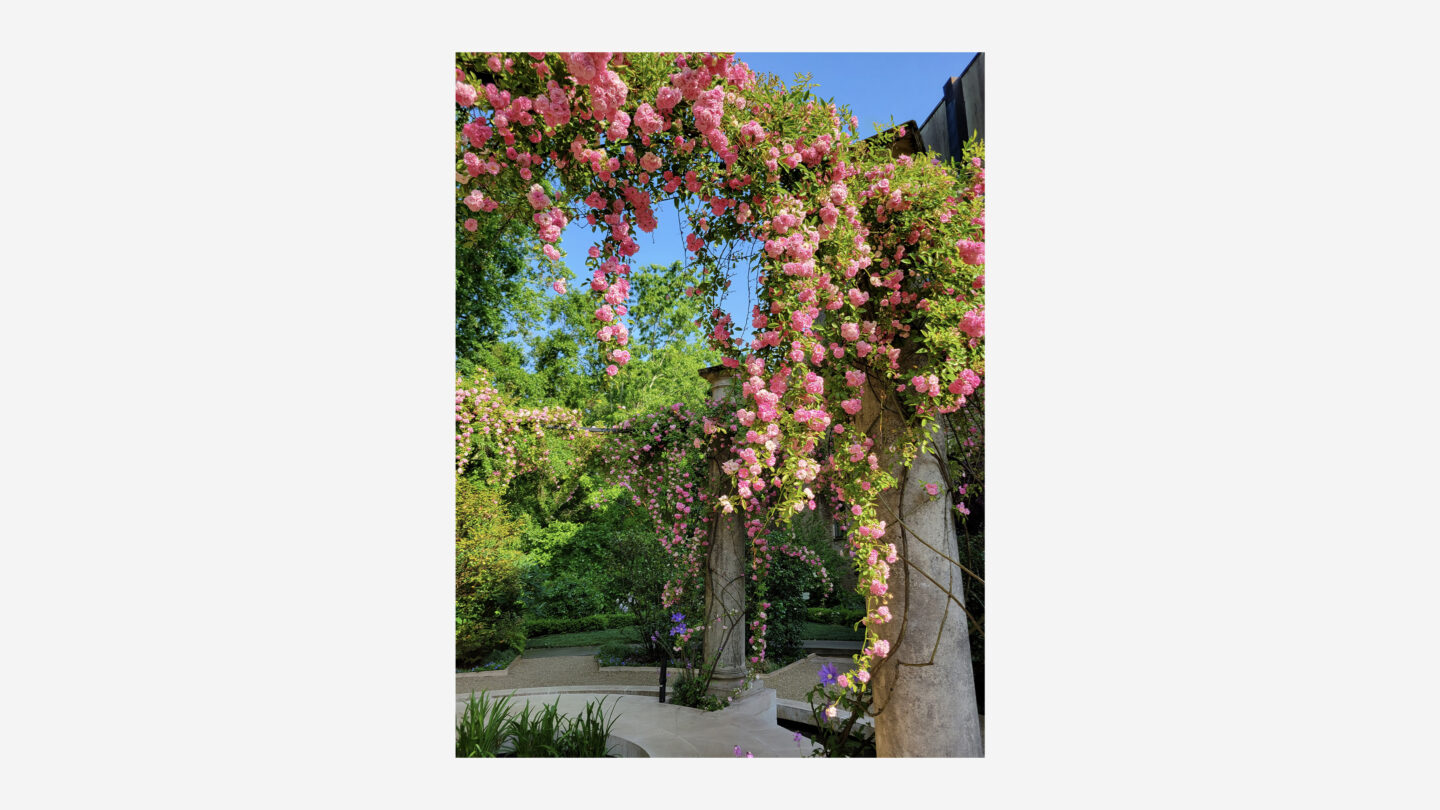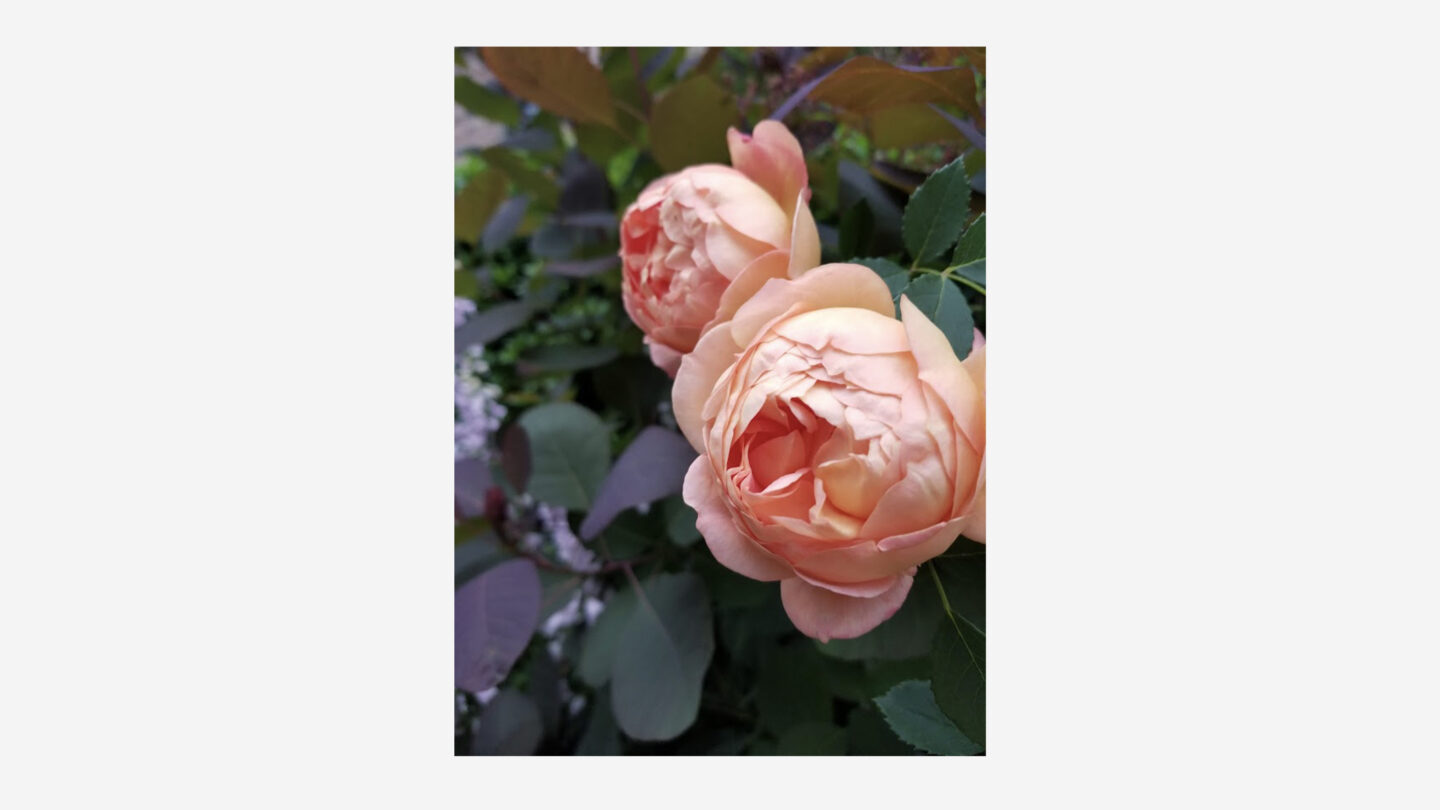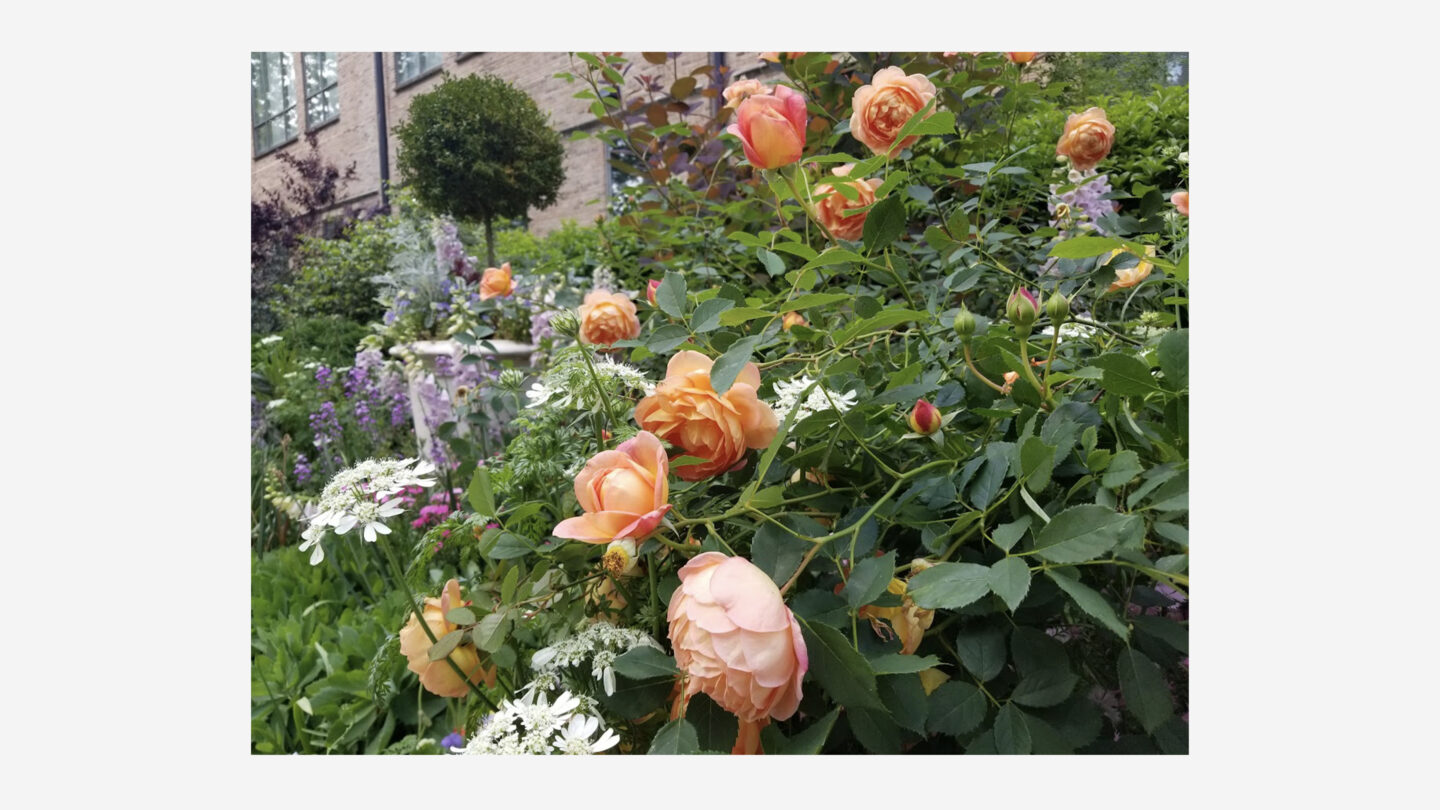 In the five years since Olguita's Garden was completed, there has been tremendous growth of the plant collections within. The Peggy Martin roses that were five feet tall upon planting now reach the tops of the columns and loop around the iron circle that connects them at their capitals. The cascades of pink blooms in late April stop visitors in their tracks, prompting one person to tentatively touch them and ask if they were real!
Of the three cultivars of fragrant English shrub roses that were trialed in the double border, the one with the best performance in our climate was Rosa 'Lady of Shalott.' We replaced the less impressive performers with this winner, and are rewarded each April and May with an abundance of chalice-shaped blooms bearing 60 petals each, opening deep coral with the softest peach center. Their fragrance resembles a freshly-opened packet of tea blended with the spices in apple cider.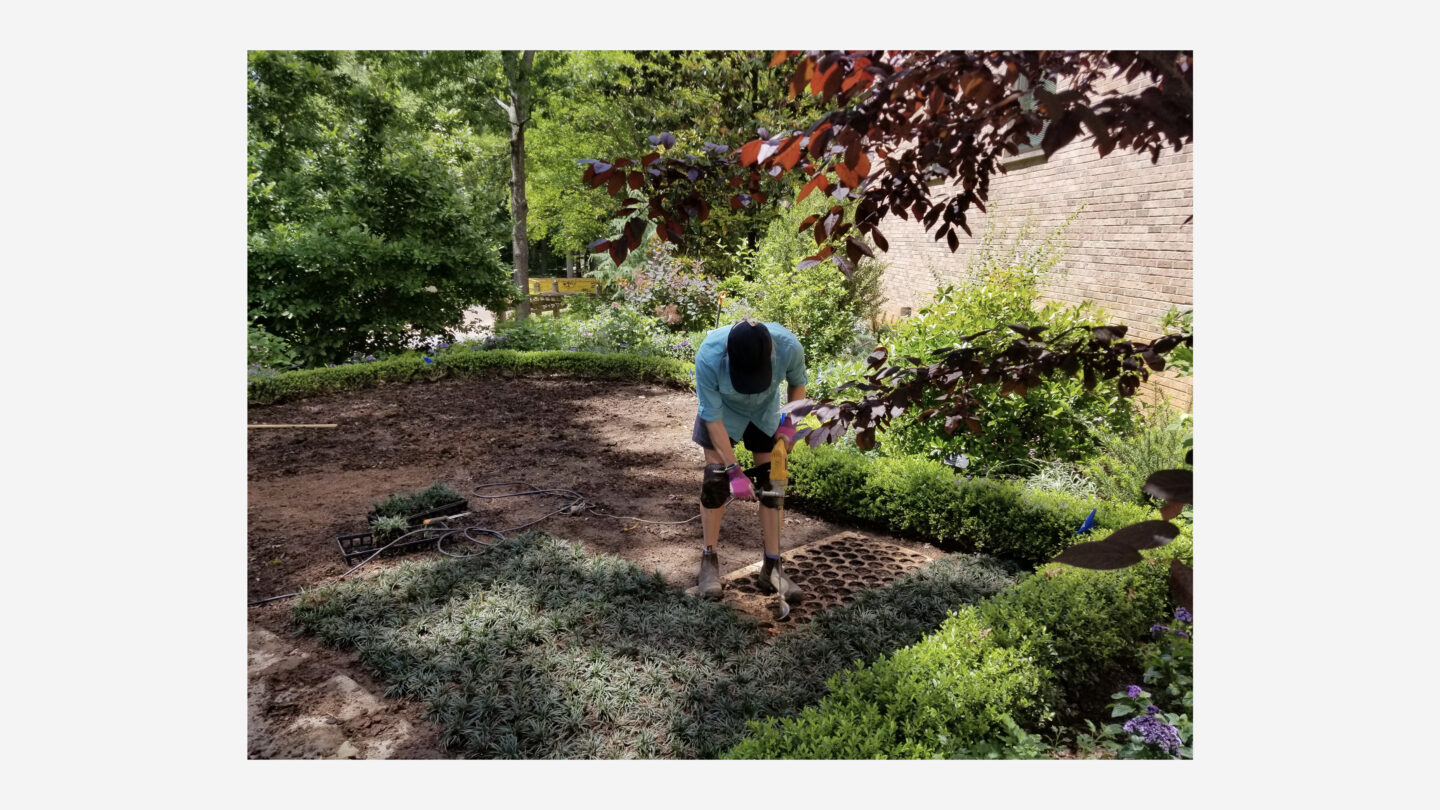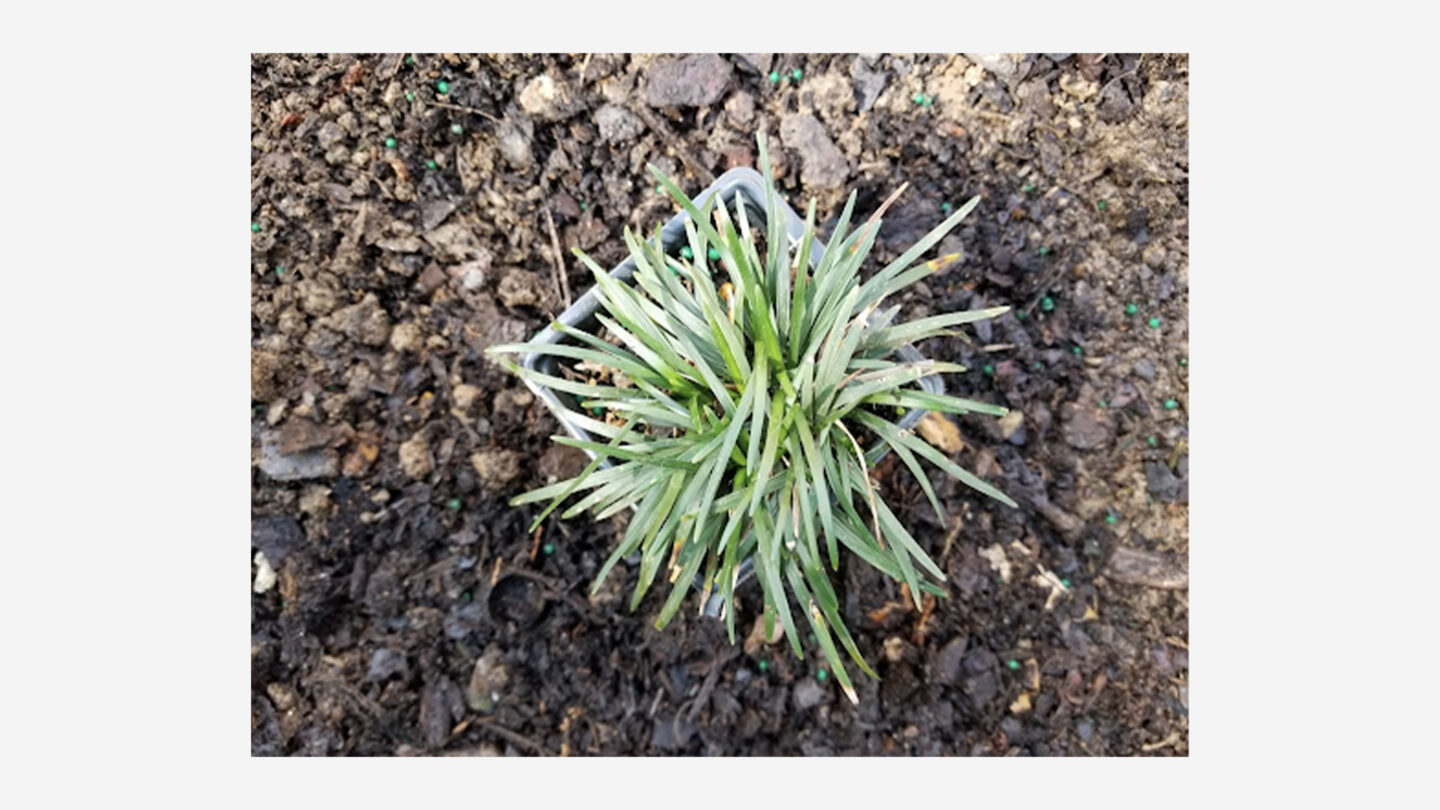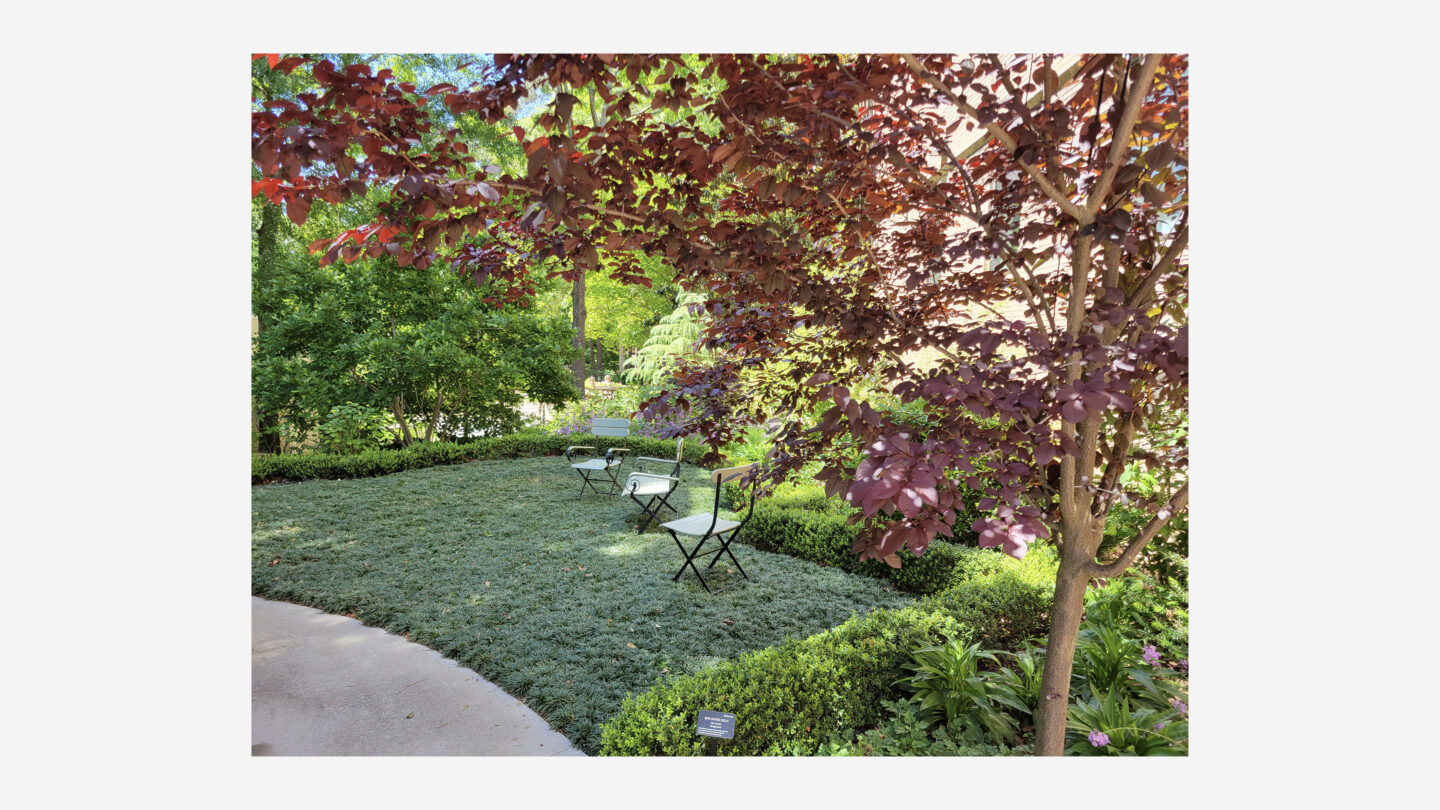 One of our most asked about upgrades we've made in the past five years was replacing the little Bermuda lawn in the western end of the garden. It wasn't thriving in the growing shade, so in May of 2020, we replaced the turf grass with 4" pots of dwarf mondo grass, Ophiopogon japonicus 'Nana.' This is an easy-growing evergreen groundcover for partial shade, but it is very slow to grow. To achieve a lush lawn appearance, we planted 6,000 of them, cheek by jowl, utilizing a hand-made template to ensure uniform spacing. They are packed in tight, allowing no room for weeds to grow in between. Now the lawn is a lush, dark evergreen mat that never has to be mowed.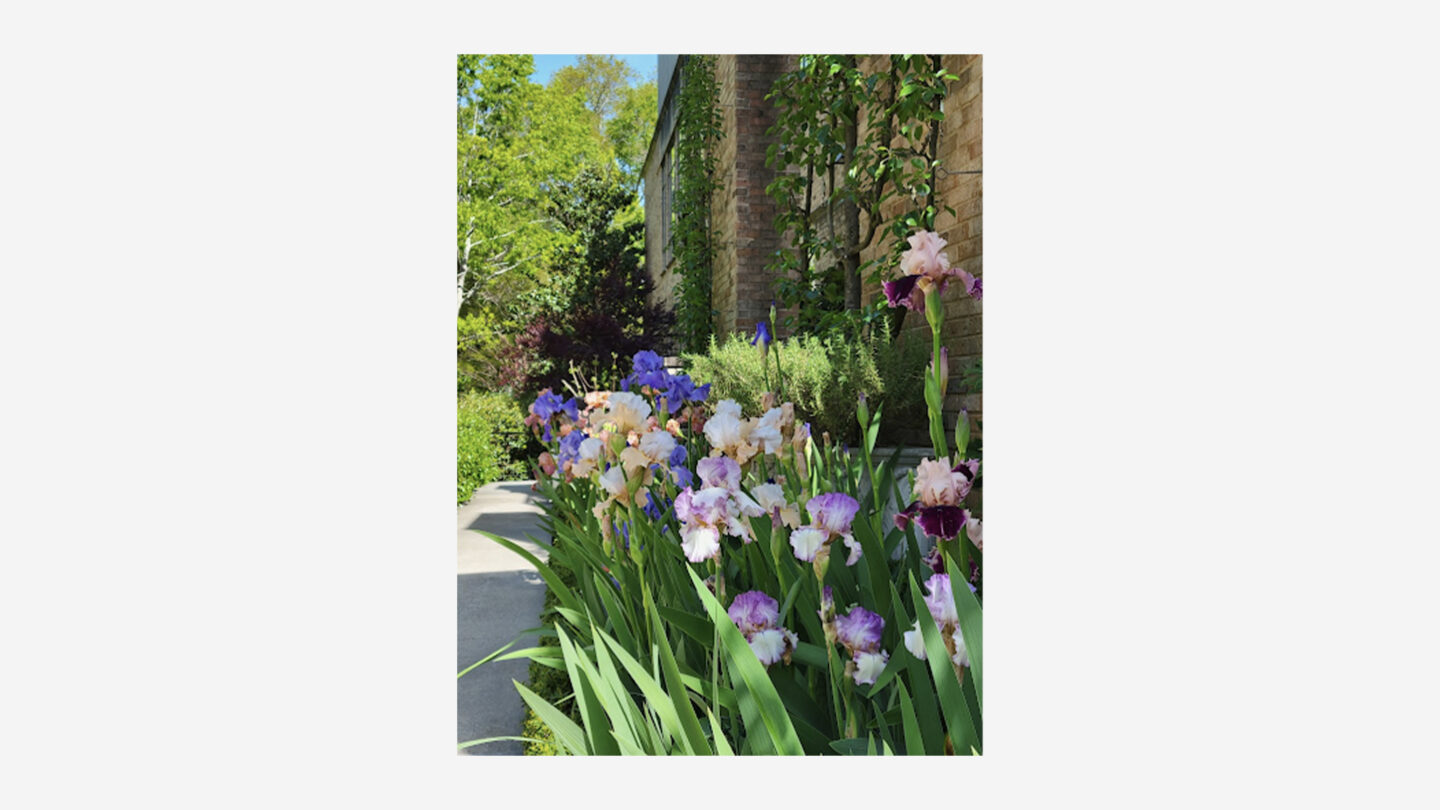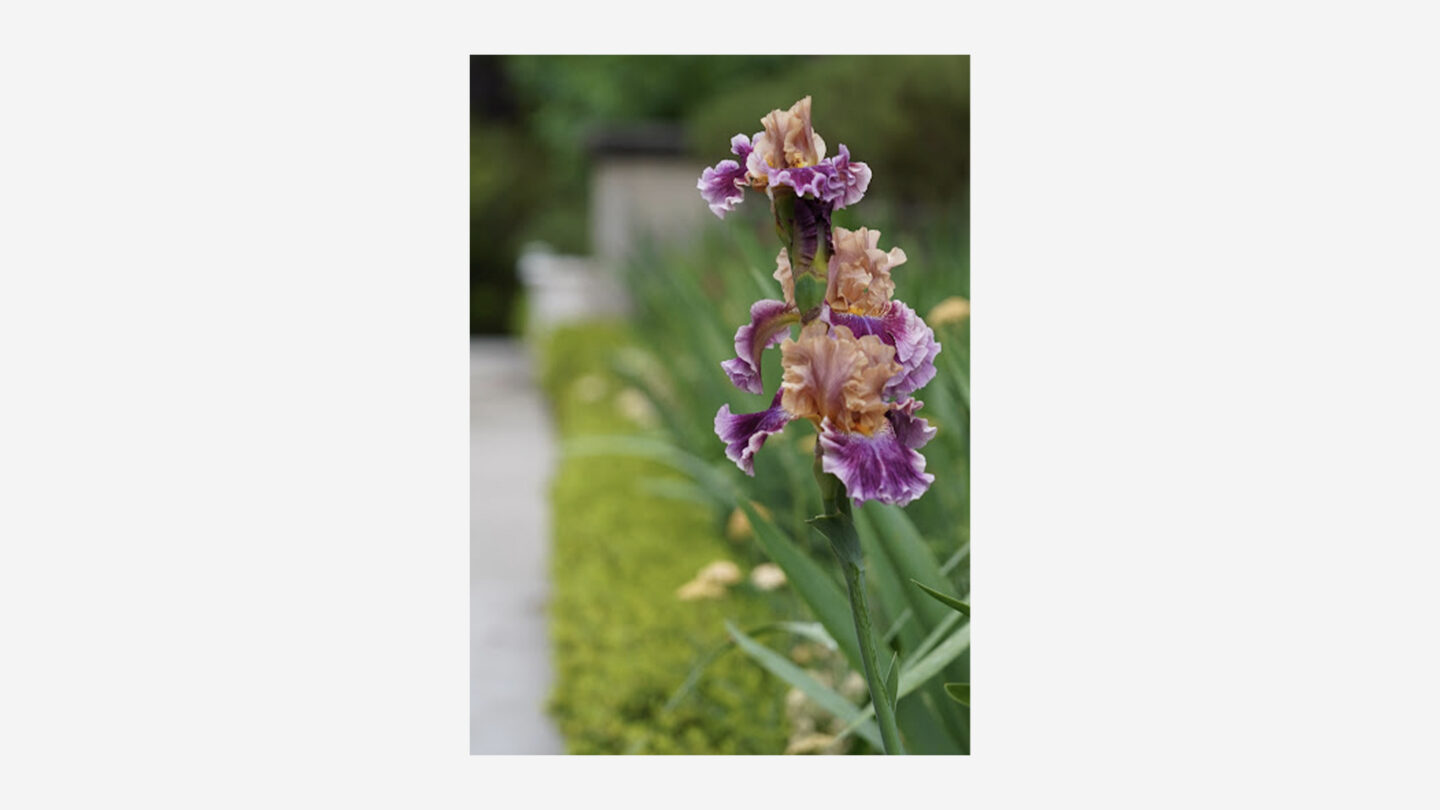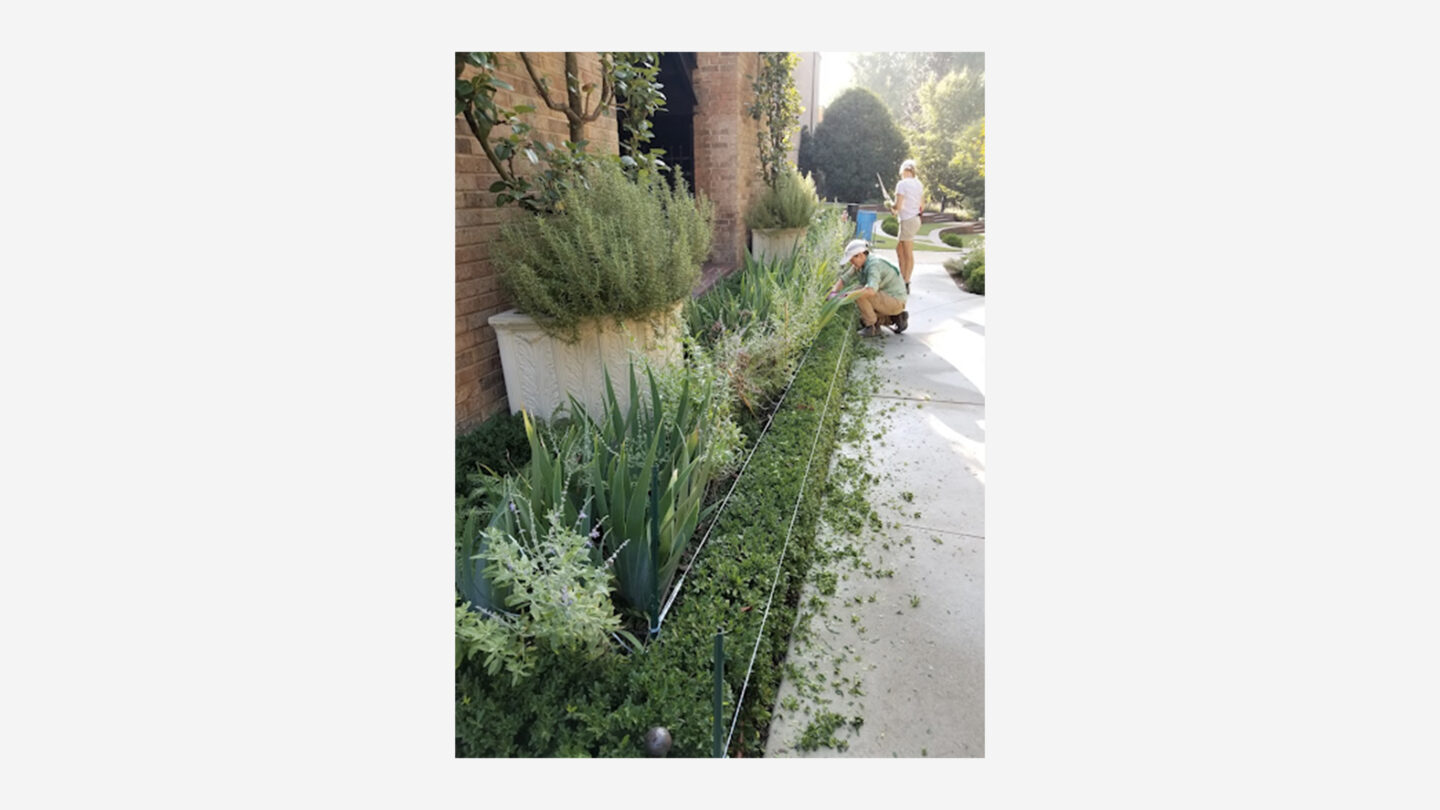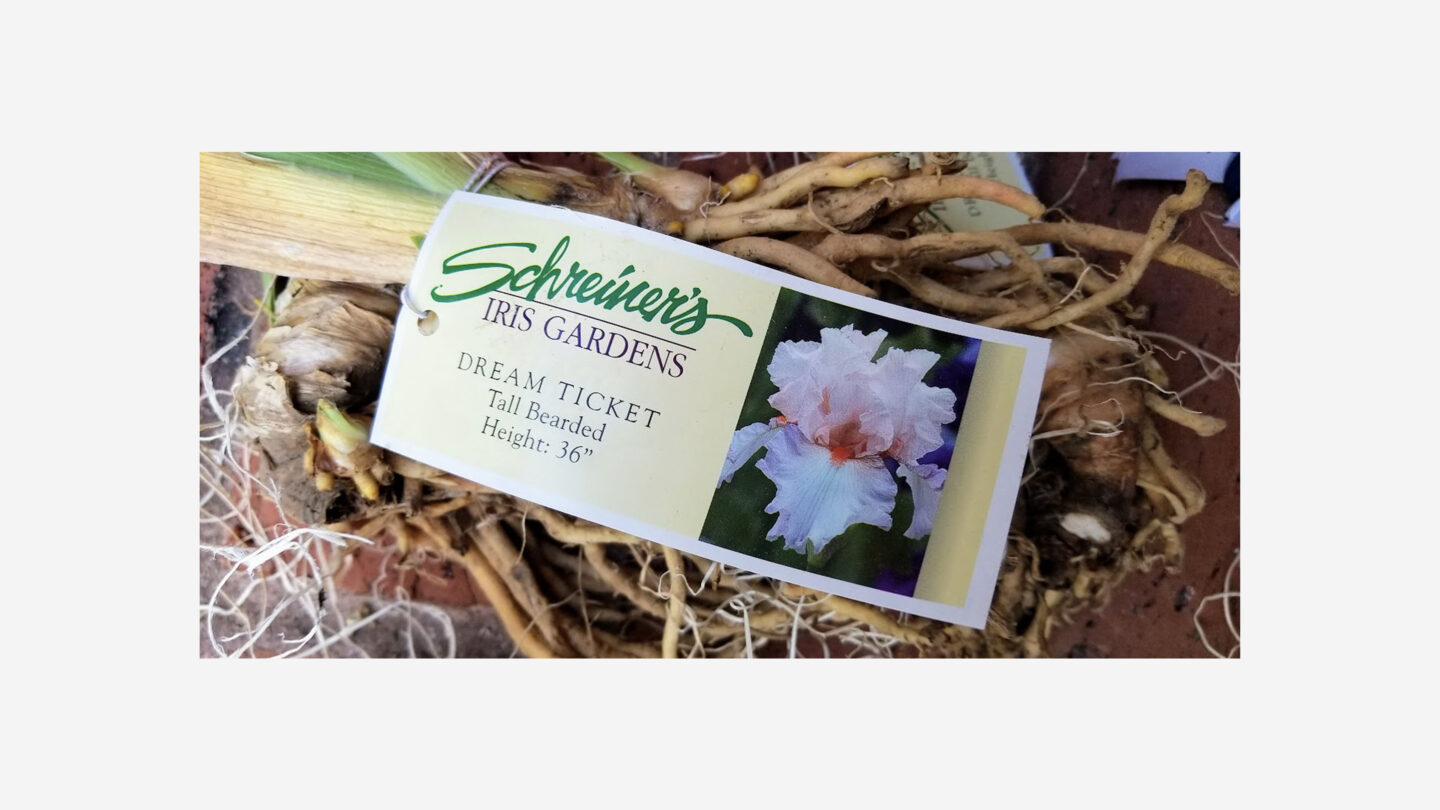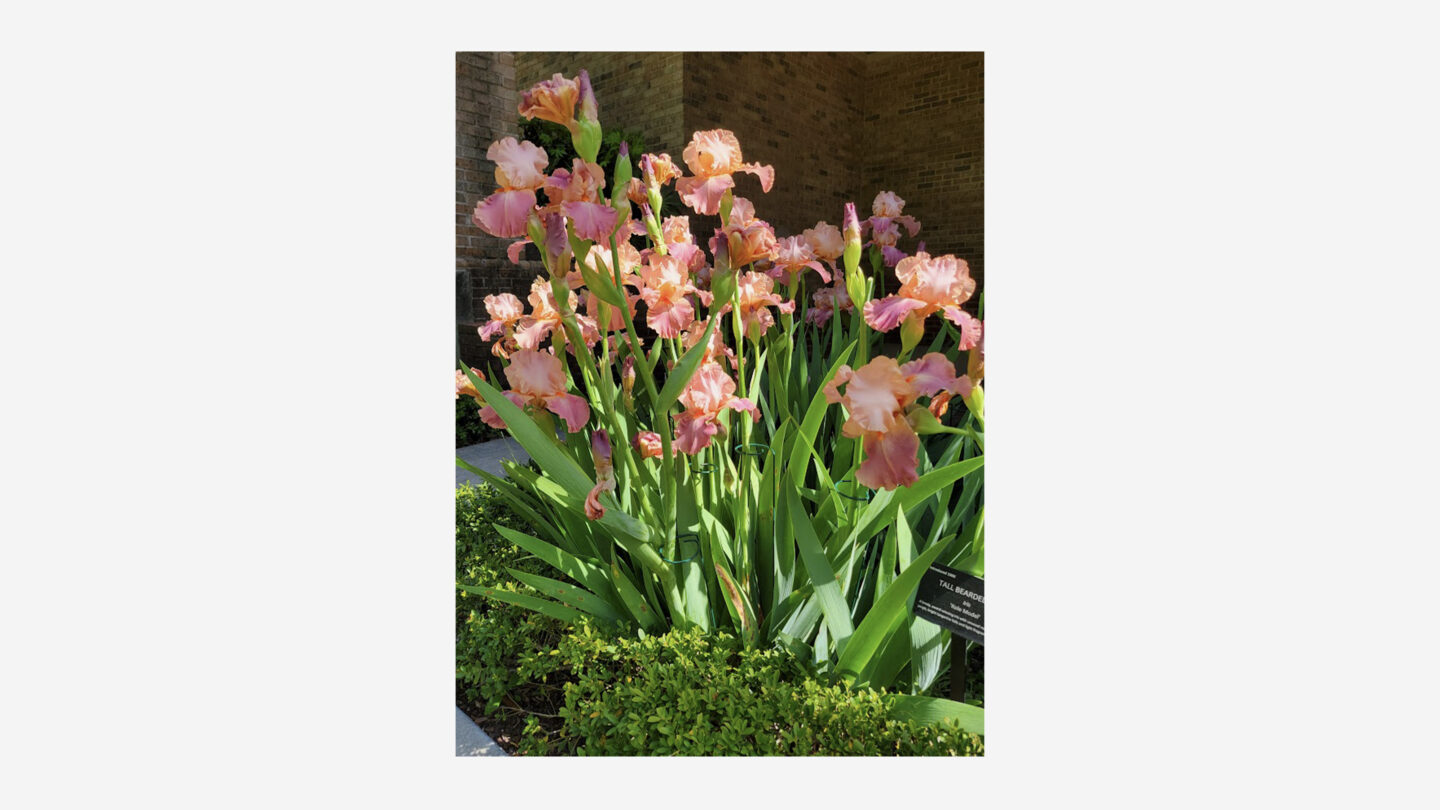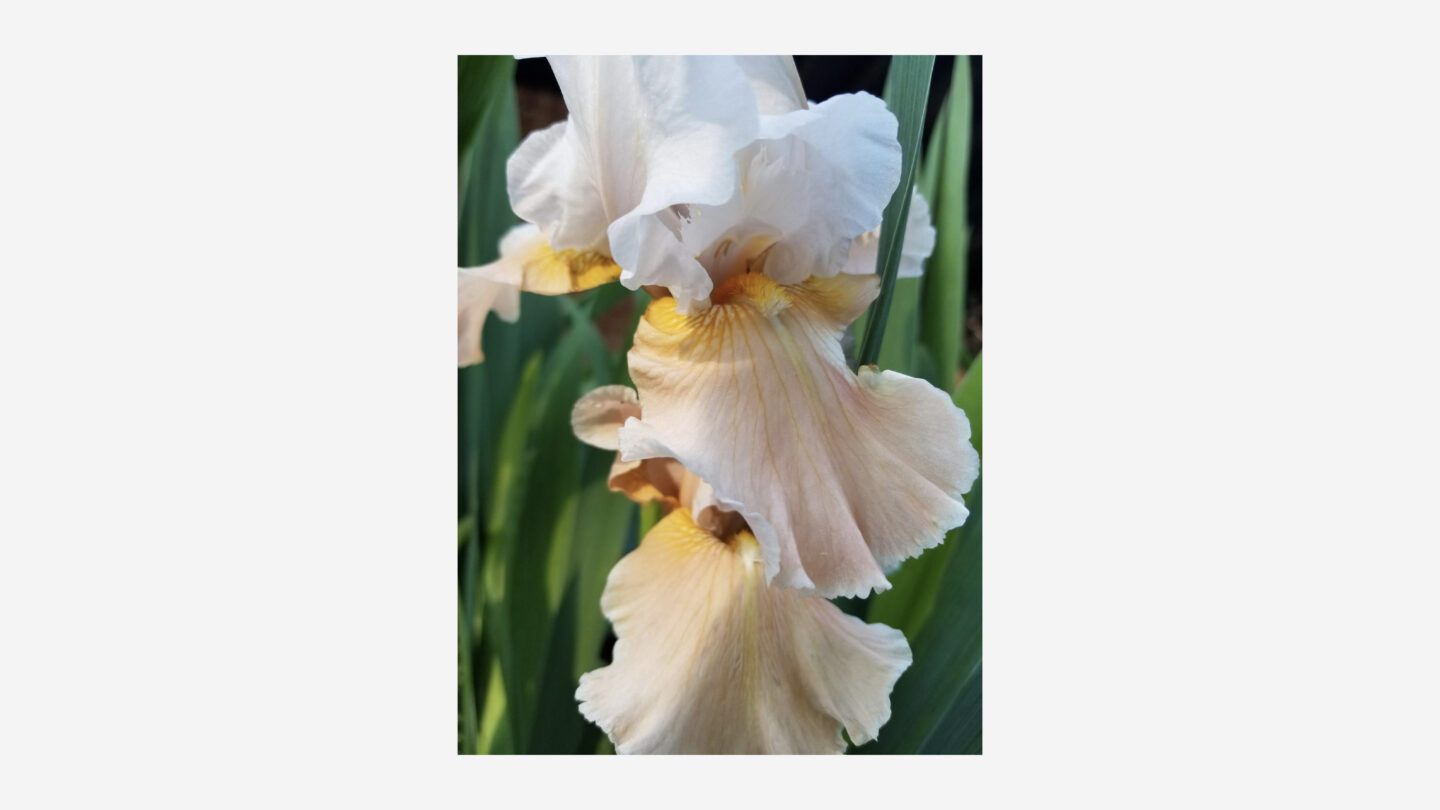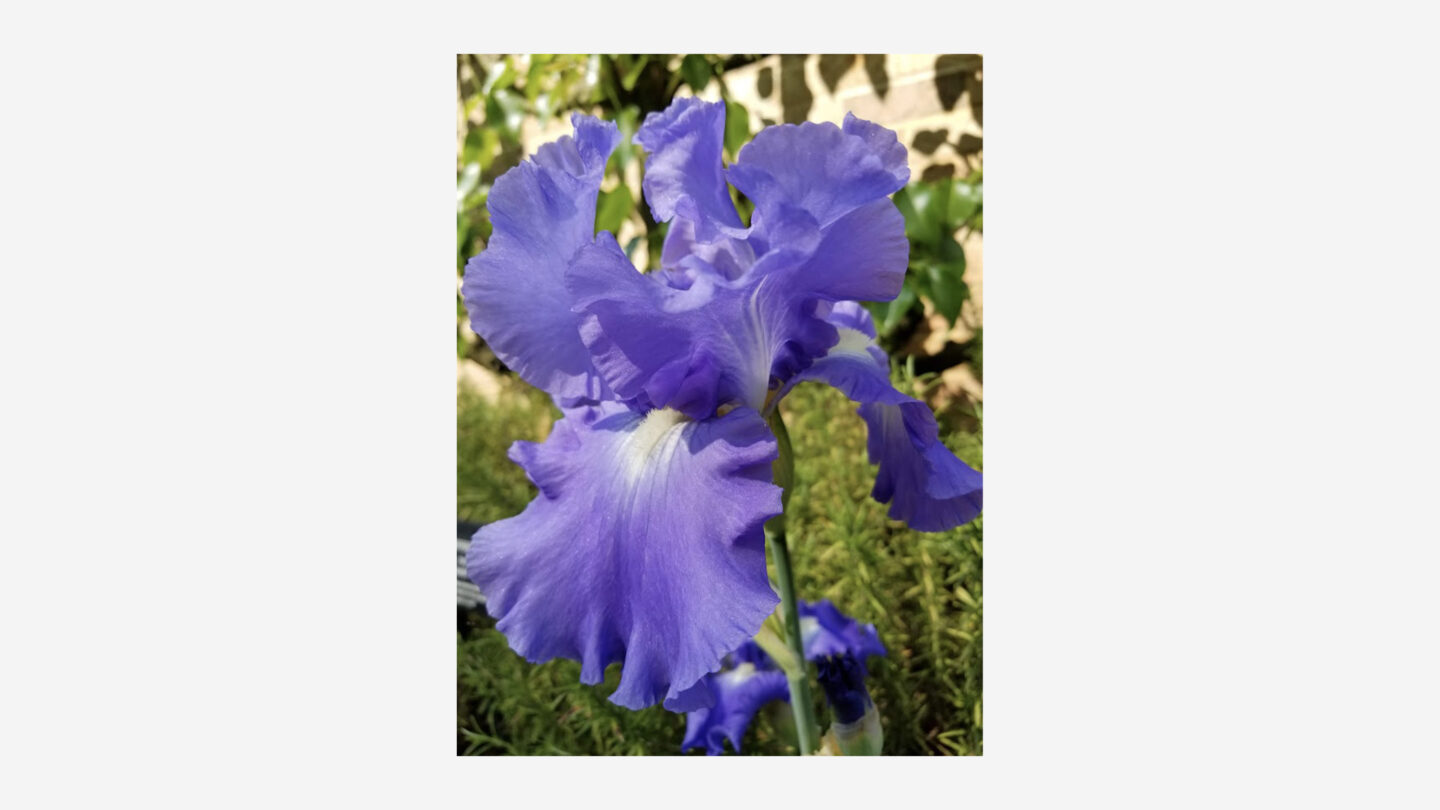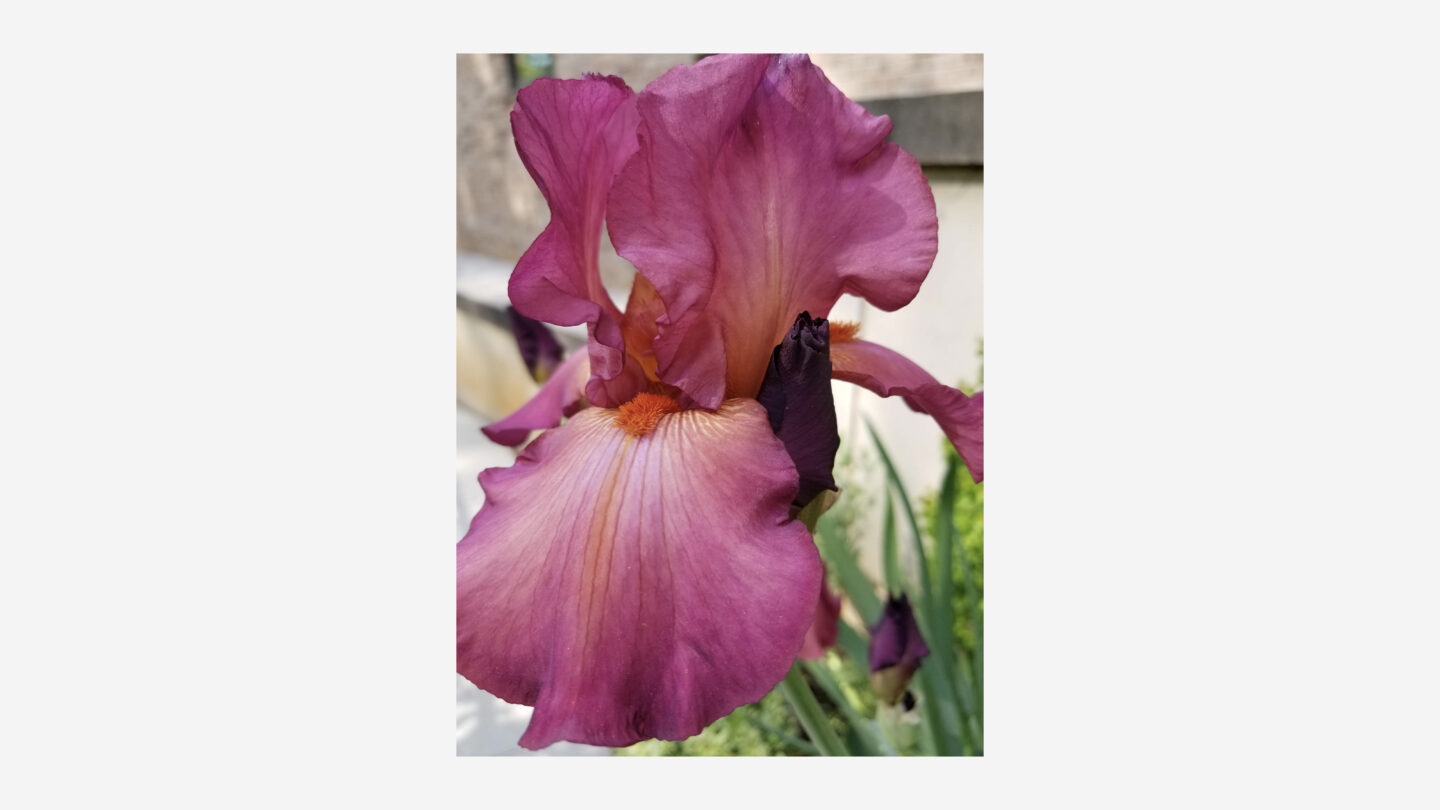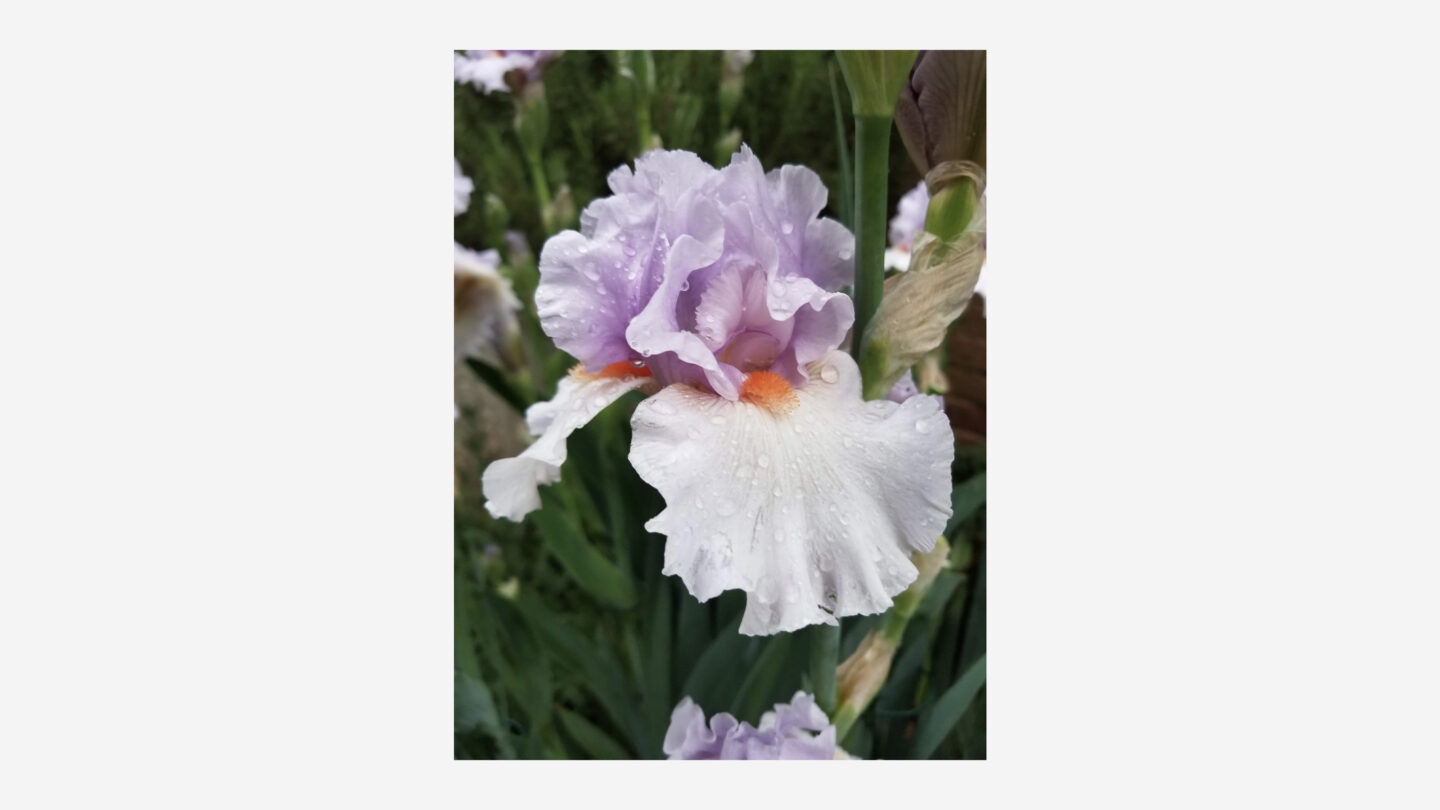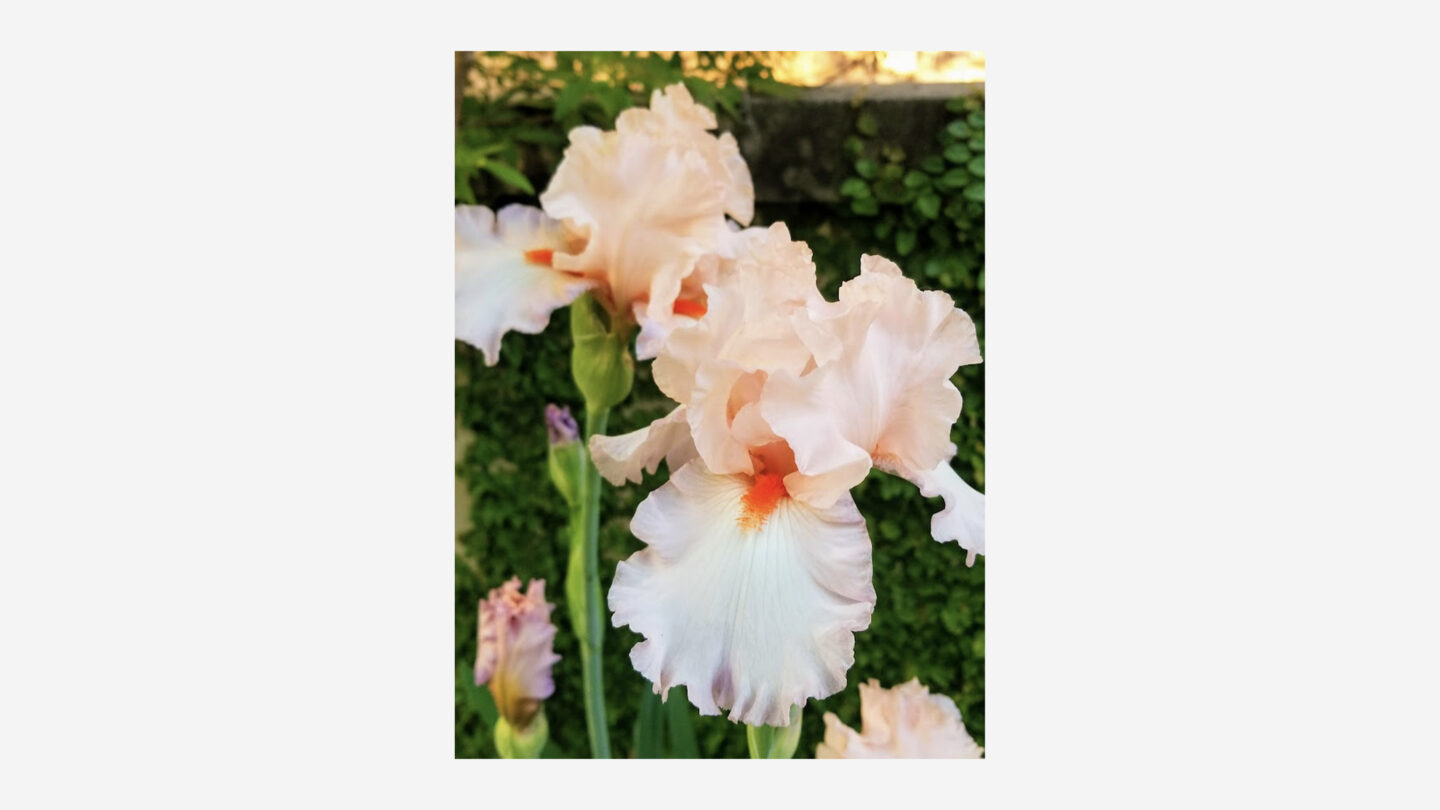 Just beneath the Kieffer pears is the tall bearded iris collection, which loves baking in the hot summer sun reflected off the brick and concrete nearby. This collections was curated by selecting cultivars which each bear several of the following characteristics: fragrance, repeat bloom, good substance, strong stems, high bud count, a variety of coloration patterns with representatives from many different breeders. The collection has grown significantly since their initial planting, coming into a dazzling peak bloom from mid-April to early May. They are now about four times their original size and ready to be divided next summer.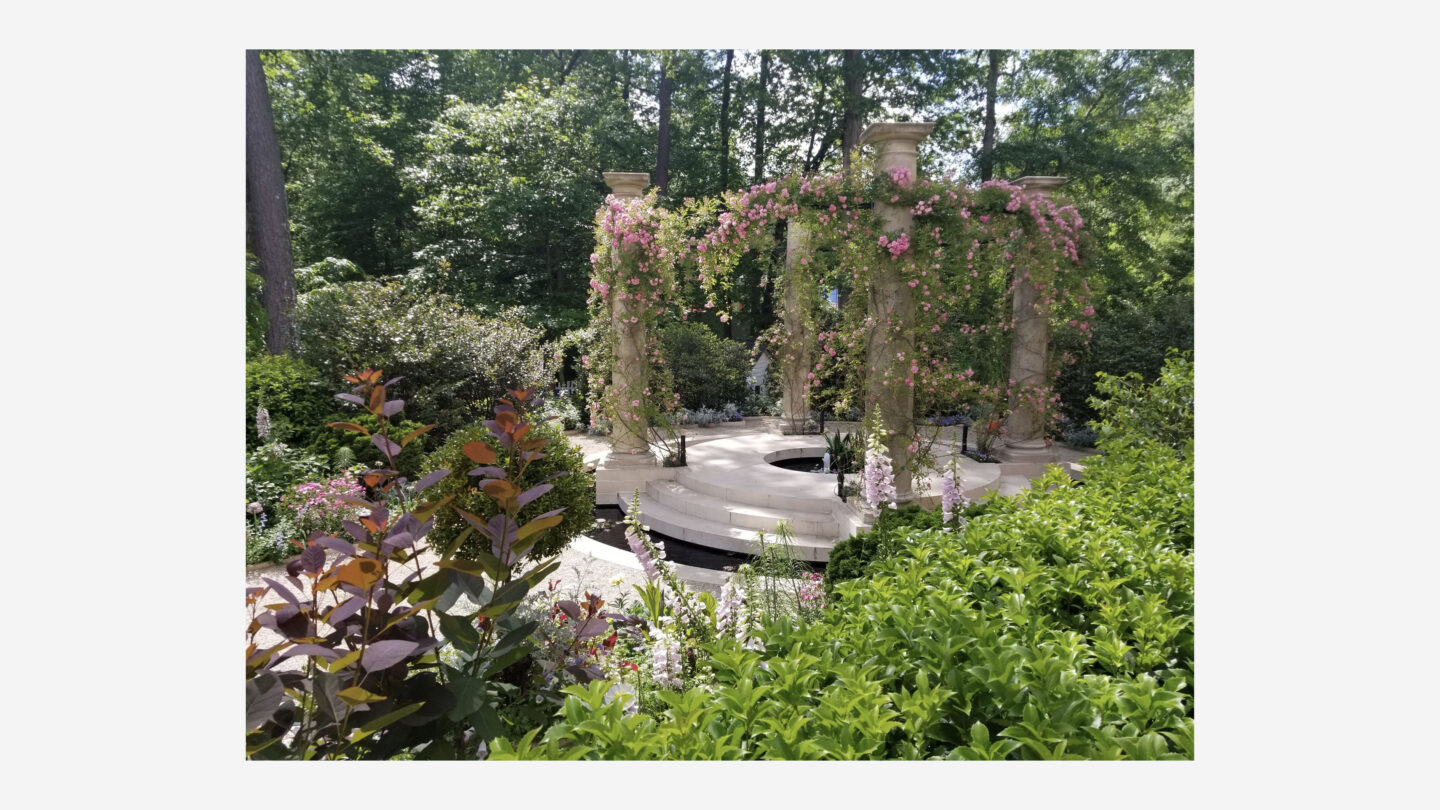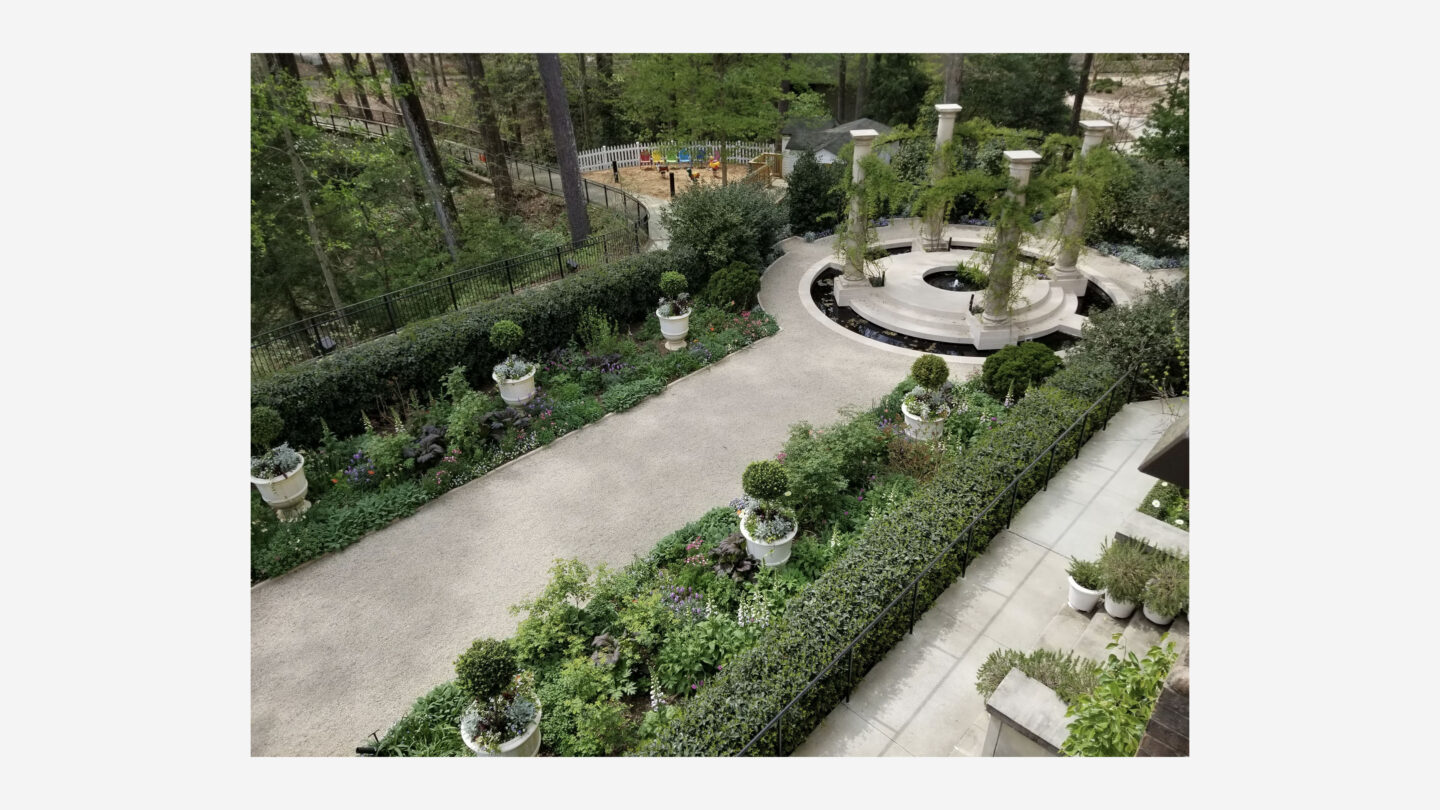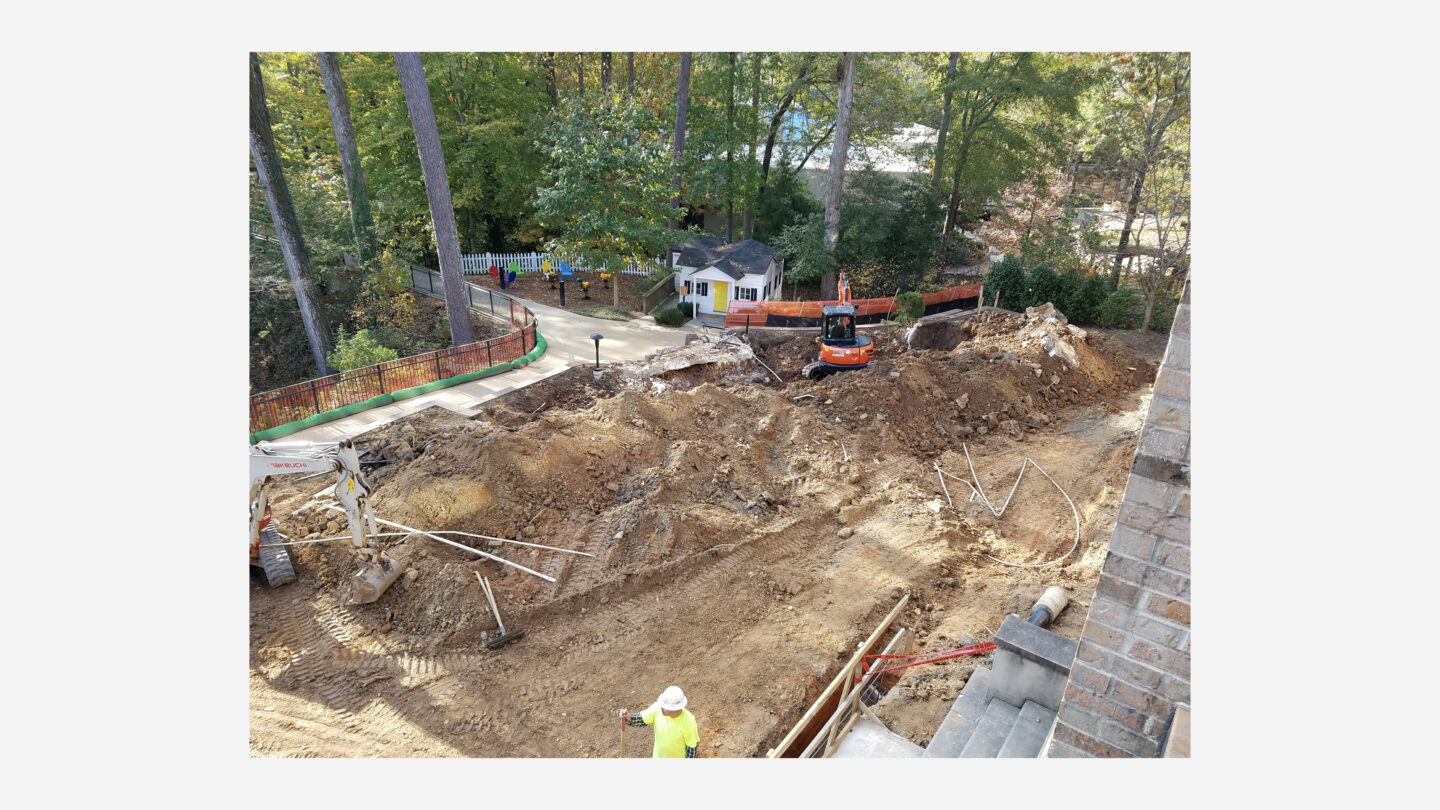 There's an overlook of Olguita's Garden just outside the History Center's ballroom, providing a birds-eye view just up a flight of stairs. Since opening, we've added frost-proof Italian planters to this terrace, with shrubs and annuals to soften the museum hardscape and tie it in with the garden below.
In the initial construction of Olguita's Garden, 300 tons of topsoil and 20 tons of compost were brought in for the new garden beds. The eastern side of the garden that borders the amphitheater had been completely rebuilt with new retaining walls and 4' of soil added behind them. Over time the soil settled several inches below the desired grade, and the intrepid horticultural staff removed all the plants, added a dump truck worth of topsoil and amendments, one wheelbarrow at a time, and replanted the entire side. Other areas had their depleted soil replenished with compost to create better growing conditions.
Inspired by a summer internship with the fabulous Chanticleer Gardens, former Formal Gardens Horticulturist, Madison Love, suggested we add a bowl for floating floral arrangements. A granite bowl was sourced in Atlanta and added to a brick pier in the area under the stairwell, leading into Olguita's Garden from the museum. Comfortable cushions that match the garden's flower palette were also added to the brick seat walls in this additional area for rest and reflection.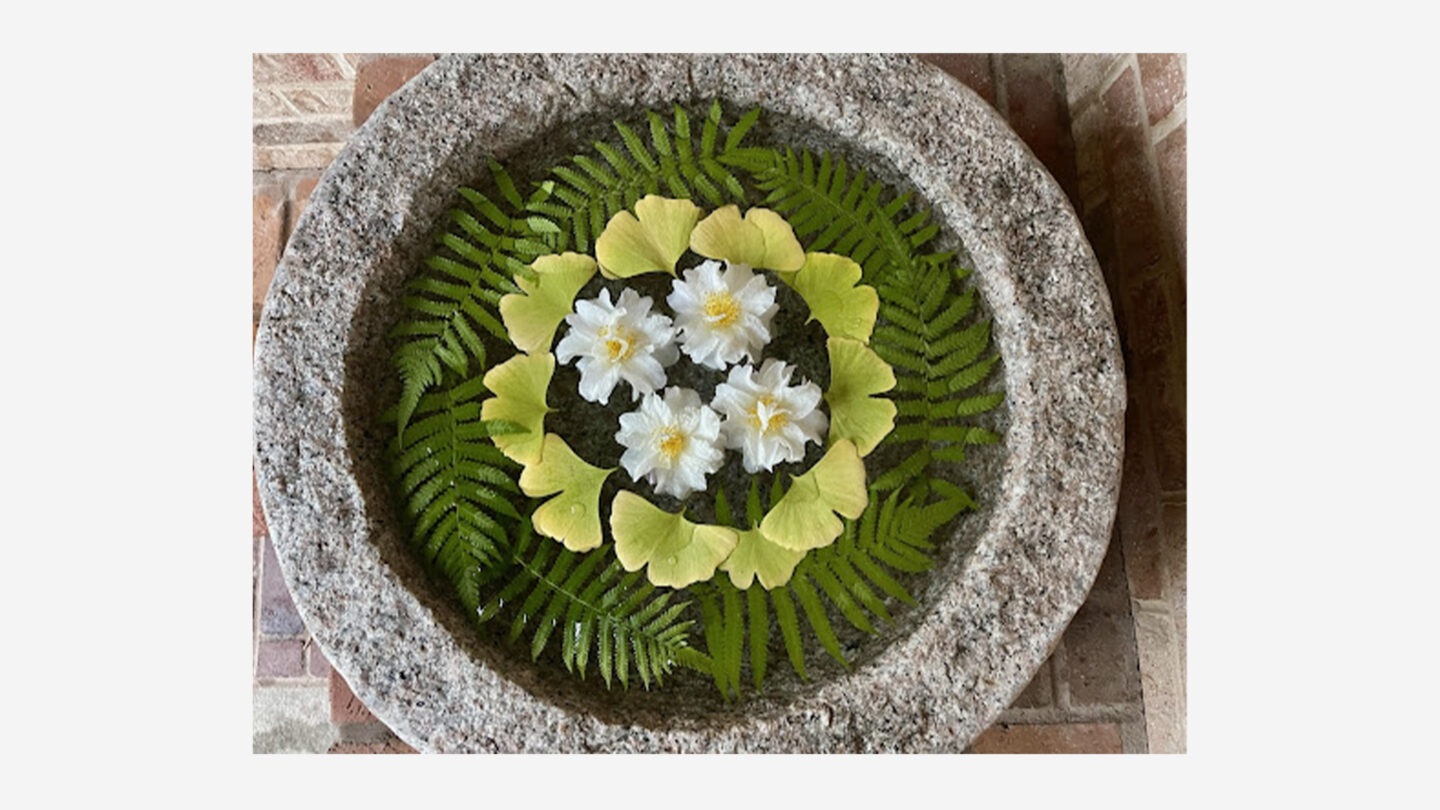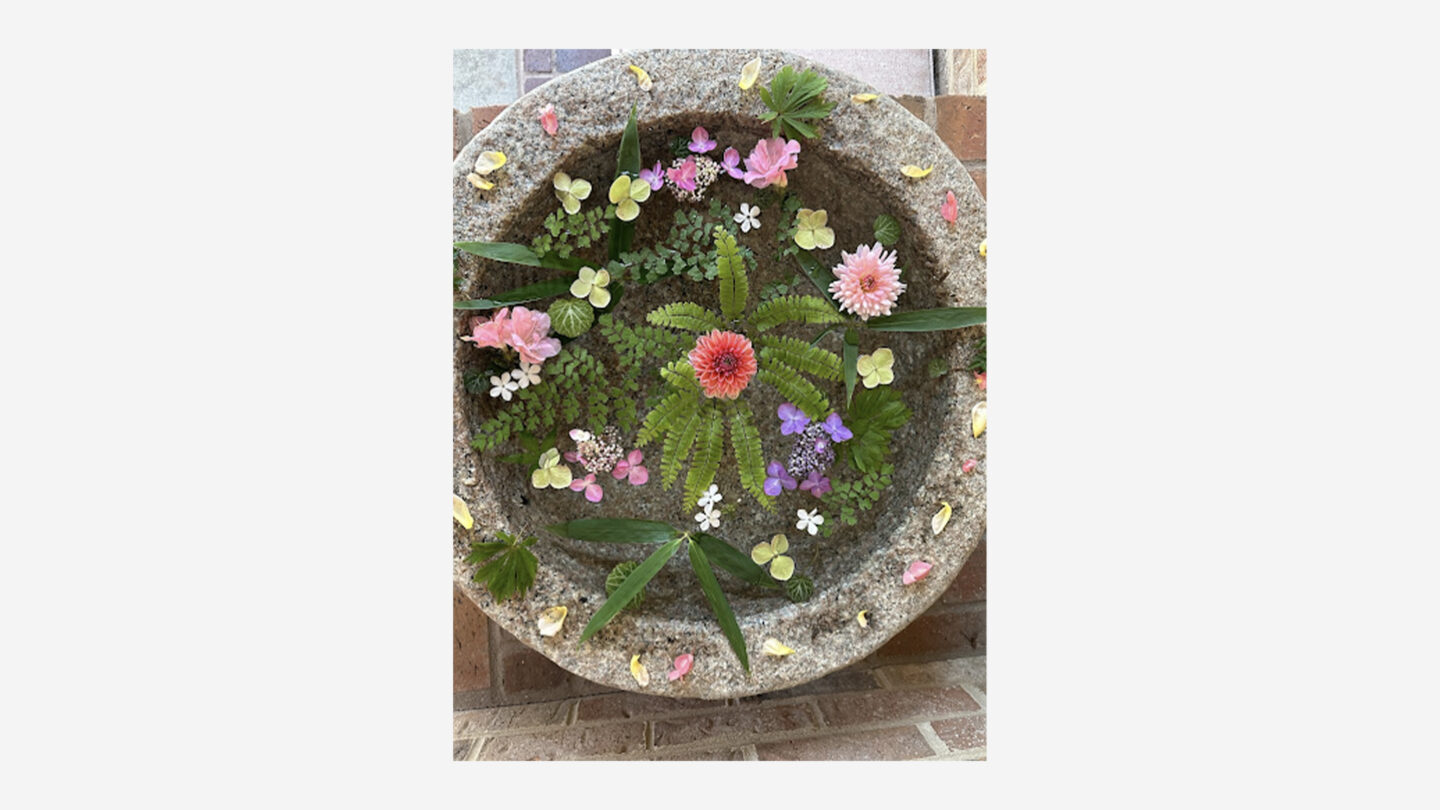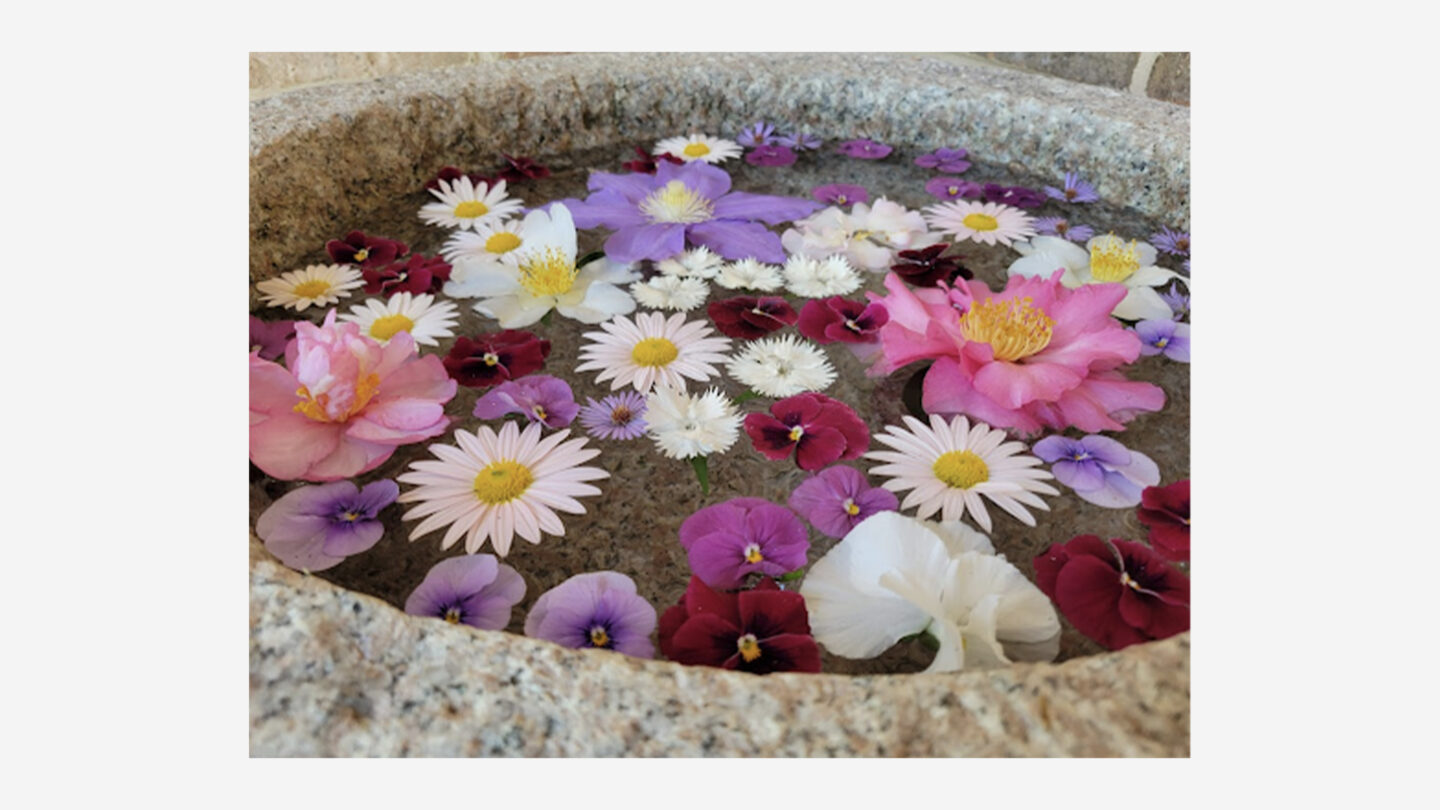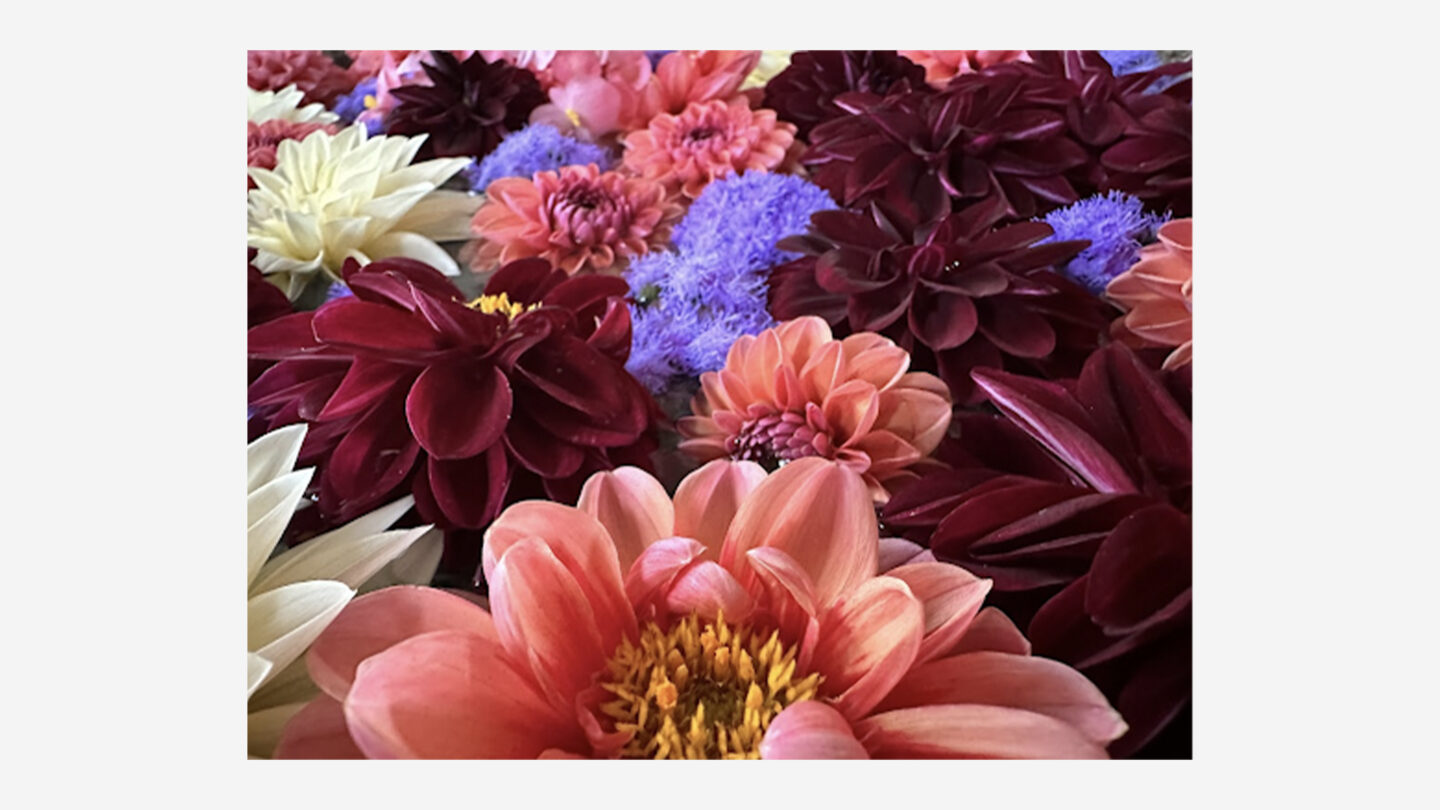 A sudden temperature shift to single-digit freezing weather in late December 2022 and a late spring freeze in April 2023 severely injured many plants in Olguita's Garden—and the rest of Atlanta. All of the cool-season annuals and six of the original camellias were killed back to the ground and had to be replaced. Many local nurseries suffered the same cold weather damage, so fresh plants came from Mississippi. The 600+ pound plants were hauled in by our horticulture staff and slid/rotated into place using steel wrecking bars—an event we hope we never need to repeat! Additionally, 90 box leaf holly, Ilex crenata 'Hoogendoorn,' which are used extensively as a low hedge throughout the garden also were pulled due to freeze damage, reset with fresh plants, and re-pruned. Potted rosemary lining the stairs and growing under the espalier pears also died and had to be replaced. Fortunately, the tea olive hedge which had completely defoliated, sprouted new growth and was as good as before by late spring.
We carefully select plants that evoke that English garden aesthetic, which means sourcing seed from nurseries across the country and growing them to planting size behind the scenes. There are two main plantings of seasonal color—cool season annuals planted in early fall, and warm season annuals planted in late spring.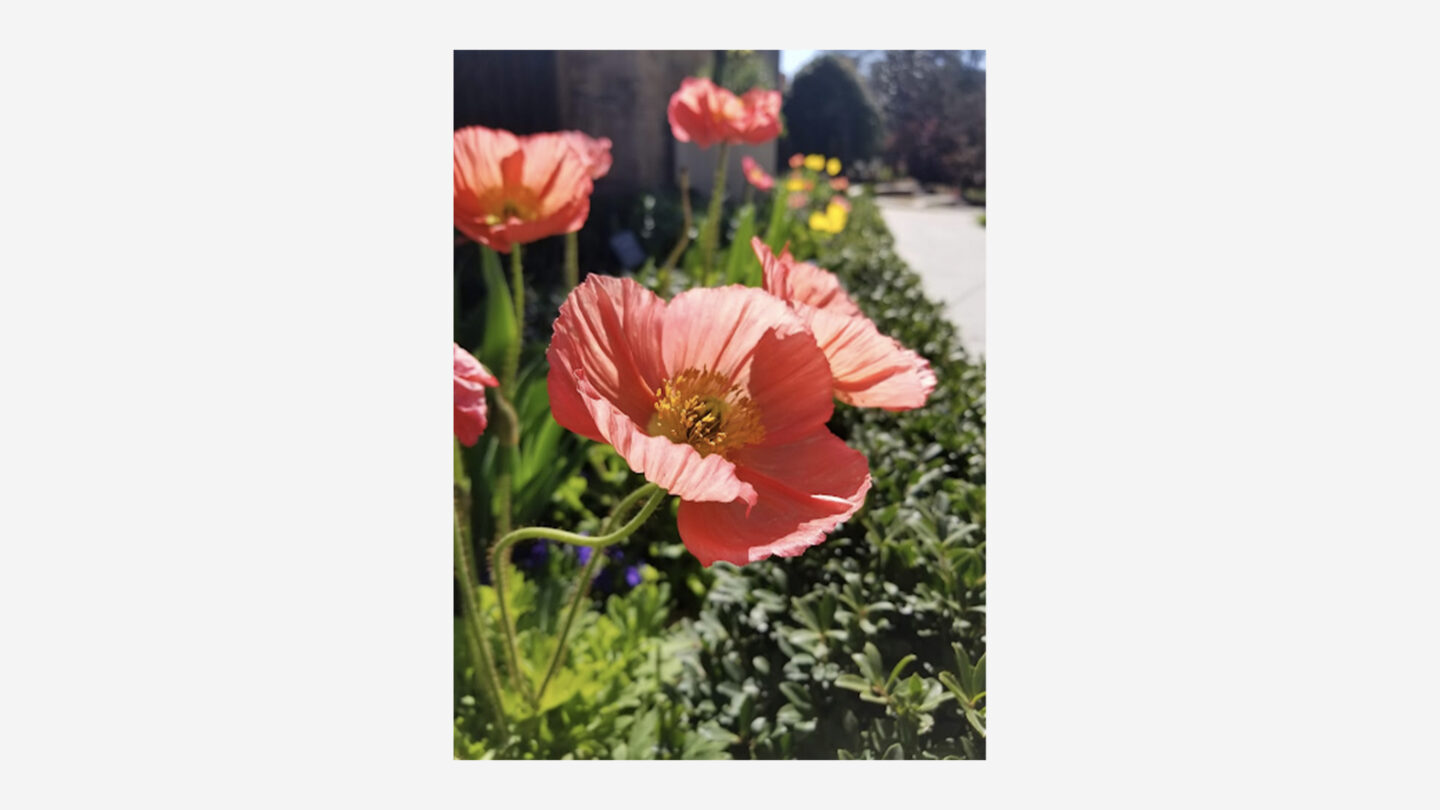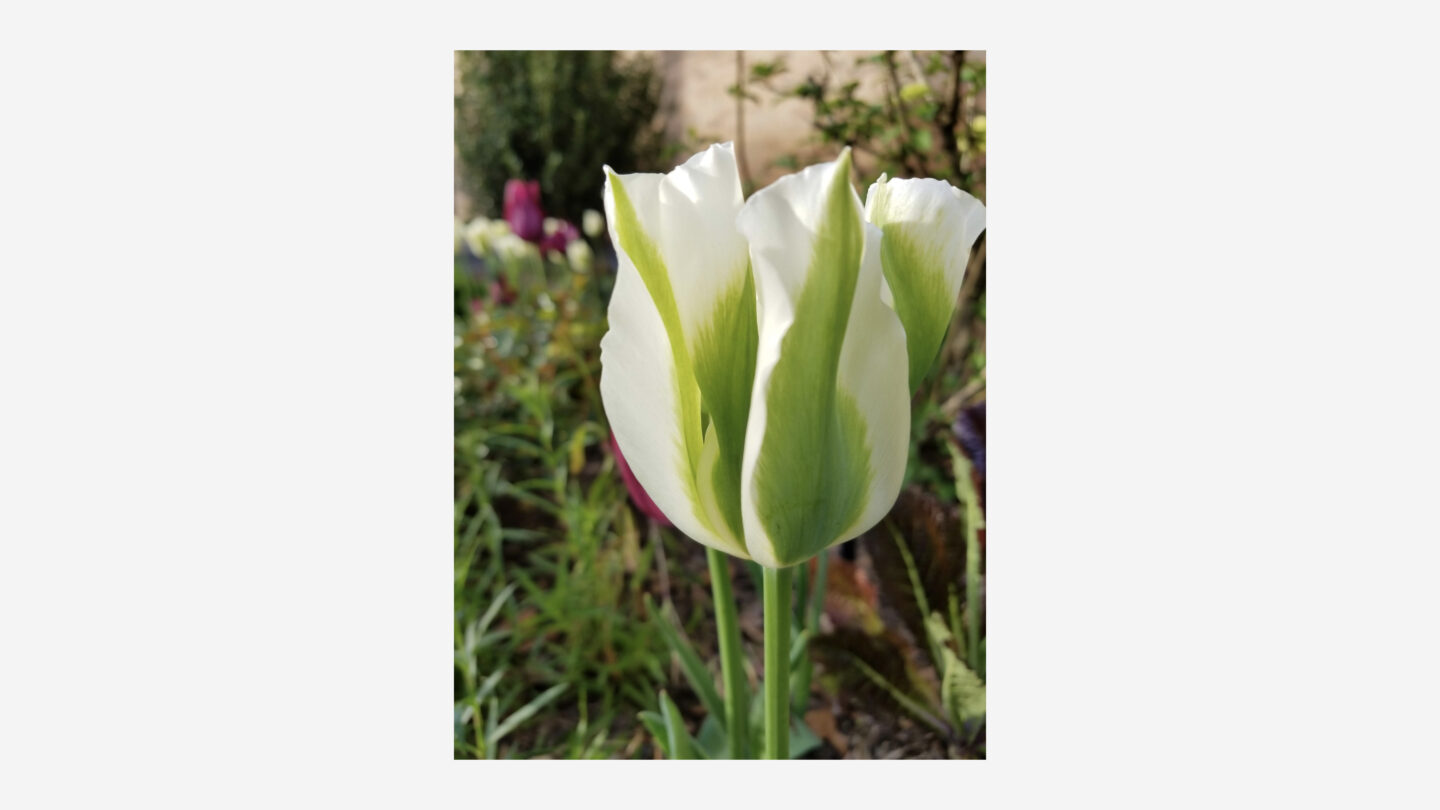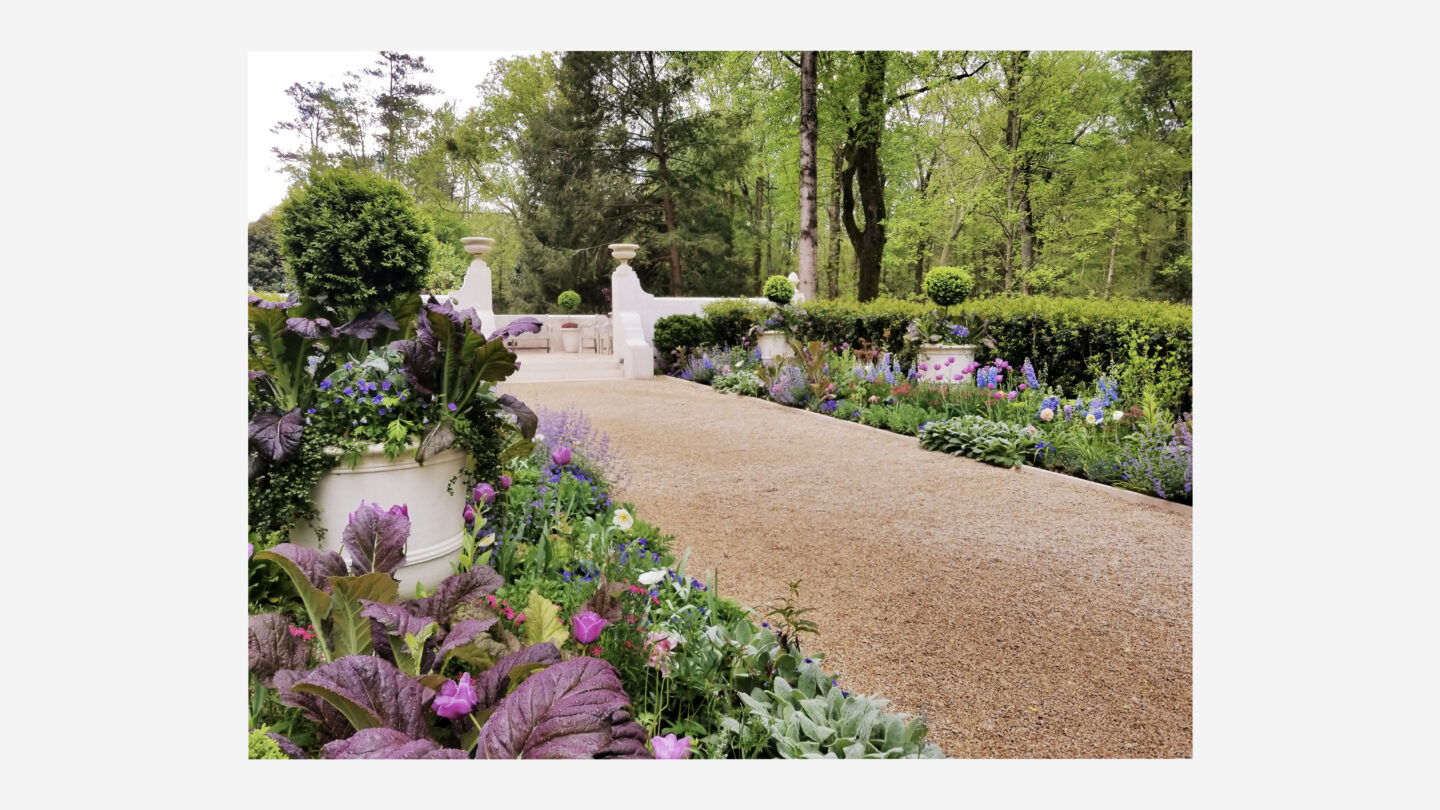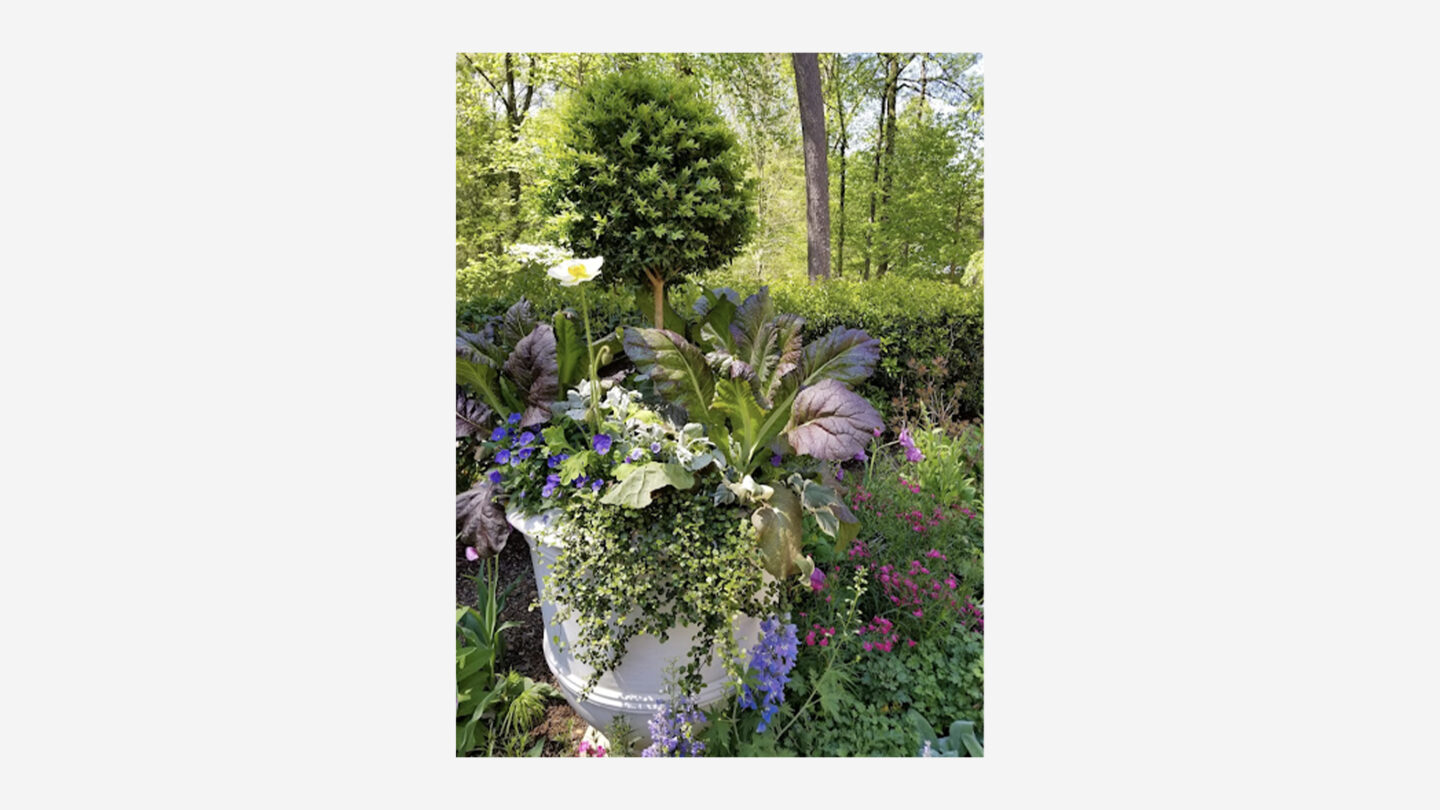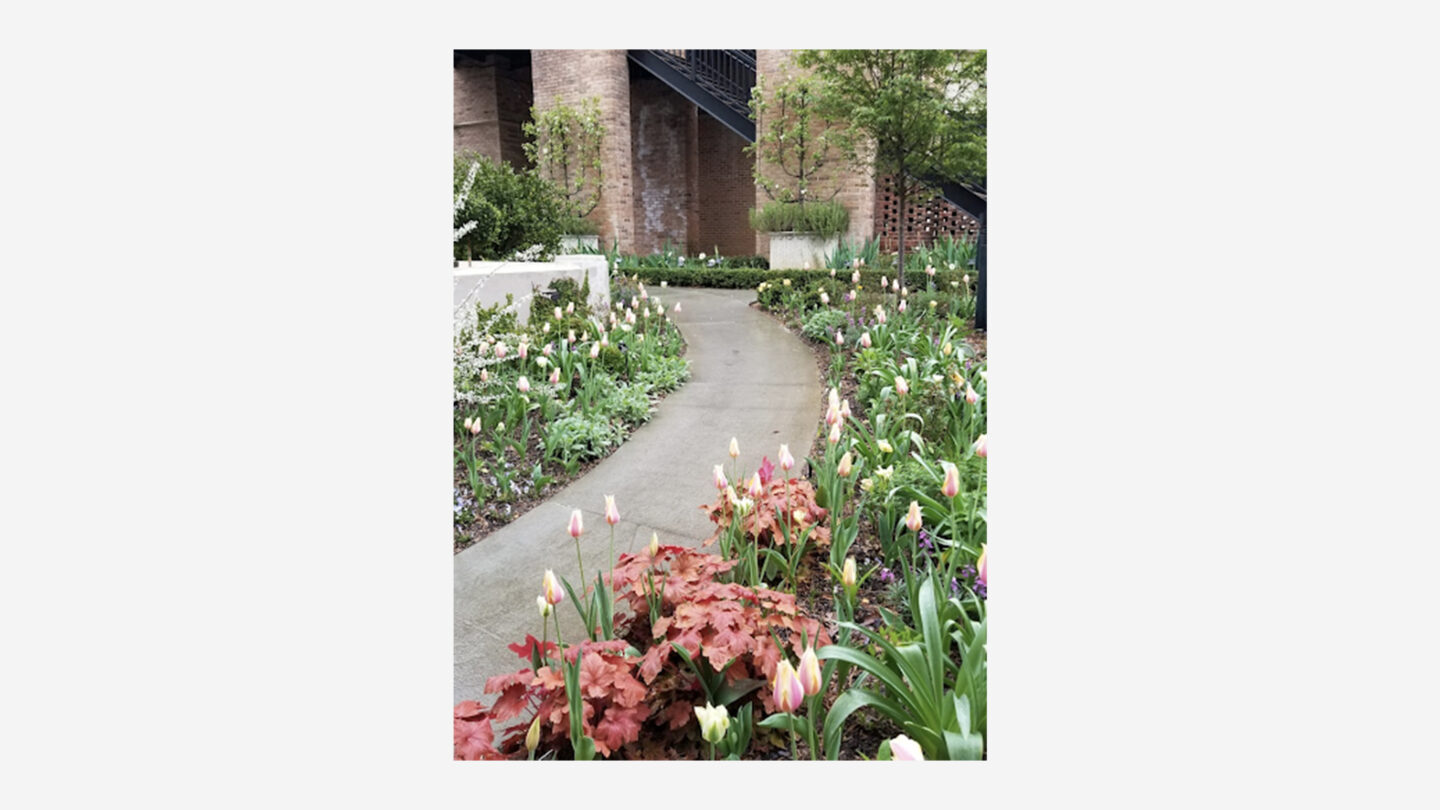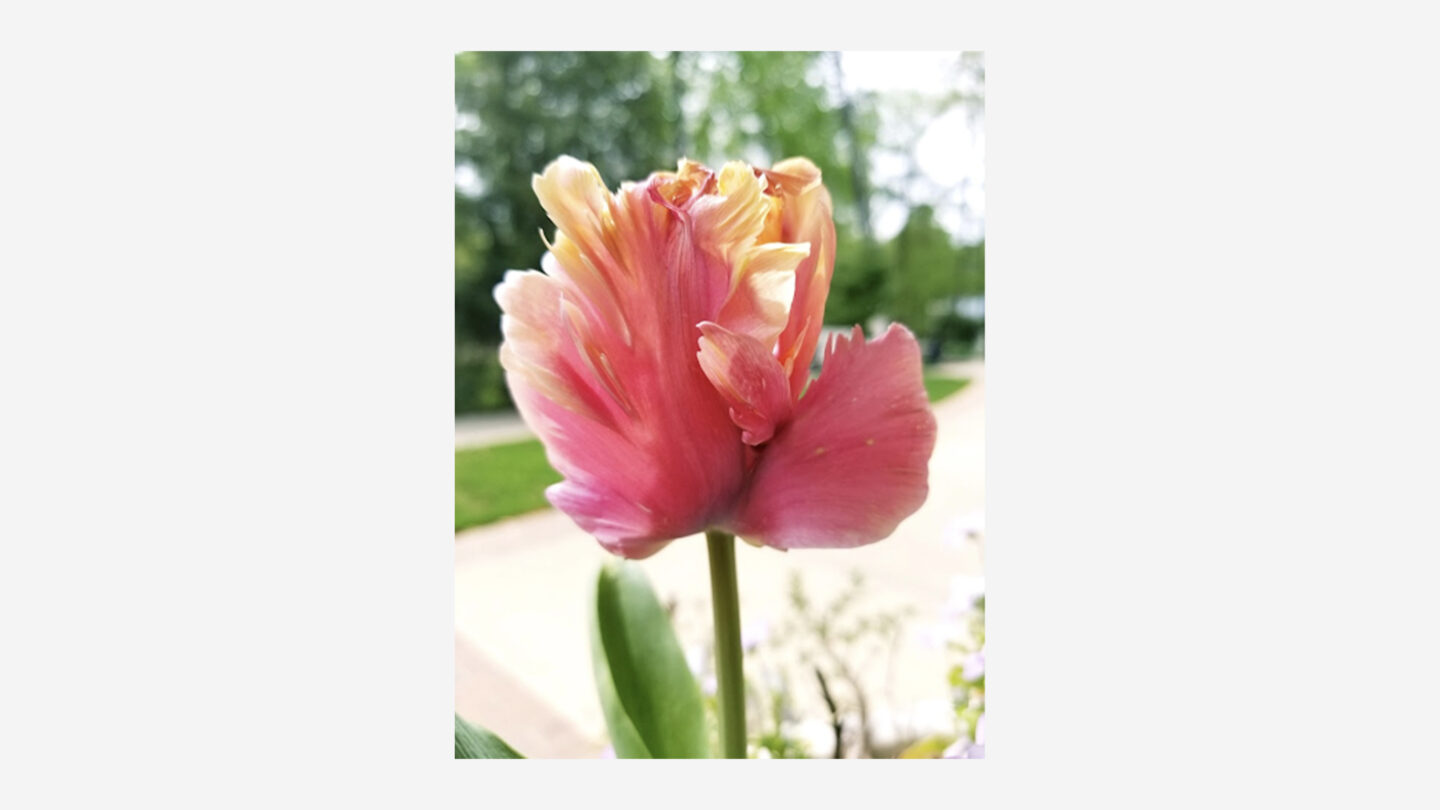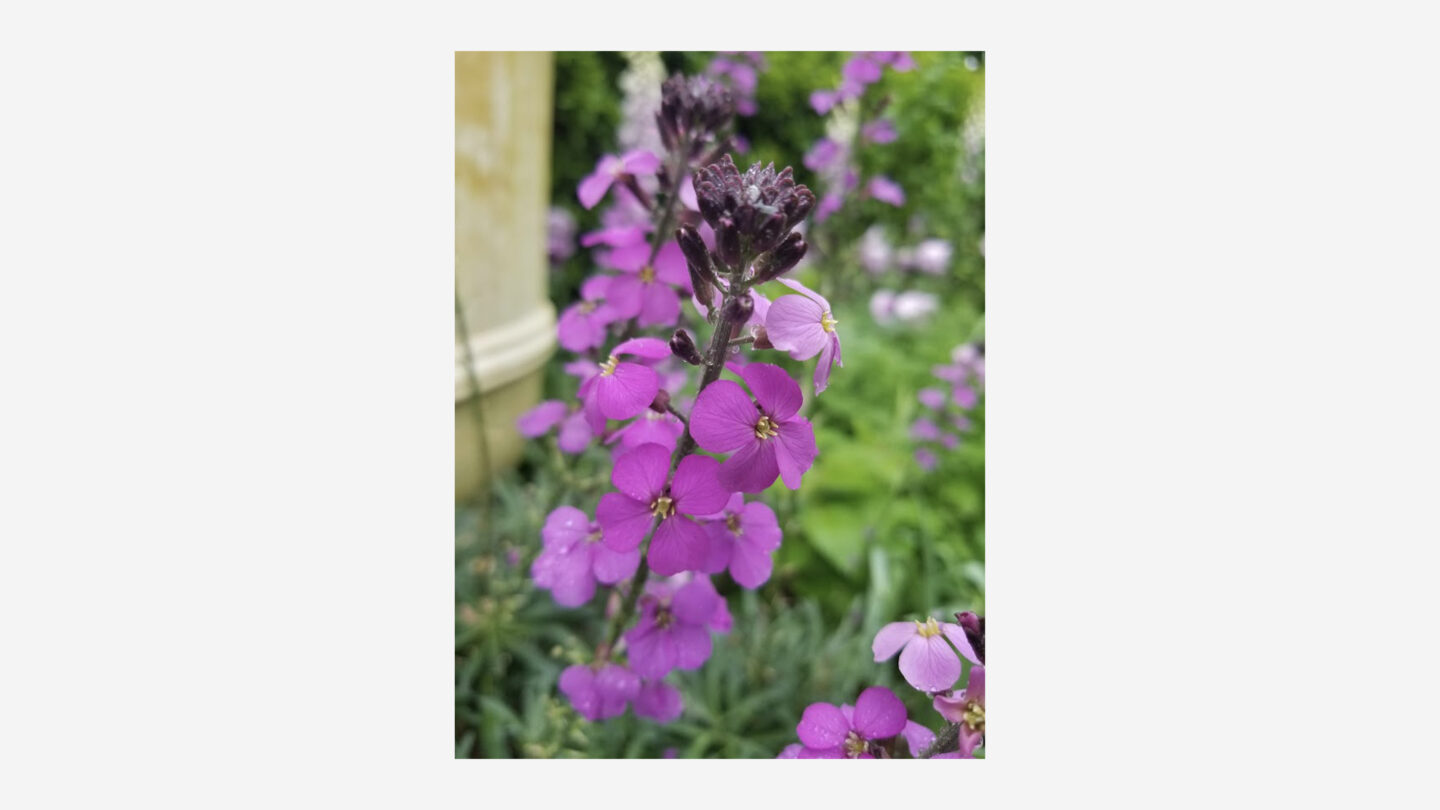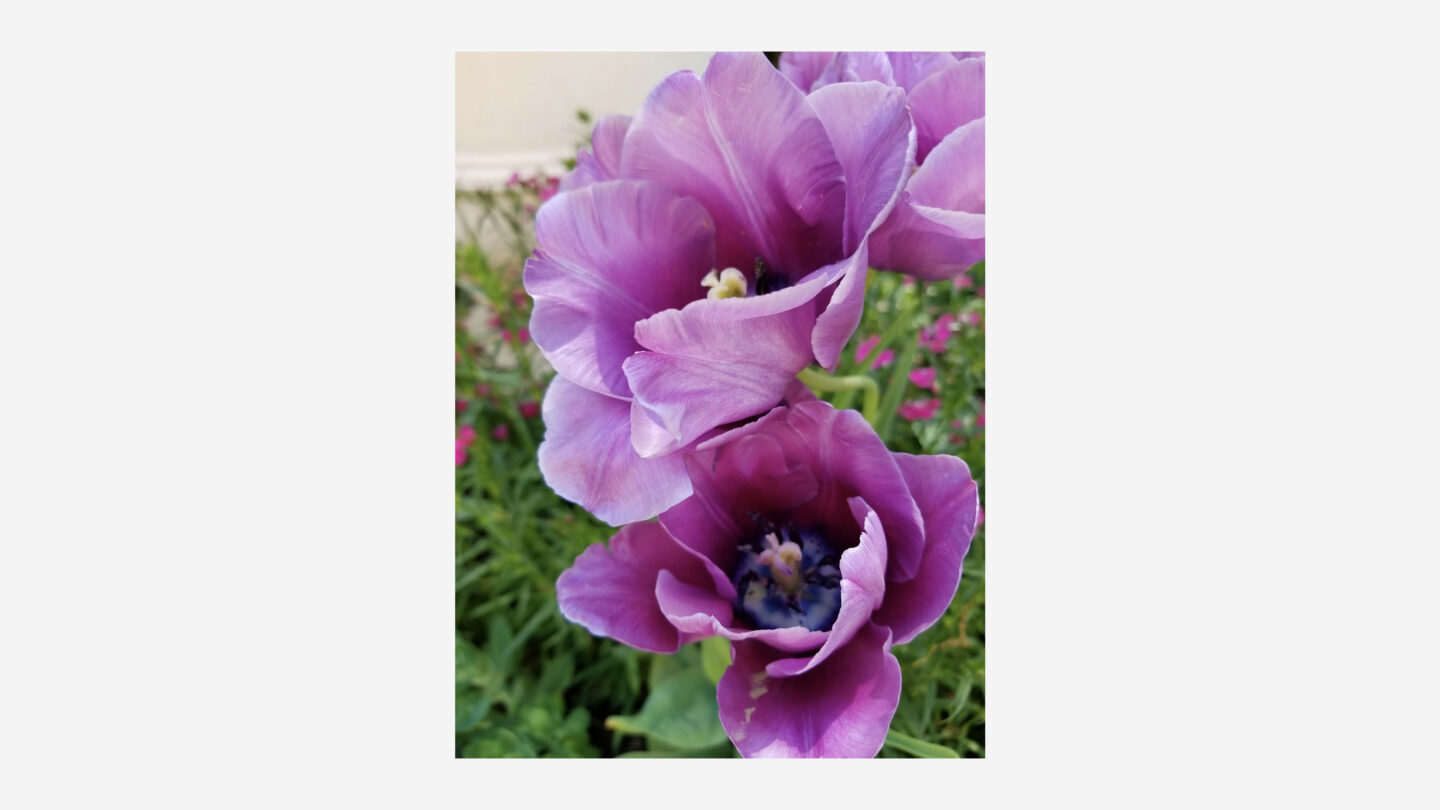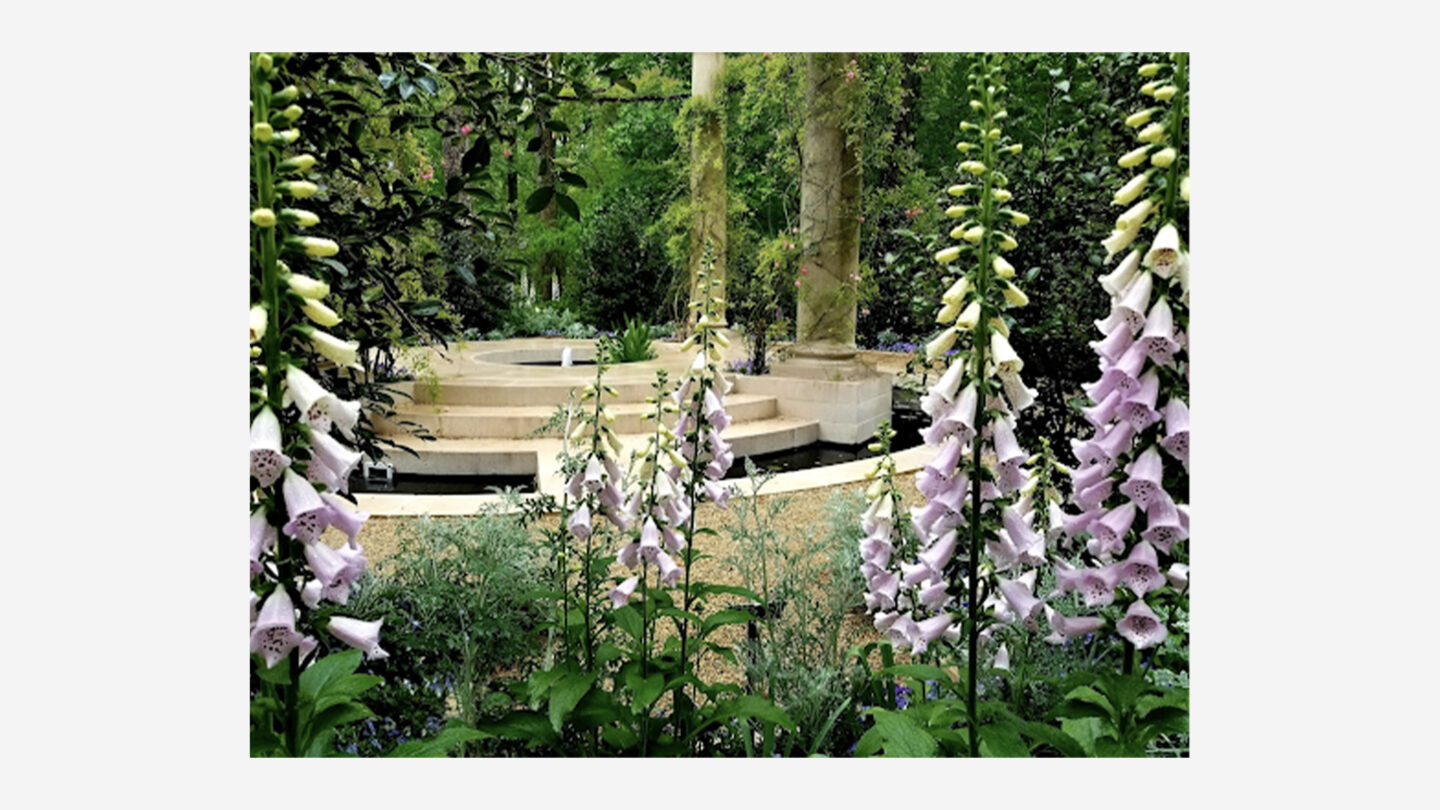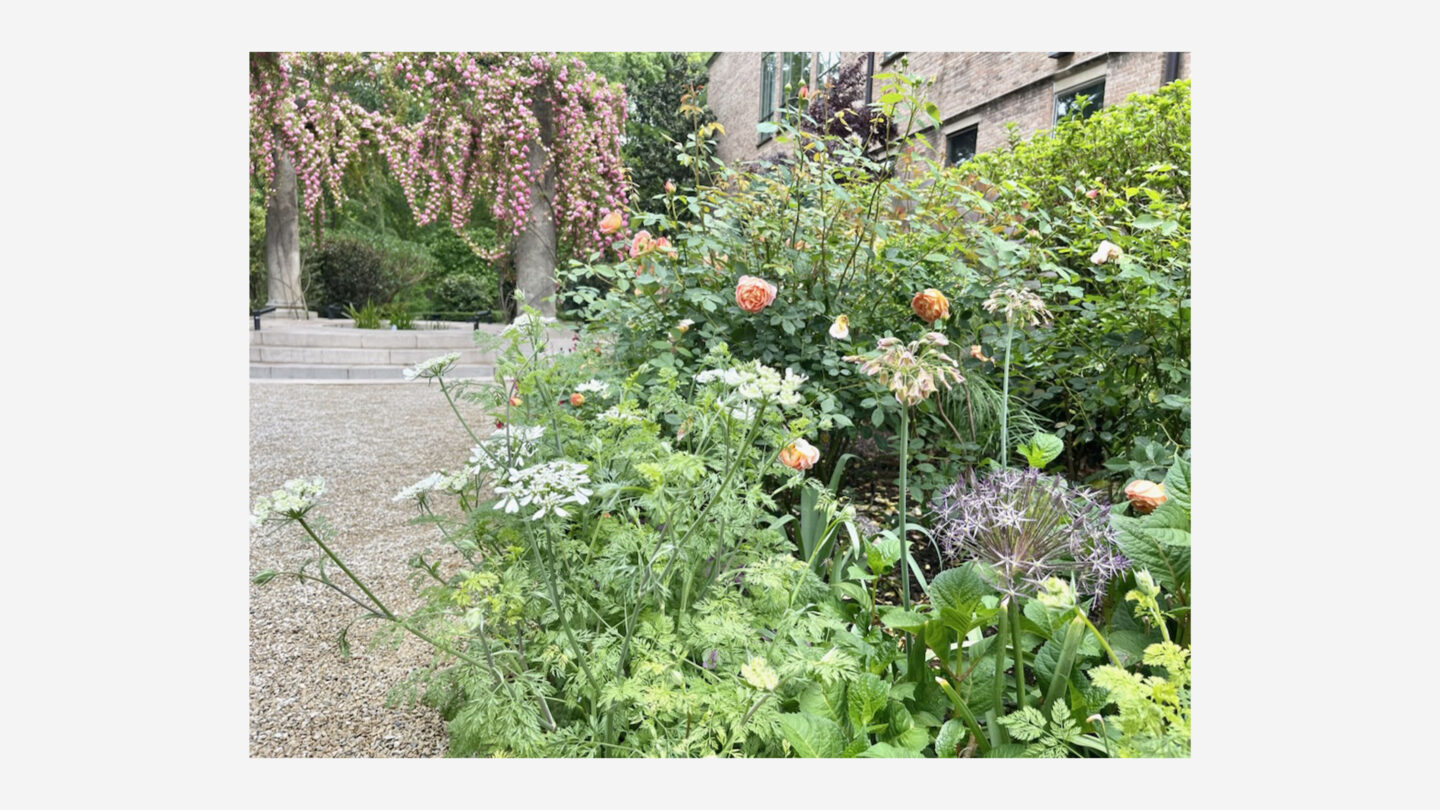 Fall plantings include violas, wallflowers, red-leaved mustard, snapdragons and foxgloves among others. There are also approximately 1,000 tulip bulbs planted in fall to bring height and a delightful spring display of color when most perennials are still just breaking dormancy for the year.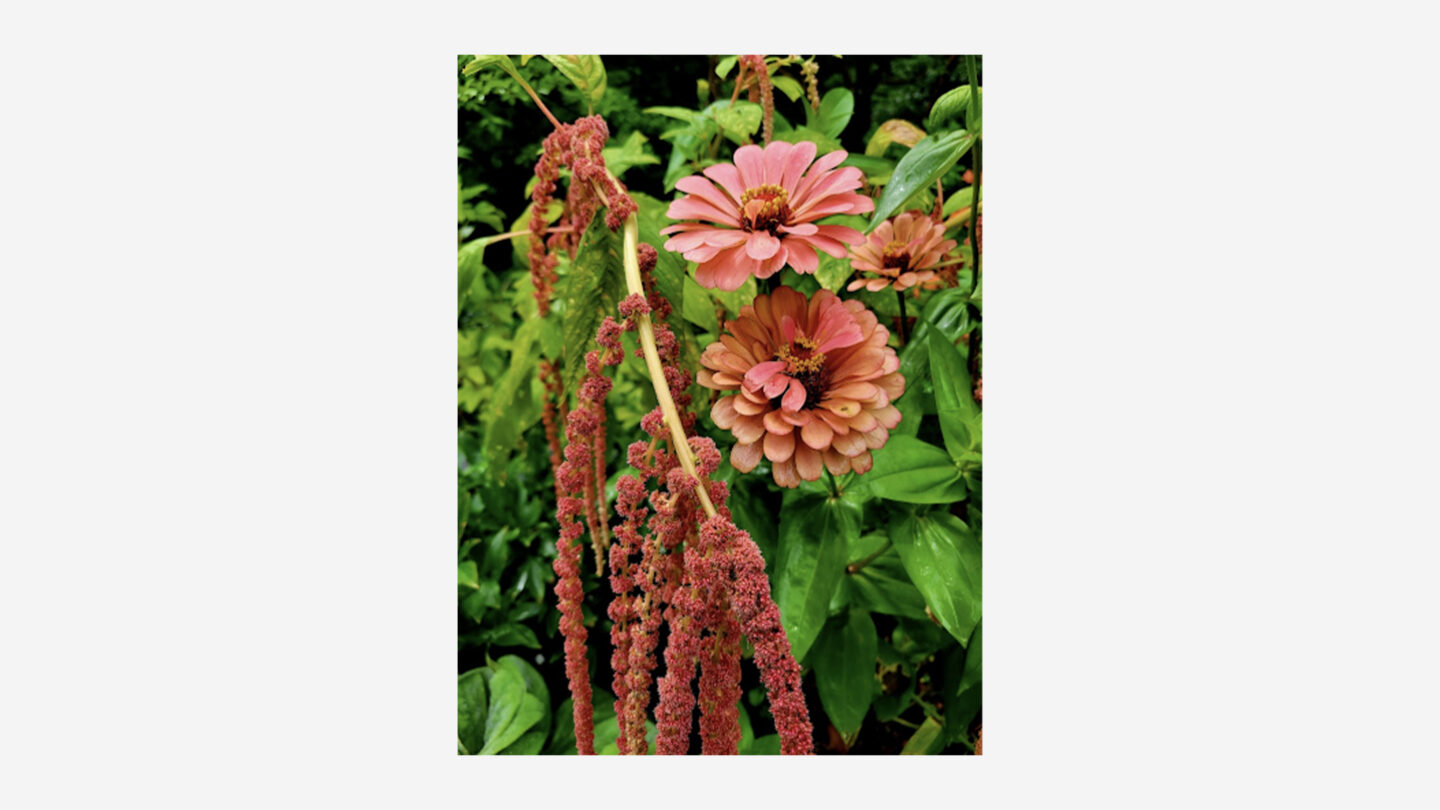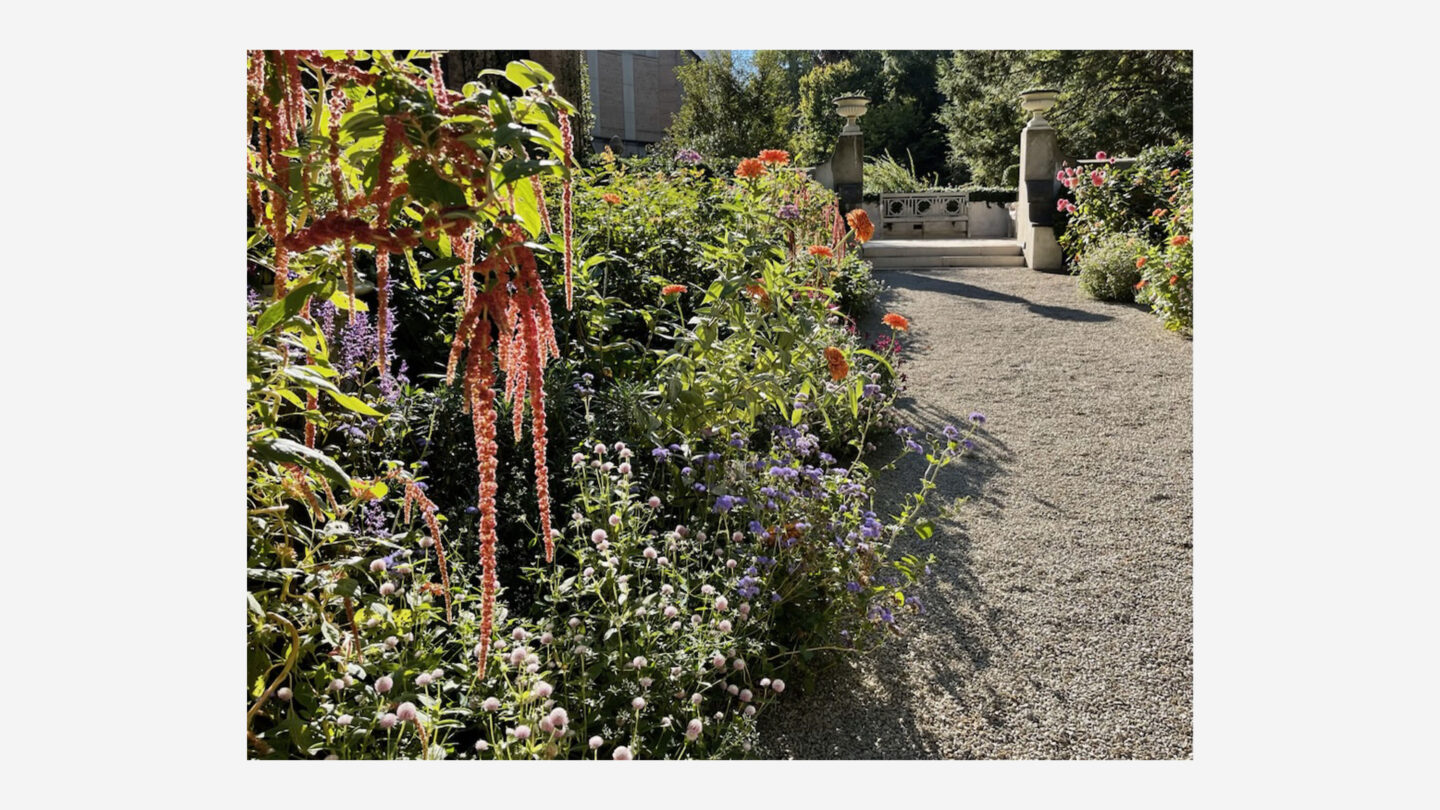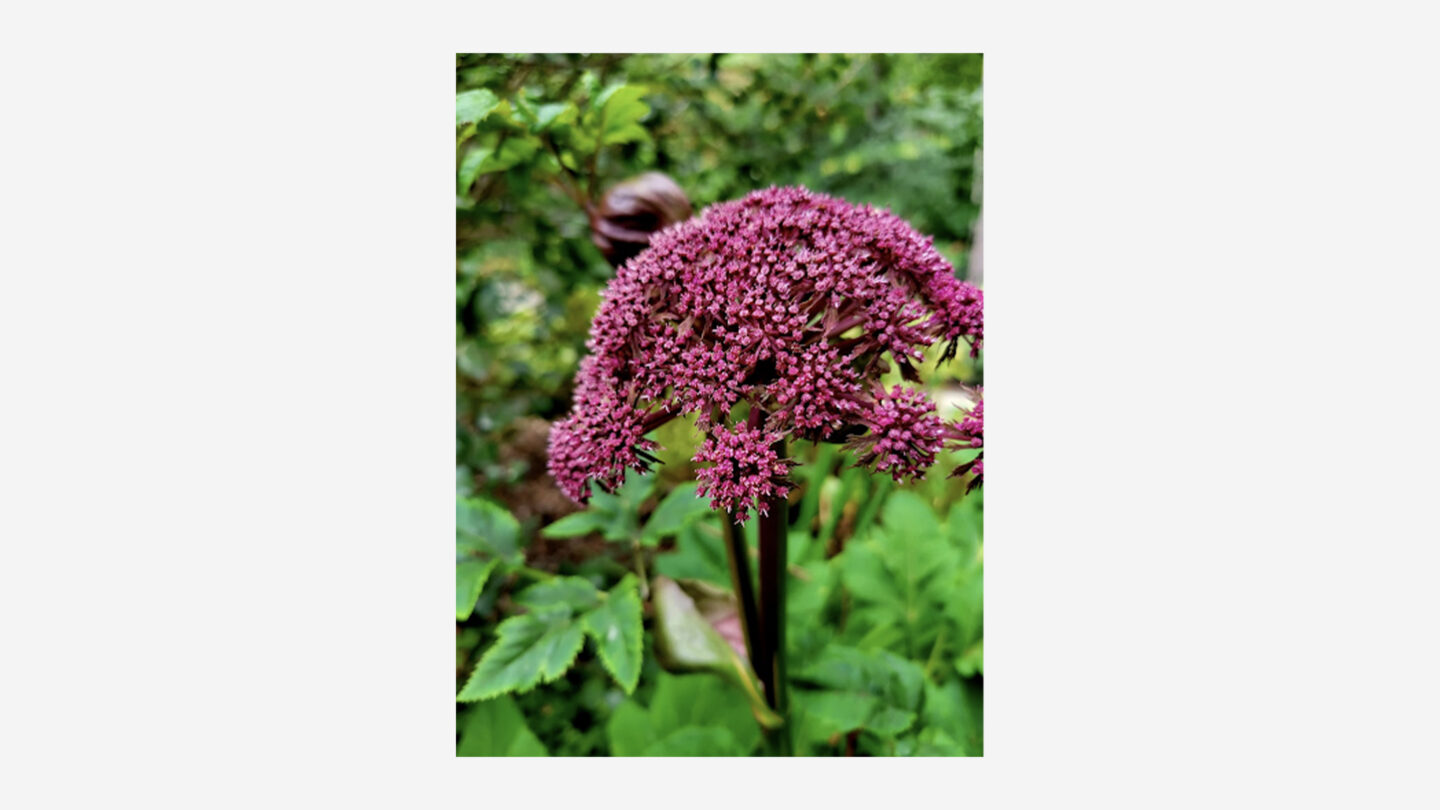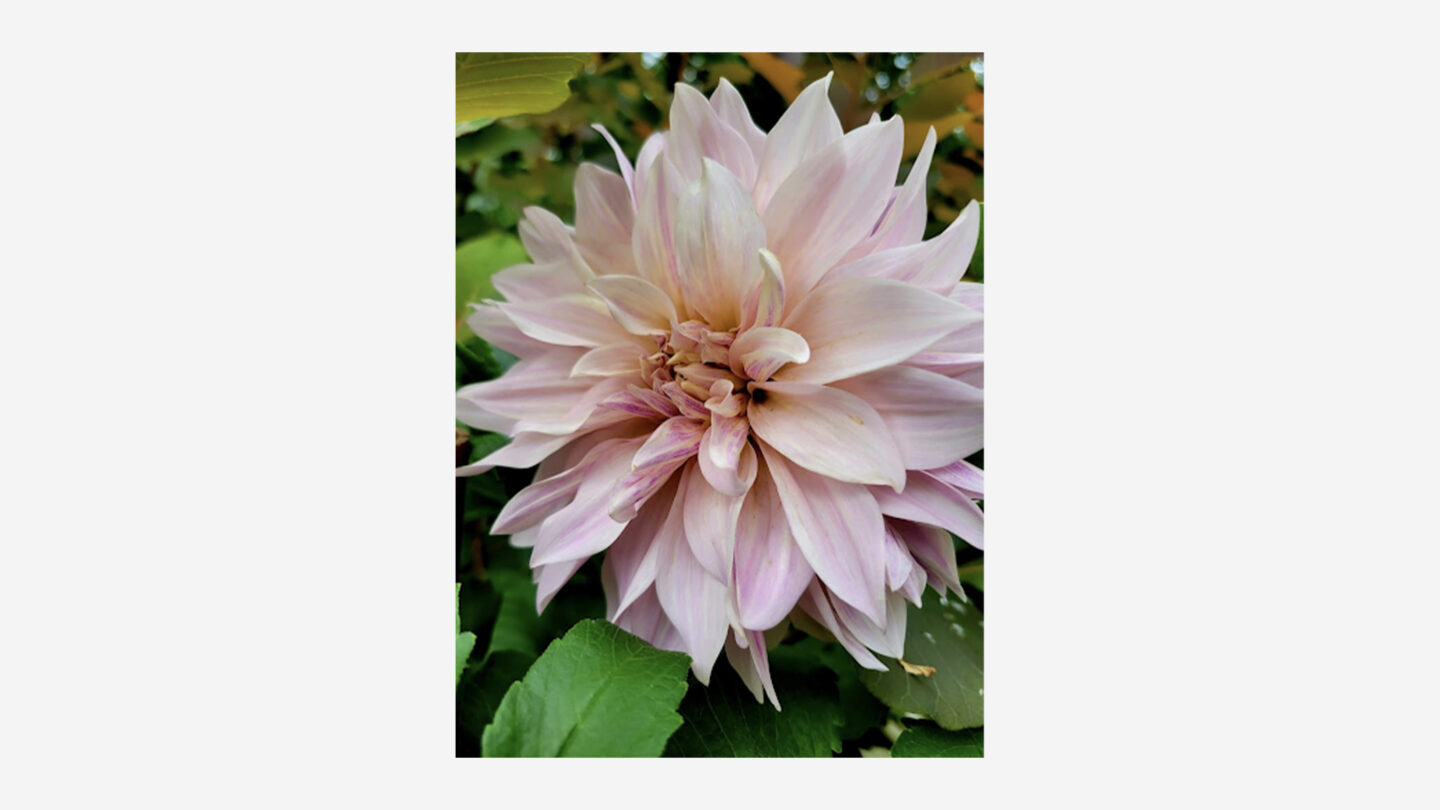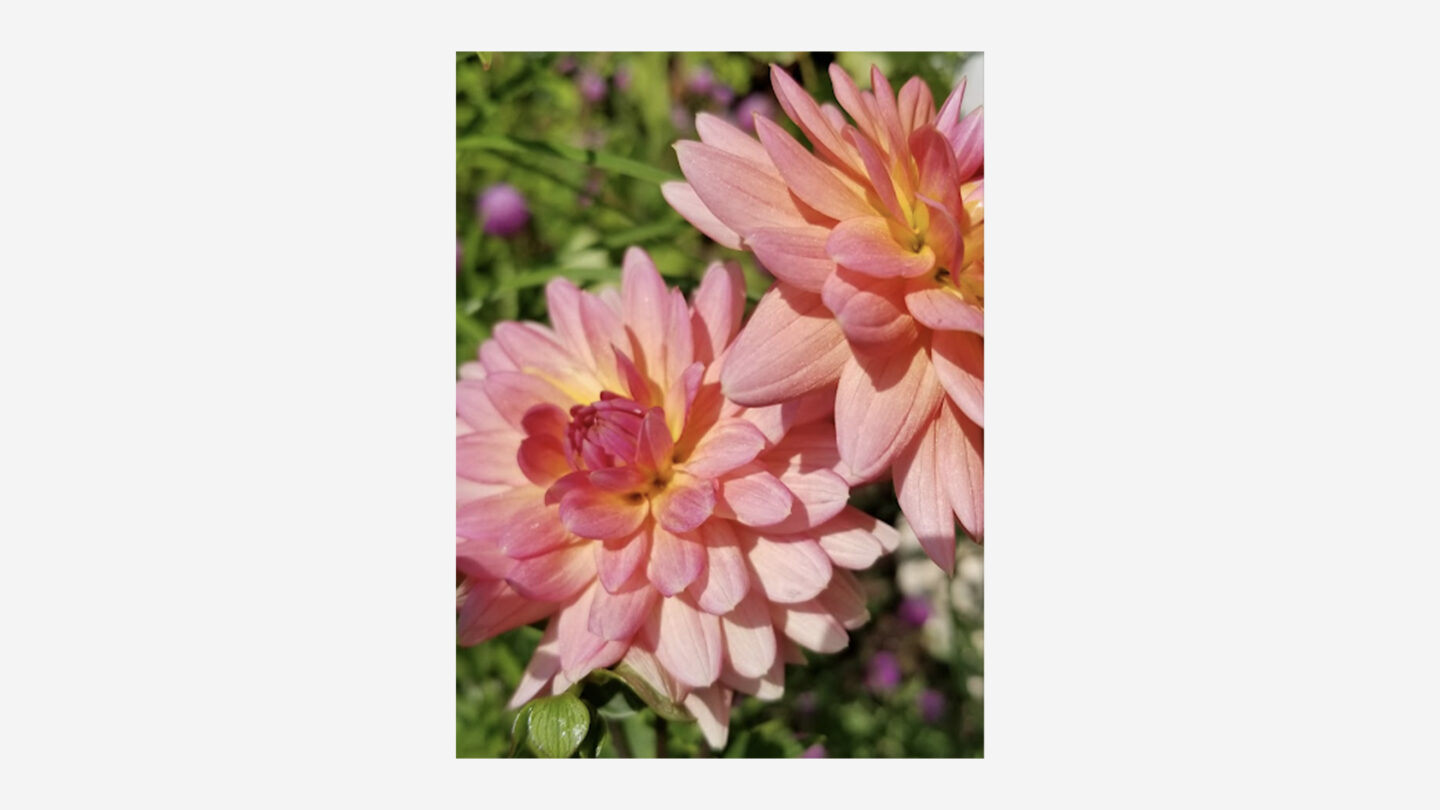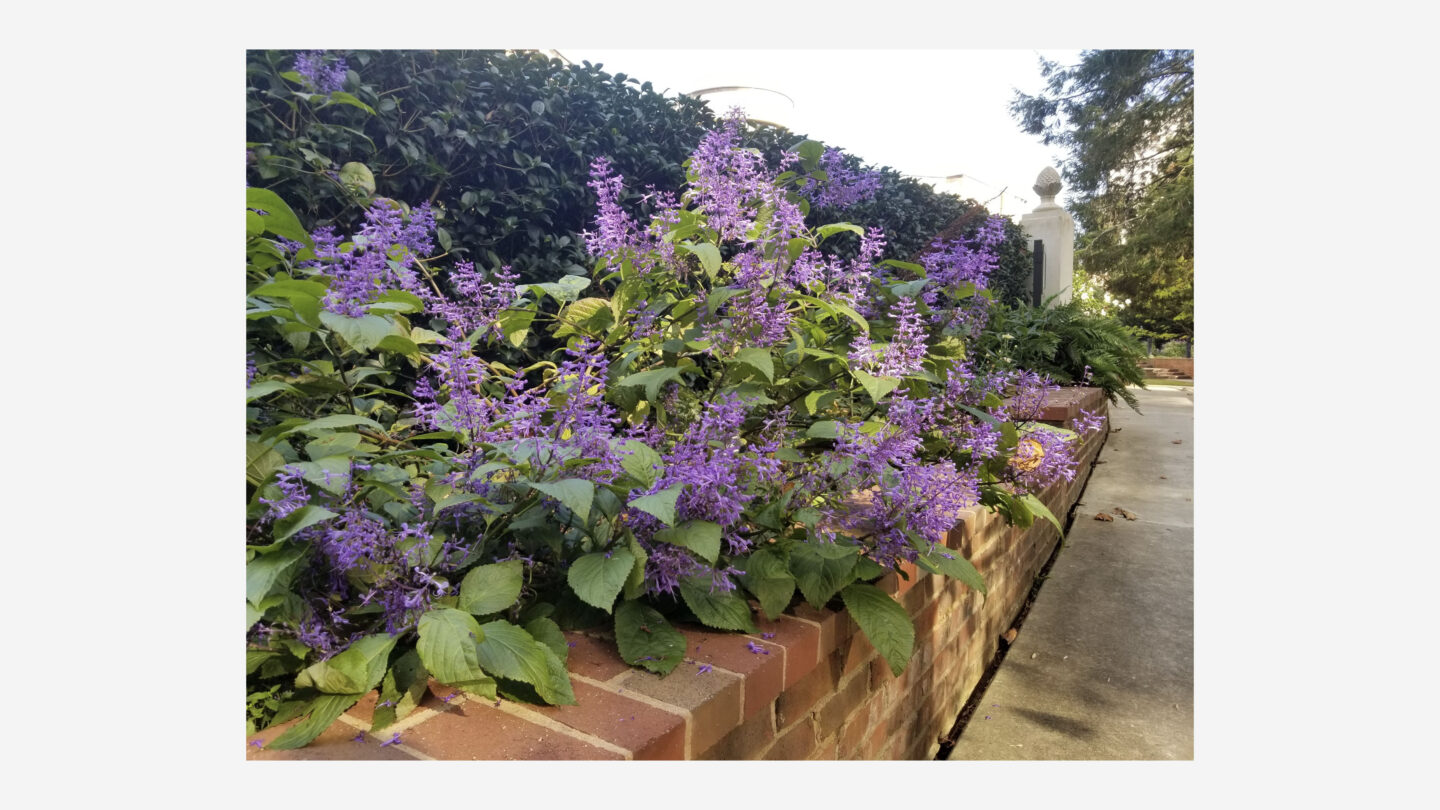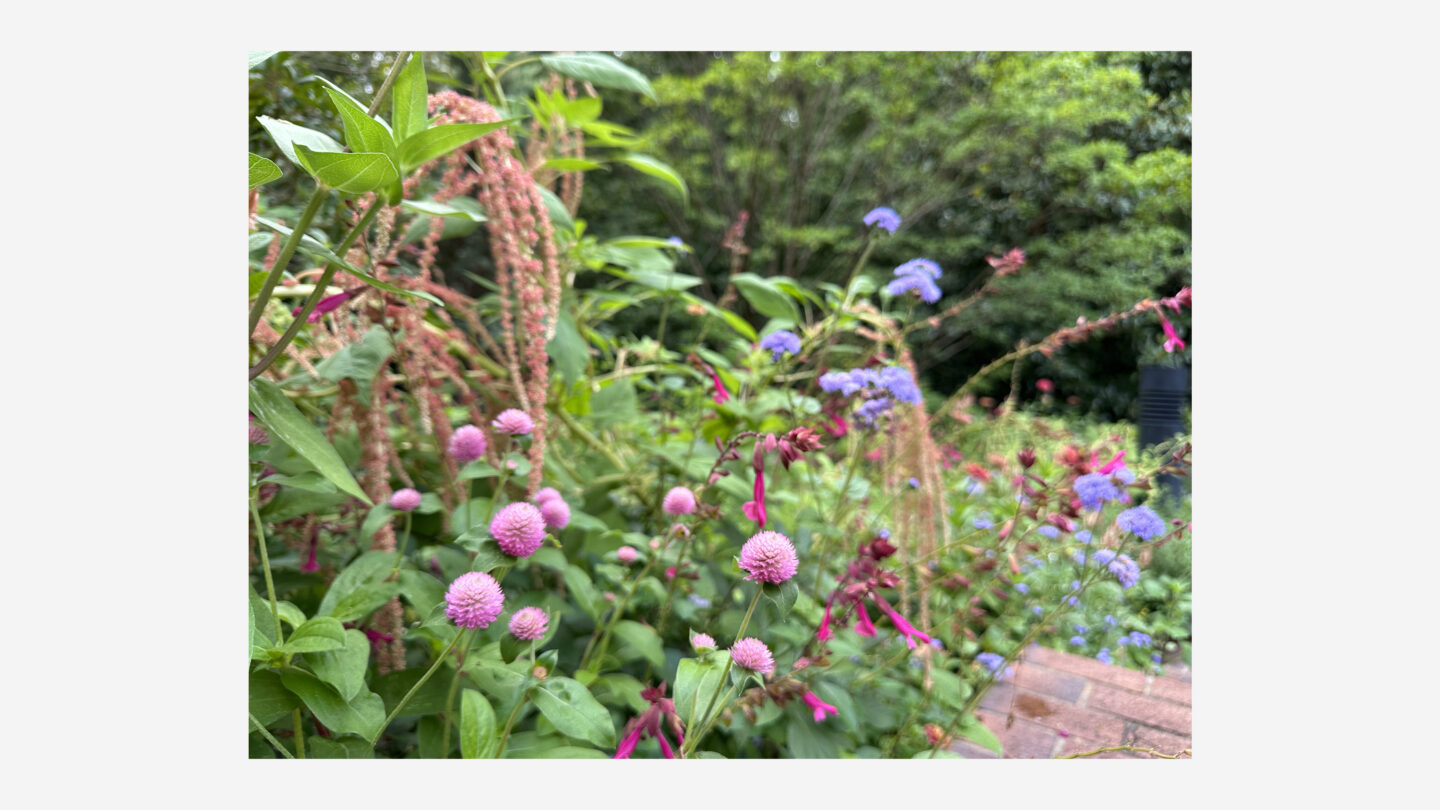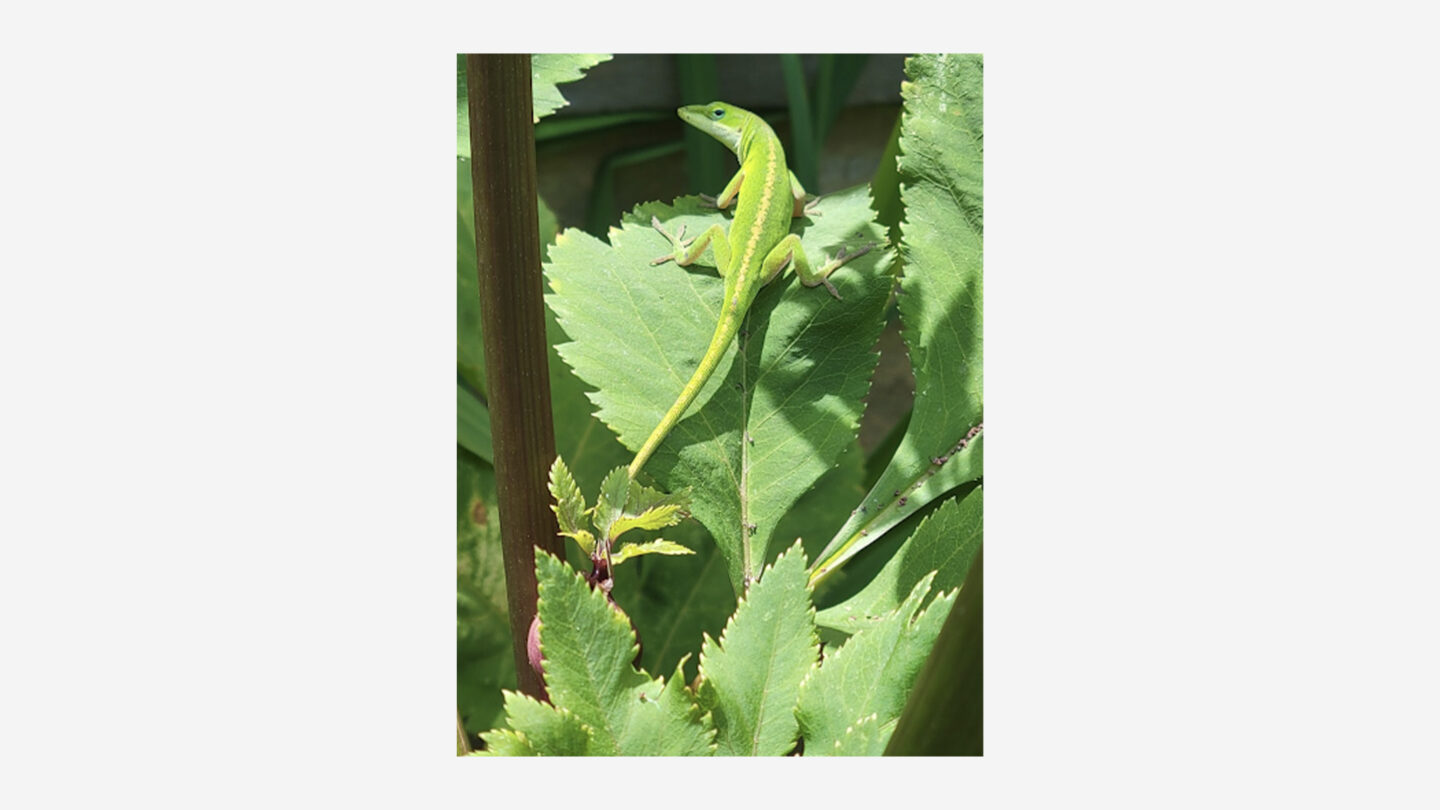 The only way to achieve the luxuriant summer borders spilling over the path and in constant bloom is by filling the spaces between perennials with annual and biennial plants such as zinnia, amaranth, euphorbia, and flowering tobacco. Equally important are the dahlias, grown from tubers potted in late winter. The best performers are dug and stored for the next season, and a few new ones are tried each year. Continued editing of the garden will be ongoing for years to come as we always evaluate what is performing at high levels and what needs to be refreshed or replaced.
The beauty of Olguita's Garden has exceeded our expectations and it is a soul-treat to many who spend time in Goizueta Gardens. Special thanks to The Goizueta Foundation for their generous support of Atlanta History Center through the years, and specifically for their continued commitment to Goizueta Gardens. It is our honor to maintain this garden in Olguita's memory.