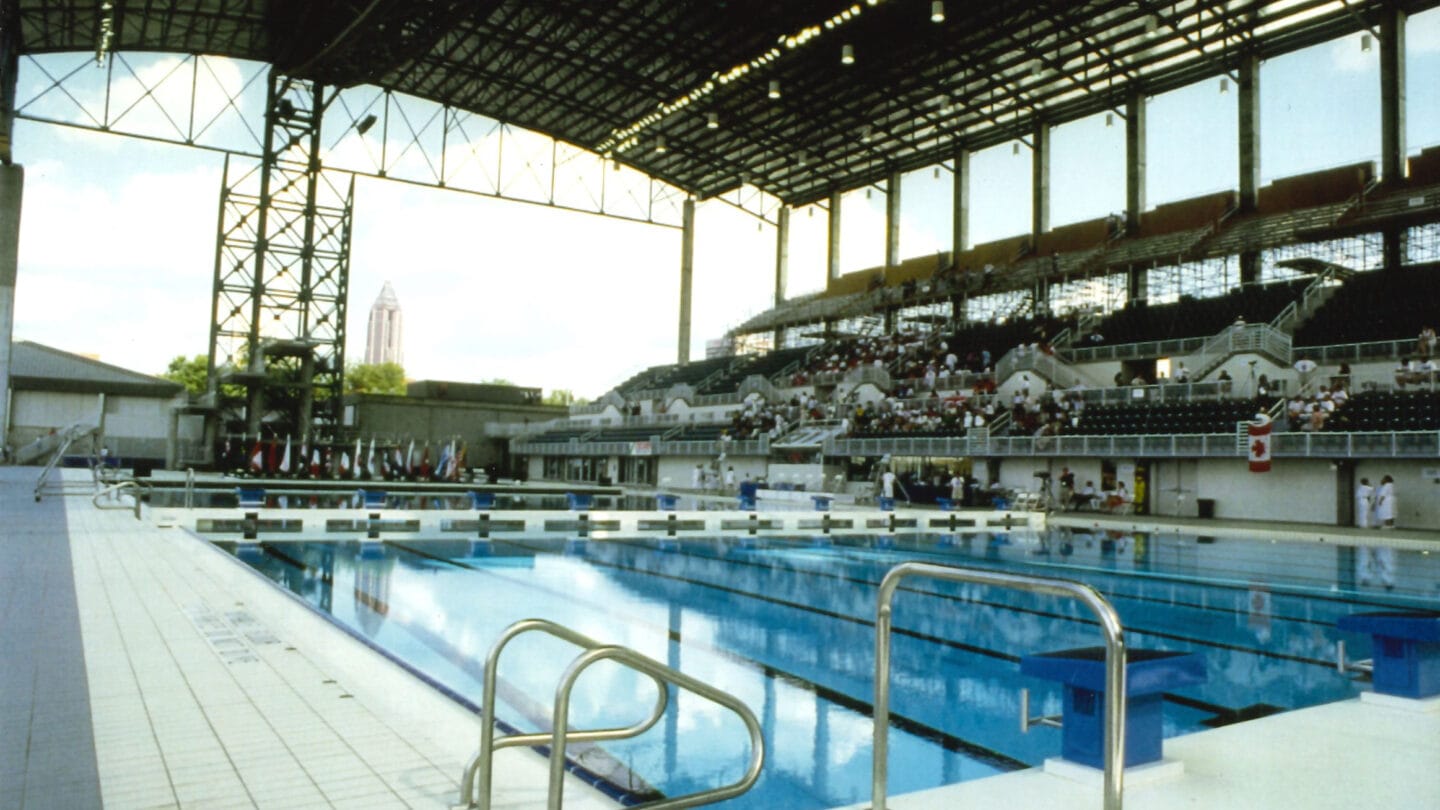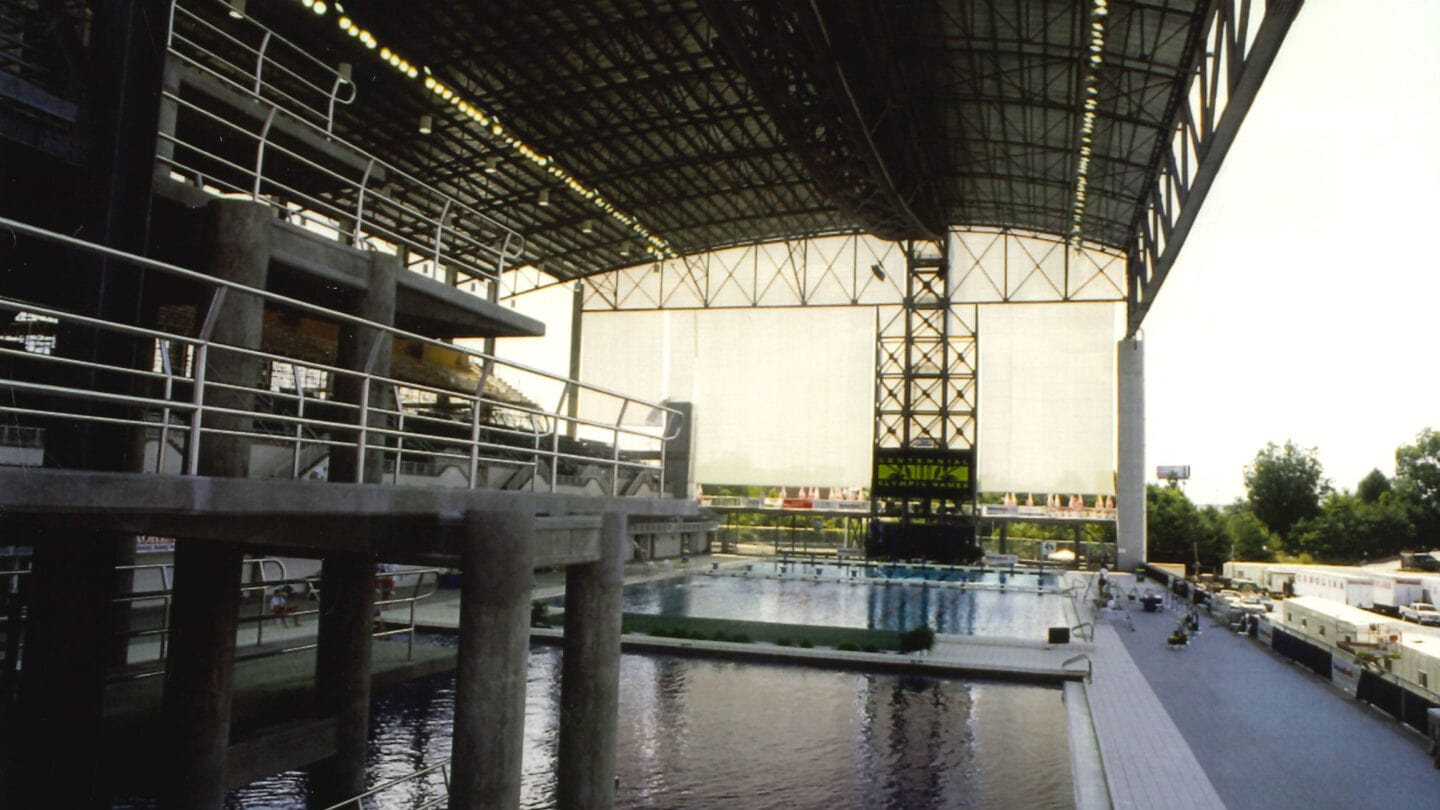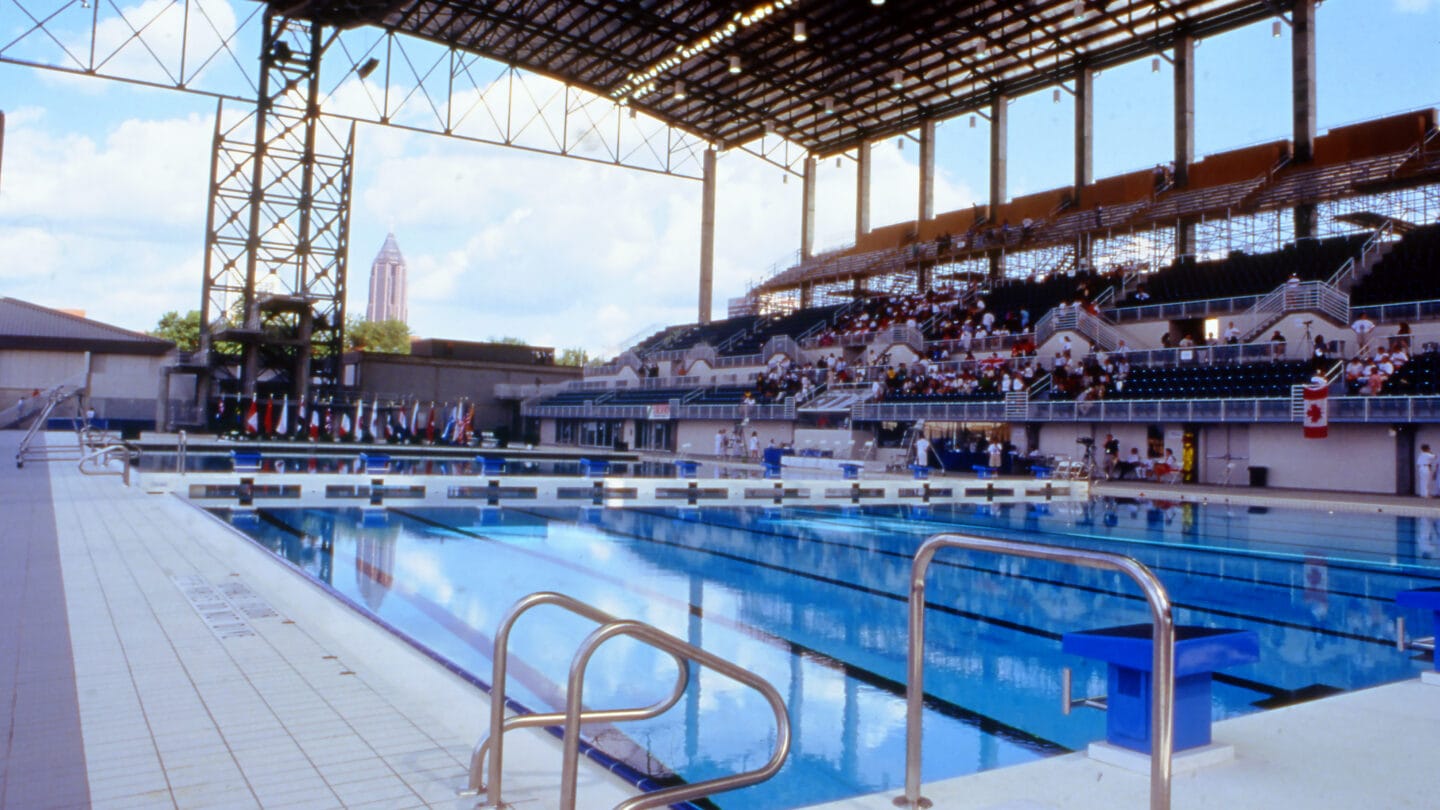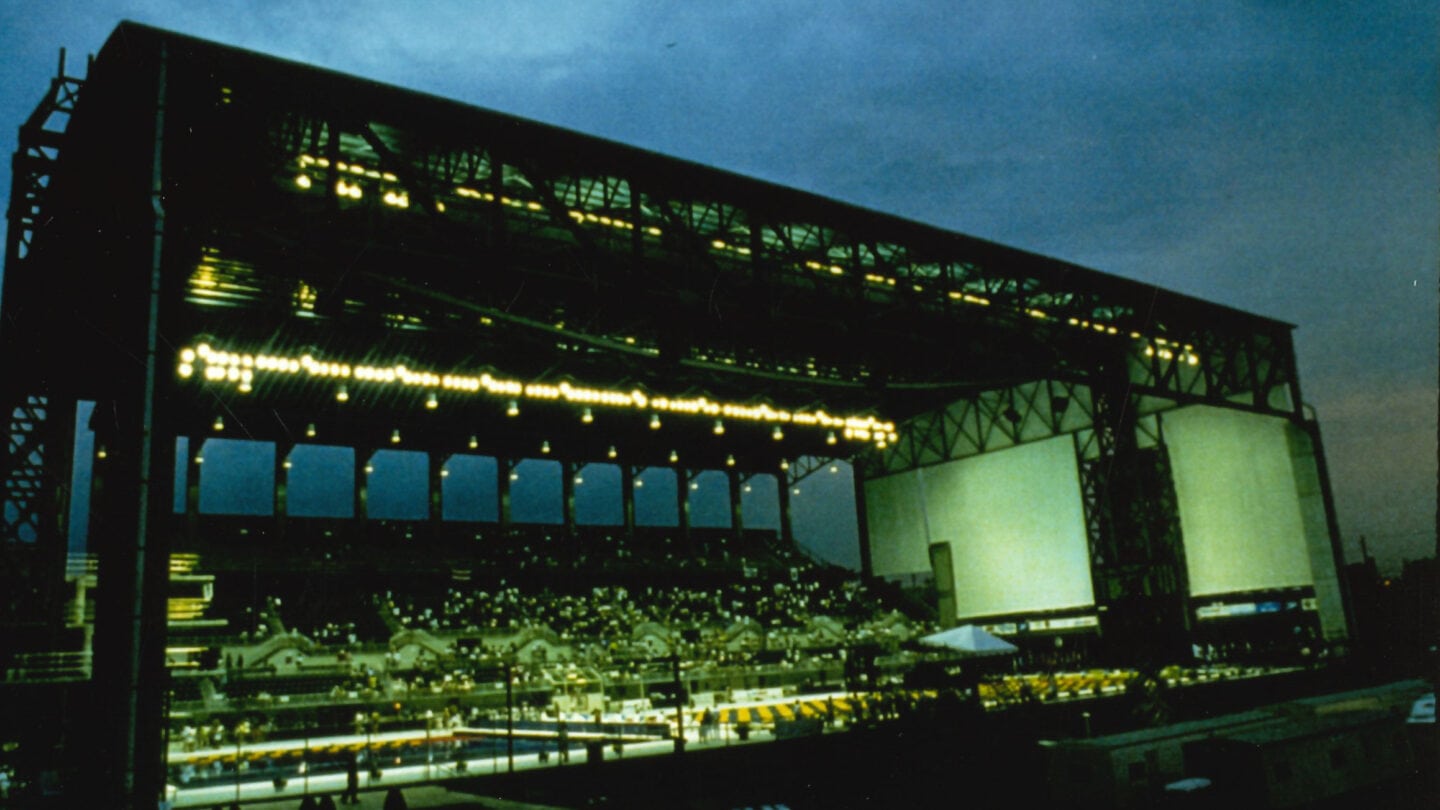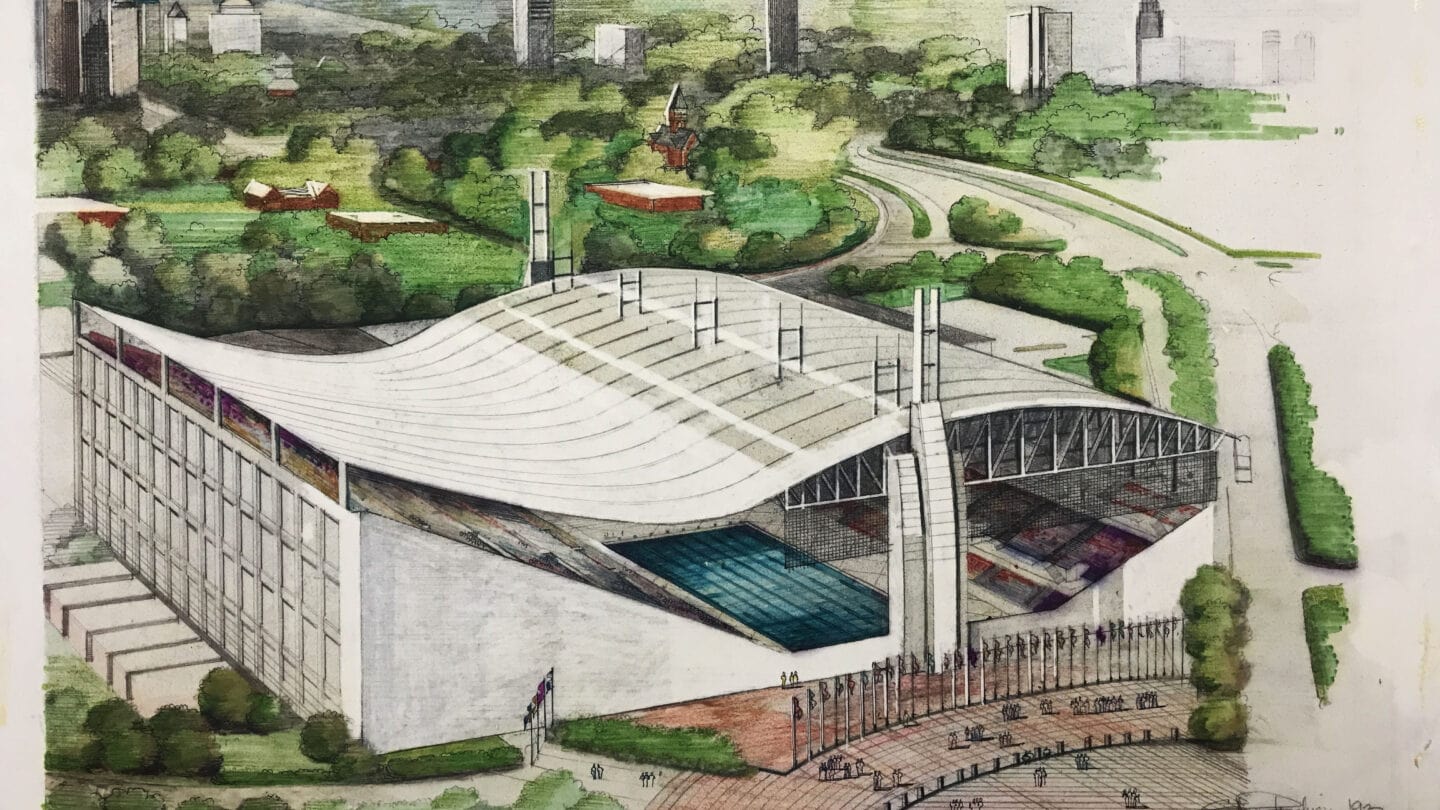 Opened: 1977 | Addition opened: 1996 | Renovated: 2001 | In use
Across the street from this parking lot is what is now called the Georgia Tech Campus Recreation Center and McAuley Aquatic Center. The Student Athletic Center opened on this site to Georgia Tech students in 1977 and has been expanded and renovated afterward. During the '96 Games, this was the site of all swimming, synchronized swimming, diving, and water polo events.
During preparations for the '96 Olympic bid and Games, Georgia Tech was identified as a partner for facilities, staffing, and more, and this site was designated as the intended location for an Olympic-sized aquatic facility. Olympic-sized pools were one of the Games requirements that Atlanta's Olympic organizers needed to plan from scratch. Following the model of the 1984 Games in Los Angeles, the organizers valued use of existing facilities where possible, but Atlanta had fewer specialized sporting facilities than other larger cities.
Architects Bill and Ivenue Love-Stanley and their Atlanta-based practice were selected to design the facility. They were Georgia Tech graduates and held the barrier-breaking distinction of being the first African American man and woman to graduate from the College of Architecture. The Love-Stanley designed aquatic center became one of the most acclaimed architectural works of Atlanta's Olympic preparations.
Atlanta's Olympic organizers prioritized after-use of facilities, employment of local firms, and low cost over unique aesthetic statements or celebrity architects. This method led to a functional rather than architecturally noticeable backdrop for the '96 Games. With only a few exceptions, it was noticeable to critics since Atlanta's time in the spotlight followed the 1992 Games in Barcelona, a city known for distinguished architecture.
Architectural critic Benjamin Forgey examined Atlanta's landscape of venues, calling the Aquatic Center "outstanding." He noted, "[t]he structural skeleton is the architecture here -- this is a high, open pavilion whose exposed steel trusses provide plenty of visual punch. It makes a dramatic silhouette against the broad Southern sky." After the Games, Georgia Tech developed plans to enclose the facility for greater year-round use. The major renovation transformed the Georgia Tech Aquatic Center and adjacent athletic center spaces into the striking multi-purpose sporting facility on campus today. During the enclosure, architects and engineers created additional multi-purpose courts by suspending a floor from the roof of the Olympic-sized pool in the facility. At the time, the project claimed the engineering feat for the world's largest suspended concrete structure.